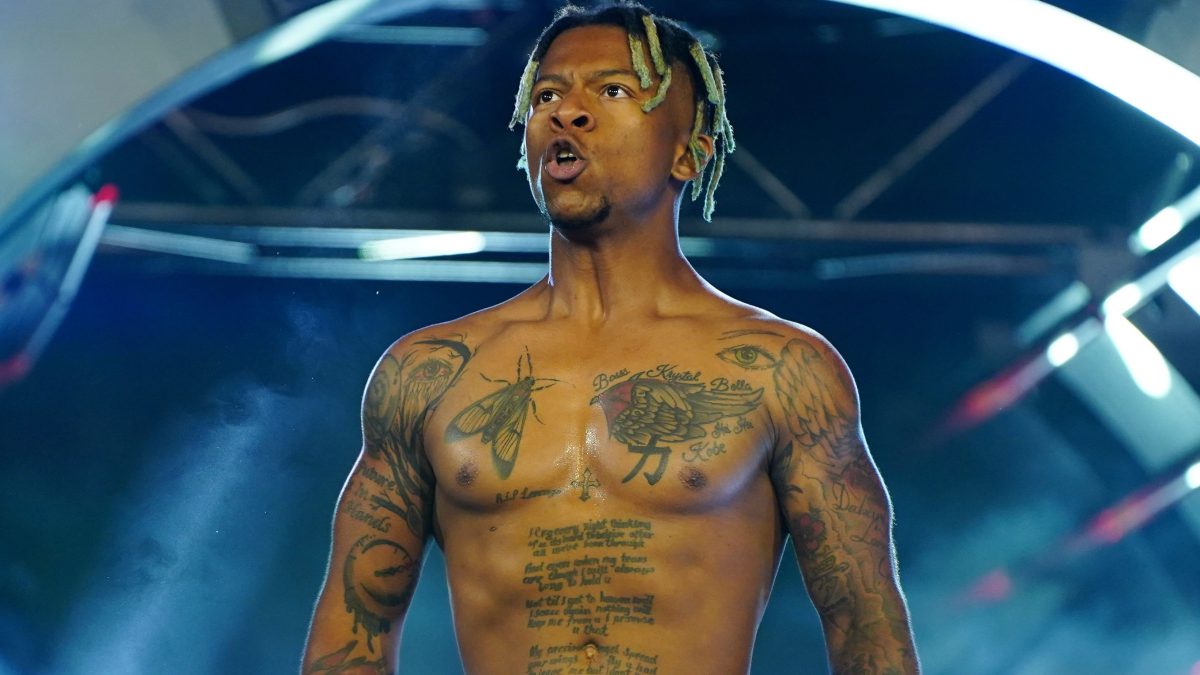 Ahead of the release of his upcoming EP, Lio Rush revealed that he's working on a song with IMPACT Wrestling's Chris Bey.
Rush is currently preparing for the release of 'Not Found 2' which drops this Friday (June 24). Speaking exclusively with Sanchez Taylor for WrestleTalk.com ahead of the release, Rush confirmed that a collaboration with Chris Bey will be coming in the future.
When asked if there's anyone from the wrestling world he'd like to make a track with, Rush said:
"I think one person I've crossed paths with, funnily enough from the same area and have a lot of mutual friends, but Chris Bey – I think he's incredibly talented, I think he has a drive and motivation about him as a person that makes people want to gravitate towards him. He's dope, I enjoy his music. We are working on a song together currently, so I can't wait for that to come out."
This new album will be Rush's first since signing with Universal Music Group, Thump Records and Virgin Music in January. Noting that the deals came at the right time for him, Rush said:
"I was looking forward to it. I do like having my freedom and being in control of the majority of my things, but there does come a point in life where you do need help, you can't do everything yourself every single second of every day. At some point you'll need a hand to grab on to and pull you up the mountain, and I feel like this is what that is.

"I was definitely feeling like I was reaching a point in my career with music and wrestling where I was getting a little burned out. Not because I was tired of doing it – I was just literally getting tired. So it felt like it came at the right time and the distribution is amazing. I just want people to hear my music, that's why I'm doing this. Now people are across the world."
Rush admitted that opening up doesn't come naturally to him, but feels its his calling to create authentic music to inspire people. Believing that the world needs more positivity, Rush said:
"It wasn't natural really natural for me to be so open, I feel I'm a close to the chest sort of person, a bit of an introvert at heart. It's difficult for me to be in situations or environments with a lot of people, my anxiety and depression is something that is so heavy on me. So it feels like maybe this is something that was given to me in order to inspire other people. It's almost like my calling to be as open and honest with people who look up to me so that I can motivate them and inspire them to do good through anything or any difficulties which come in life.

"I definitely feel like a lot of my inspiration does come from a lot deeper meaning. I feel like it's needed in this day and age, a lot of people need the positivity, and the push and motivation to keep going. This world is scary, we're in crazy times right now so that's what I'm about."
Keep an eye on our exclusives page for more quotes from our interview with Lio Rush, ahead of the release of his Not Found 2 EP on Friday.
If you use these exclusive quotes, or any portion of them, please credit WrestleTalk.com and link to this page.
You can listen to the interview below:
To make sure you stay updated with all the latest wrestling news, add WrestleTalk.com to your Google Discover feed and follow us on Twitter!