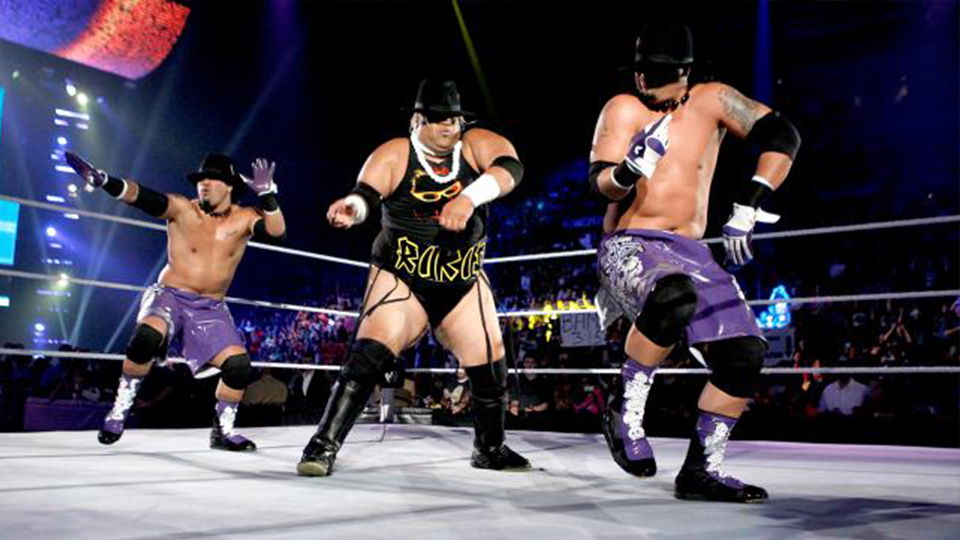 Throughout its history, the WWE has often been regarded as the land of the giants, a place where reaching the top shelf at their local newsagents was all the qualifications one would need to rack up wins over the latest luchador or Hart dungeon graduate.
A trend that has perhaps gone unnoticed however is the company's penchant for turning their resident monsters into dancers. From backbreakers to rump shakers, we take a look at the XXL superstars who traded their snarls for salsa.
Written by: Liam Wyatt
---
10. Vladimir Kozlov
A legitimate tough guy with a background in kickboxing and Sambo, not to be confused with Samba – that comes later, Kozlov debuted on Smackdown in 2008, following stints in WWE's then-feeder groups, Ohio Valley and Deep South Wrestling.
After stints on the SmackDown and ECW brands, Kozlov would find himself on Monday Night RAW. He faced off against Santino Marella in a Viewer's Choice match; with the options of wrestling, arm wrestling or a dance-off.
Needless to say, the mirror ball soon descended with the once fearsome grappler displaying not only surprising suppleness but also the world's most robotic caterpillar ever! Kozlov would continue dancing through a brief run on NXT before exiting the company following a kayfabe leg break at the hands of Mark Henry. That's one way to kill the gimmick.
---
9. Tyler Reks
Initially debuting as part of the soon-to-be-defunct ECW brand, surfing tough guy Tyler Reks had the look and physique on a man poised to do big things on the main roster.
What caused Reks' fall from grace remains unclear although there were rumours that his Burning Hammer finisher had raised the ire of one John Cena, who felt the move too similar to his own signature maneuver.
Reks would go on to team with undercard staple Curt Hawkins, competing primarily on NXT, before returning to the main roster as enhancement talent. The boogie would finally get to Reks after then SmackDown General Manager Booker T instructed the duo to 'step it up' or risk losing their jobs. Returning the following week with a Full Monty-esque stripper gimmick, Reks didn't leave his hat on per se however, he did, in fact, leave the company just four days later.
---
8. Viscera
Throughout his various stints aboard the SS McMahon, Nelson Frazier Jr. would oscillate between super heavyweight menace with a penchant for shiny leather and bopping big man in comfortable pyjamas.
Following two tenures in the 90s, Viscera returned to WWE in 2004. Vis would tread water until April of the next year, where an alliance with Trish Stratus sowed the seeds that would ultimately blossom into the World's Largest Love Machine. Ditching the leather for tailored suits and silk dressing gowns, Big Vis' new persona saw him smitten with then ring announcer Lillian Garcia, whom he would pursue for weeks to come.
After being literally caught with his pants down in a segment with Garcia and Maria Kennellis, Vis would eventually gain Garcia's approval, before opting to leave with The Godfather's hoes instead. Big Vis would continue to grind out wins over the next year and of course who could forget his patented maneuverer: The Visagra…unless you had already forgotten it, in which case, we apologize for reminding you.