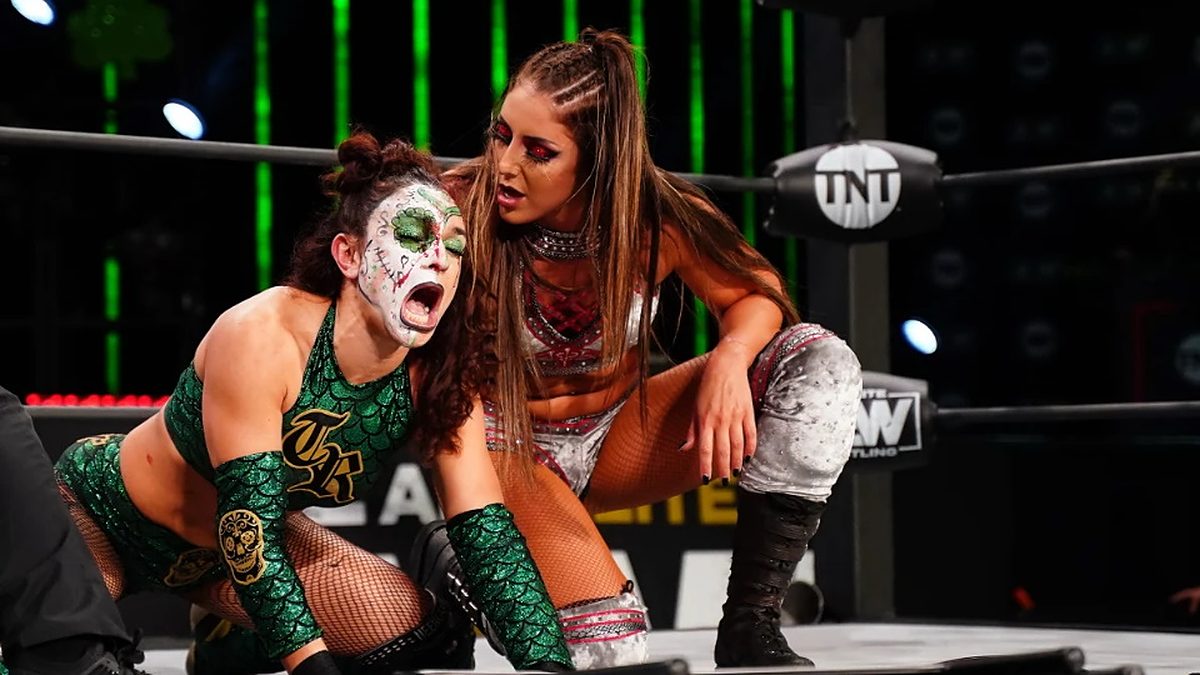 AEW is toddling into its terrible twos across a tightrope of TNT.
They didn't have any matches involving zombies and I didn't realise that was a bar I need major American promotions to clear.
Seriously though, AEW is flourishing right now, going unopposed on Wednesday nights, hitting the million viewer mark on more than one occasion and their last two pay-per-views pulling in the promotions highest buy-rates to date. This is great.
Having another major player in town is good news for everyone, wrestling fans, wrestlers and especially the people that WWE are releasing with what now appears to be grim regularity.
It's not been a perfect year, and AEW still has stuff to learn about medical standards during live broadcasts, and how to build exploding rings, but even though, holy moly this was a tough list to put together, they've got some really good wrestlers over there you guys.
---
Honourable Mention: The 'Great Match, Shame About The Finish' Twins
Just wanted to make a quick shout out to the Barbed Wire Exploding Death Match and the Blood and Guts match, which both seem destined to be consigned to the popular opinion dustbin based purely on shoddily executed finishes, ie. laughable s**t boom booms and a poorly shot fall.
This is a shame as both matches were very good, very different from what you normally see in mainstream American wrestling and featuring character peak performances from Eddie Kingston and MJF respectively.
But "the only thing they remember is the finish". Not my words, the words of my friend and lover Vincent Kennedy McMahon.
---
10. Brian Cage & Ricky Starks vs Sting & Darby Allin – Revolution
A sizzling take now: aside from the firefly funhouse, this might be my favourite cinematic match of the entire pandemic.
I know, and it didn't even have Otis rubbing himself with ham or ninjas or anything. It's just cool.
Darby Allin's cool. Sting is still cool somehow, catching a bat thrown from across a warehouse and going Oldboy on Taz's nephews.
Darby Allin spidermanning off a brick wall, before plunging to his death, Powerhouse Hobbs turning up in a Curryman disguise for no reason, Sting and Darby arriving in a way that looks like David Lynch directing Back to the Future, I just really liked all of it, sorry.
Some fans might see cinematic matches as wrestling with cheat codes, but hell Sting's still out here taking powerbombs at 60.
You could argue that Sting and Darby's match at Double Or Nothing was a better watch with the benefit of a joyous crowd and silly sting doing silly things, but the street fight pipped it for me.
---
9. FTR & The Young Bucks vs. Lucha Bros, The Blade & The Butcher – Fyter Fest
So many things. Not even half the division as well, god tag team wrestling's the best.
With the FTR/Bucks storyline yet to go off the rails, AEW told a pretty great story here of everyone and their mom wanting to see FTR face the Bucks, but playing with that expectation by having them fight alongside each other, and not just that, but really effectively too (until the end of course) with plenty of great double team spots feature an FTR teaming with a Jackson.
The superkick fake out to the DDT is just a chef's kiss of a spot. Add to that the Lucha Bros, Rey Fenix being everywhere all of the time, Penta slapping the marrow from everyone's bones, as well as the Butcher and the Blade being there to soak up just a whole bunch of cirque de soleil whirling dervish bulls**t.
And then there's the stupidest, coolest and stupidest Danadian Destroyer of all time. Just a lot. It's a lot, but sometimes more is more.
---
8. Fenix vs Kenny Omega – New Year's Smash
Do you think Rey Fenix is going to be AEW champion one day?
Like, he's one the most consistently awesome, consistently inventive wrestlers in the world, but doesn't it just feel like he's never going to be AEW champion, which is a shame because bloody hell this AEW championship match is Good Stuff, capital G capital STUFF.
Omega's first defence since winning it with industry shifting shenanigans, the winner was never in doubt, but they sure did have some fun out there.
Some bits of this match are so fast-paced, so fluid, but also grounded with a vicious stiffness (phrasing) with kicks, knees and slaps and snapdragons on the outside, oh no your neck, horrific German suplexes, oh god no your poor neck!
Also that knee into a kip up into a superkick was fun, huh?
So yeah it's a bunch of moves, but all the moves are very good, and after the match the Good Brothers make their AEW debut, fun for all the family. As long as your family regularly features on Being the Elite.