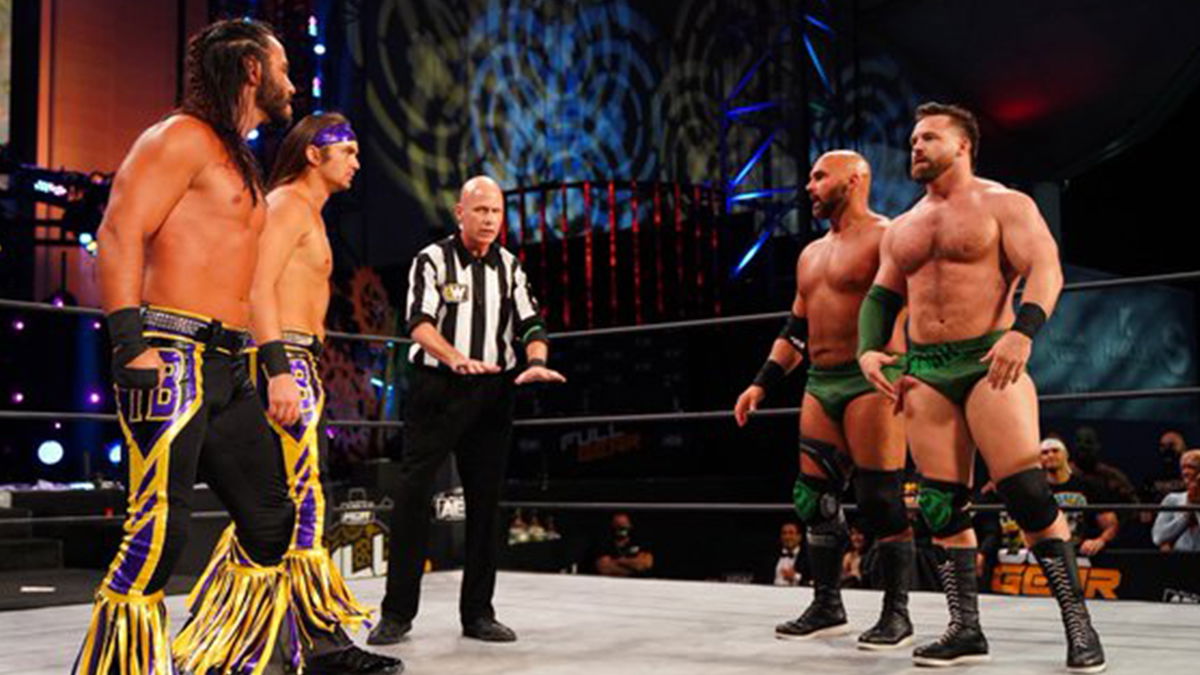 Full Gear 2021 is approaching and appears to be the culmination of AEW's longest-running story.
Hangman Page will challenge Kenny Omega for the AEW World Championship and even if Page loses, we are almost guaranteed a great match.
Great matches are not rare for Full Gear as it was very easy to find ten for this list. While the show has been one of the least built shows each year, it has possibly been the most consistent.
In 2019 and 2020, Full Gear has provided stellar cards with multiple great matches.
Here we will break down the ten best matches from the first two years of the event to get you ready for Full Gear 2021.
---
10. Kenny Omega vs. Jon Moxley – Full Gear 2019
This match was the most difficult to place of any on the list. If you love this sort of thing, you can rank it higher, if you hate it it probably doesn't even make your list.
For now, it can stay right here. Kenny Omega and Jon Moxley just sort of went nuts with their Lights Out match at Full Gear 2019.
There were thumbtacks and that weird barbed wire bed thing and it went on for almost 40 damn minutes.
The two men are obviously very talented and the match certainly elicited a big response from the crowd, but it is hard to argue that it was not also incredibly excessive.
---
9. SCU vs. Private Party vs. Lucha Bros – Full Gear 2019
Man, I miss SCU. In their first pay-per-view match since winning the AEW World Tag Team Championship, Scorpio Sky and Frankie Kazarian put the titles on the line against the Lucha Bros and Private Party.
The Full Gear 2019 crowd wasn't as lively as some other AEW pay-per-view crowds and some of the matches were hurt by this more than others.
This match was definitely hurt by the crowd. The work was quite good with Fenix and Private Party doing ludicrous highspots throughout.
The match didn't quite grab the audience, maybe because it was clear SCU wasn't going to lose the titles so soon after winning them. However, if you want to watch a very fun three-way tag match, look no further.
---
8. Riho vs. Emi Sakura – Full Gear 2019
Riho and Emi Sakura had a tough hill to climb to make people care about their Full Gear 2019 match.
Both great wrestlers, neither had been performing in America long enough to become fully established to the U.S. fans. Add in that neither spoke English and this was a difficult time.
Once the match was in the ring though, the wrestlers took over. This was one of the best women's matches AEW put on in 2019 and the teacher vs. student story shined through without the use of words.
The crowd still struggled to get into this match as they would get into others but by the end, they were forced to give these women the respect they earned with a dynamic performance.