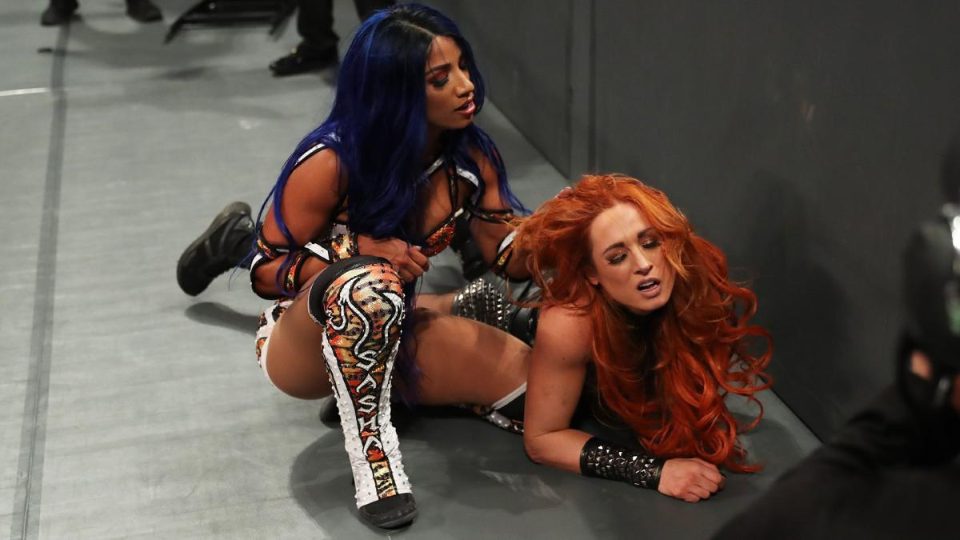 2019 has been a year of wrestling returns and turns.
Be it Sasha Banks' return as the 'Legit Boss', AJ Styles reforming WWE's version of The Bullet Club or Shane McMahon becoming one of the most irritating TV characters in recent history – heel turns have been at the forefront of 2019.
Despite this abundance of new heels, a number of babyfaces with the potential to become legitimate stars have emerged this year as well.
With that being said, here is a ranking of the 10 best face / heel turns we have seen in 2019.
---
10. Sasha Banks – Heel
In one of the most recent heel turns in WWE, Sasha Banks returned to WWE TV after months of speculation on whether she would ever be back. In her first appearance since WrestleMania 35, Banks launched a brutal in-ring attack on Natalya.
Unfortunately, the segment's initial impact was slightly undercut by Natalya's awkward babyface transition after she had been a heel mere days earlier. But the ensuing beat-down of Raw Women's Champion, Becky Lynch, certainly reignited proceedings.
Moreover, Banks' subsequent heel work has improved each week as she slowly integrates her 'Boss' persona more and more. Now, with Bayley by her side to reform a villainous Boss 'n' Hug Connection, the pair are moving ever closer to claiming both Women's Titles in the company.
If Bayley and Banks become SmackDown and Raw Women's Champions respectively in the near future, Banks' heel turn can only be seen as a success. Speaking of Bayley…
---
9. Bayley – Heel
https://youtu.be/CpM1eJk_lg8
Bayley's heel turn came as a genuine shock and presented an intriguing wrinkle to end Raw, to say the least.
She and Becky Lynch teamed up to take on Alexa Bliss and Nikki Cross. The match was thrown out after Sasha Banks attacked Becky, thereby causing the DQ. But, as Sasha repeatedly struck Lynch with the steel chair, Bayley stepped in. She initially took the weapon off her former best friend, indicating that she intended to protect Becky.
However, in a shocking turn of events, Bayley joined forces with Banks to continue the assault on Becky, in the process solidifying her heel turn.
The reason this turn was so successful was not only for its shock-factor, but also for the storyline potential it presented. Furthermore, as Bayley has never really connected on the main roster as a face, a heel turn was refreshing and a possible game-changer for her future in the company.
Role model. Hair stylist. Champion. https://t.co/mgXvs4zadG

— Bayley (@itsBayleyWWE) September 20, 2019
Her subsequent heel work has been neither here nor there, as her promo work is not the strongest. However, with Banks by her side and still holding the SmackDown Women's Championship, Bayley's future remains bright.
---
8. Kevin Owens – Face
Technically, Owens turned both heel and face in 2019. His original heel turn, after replacing Big E in The New Day, was good but short-lived and done too soon.
However, Owens' recent face turn against Shane McMahon's reprehensible SmackDown presence was reminiscent of CM Punk's infamous Pipe Bomb.
"Guess what idiot, there is more than one microphone!"
A line that won the hearts of the fans. KO began listing every under-utilised wrestler in WWE, all whilst claiming Shane McMahon made him "sick".
People had already began drawing parallels with the aforementioned Punk and 'Stone Cold' Steve Austin. However, WWE have seemingly dropped the ball on this incredible promo in recent weeks. Hopefully they can recapture the support Owens originally garnered following his 'Pipebomb', as this new character is far too good to pass up.
Owens really does have the potential to become one of the top babyfaces in the company. All WWE has to do now is book him correctly… and not as a litigant in court cases.
---
7. Shane McMahon – Heel
On the topic of Kevin Owens and his current feud, Shane McMahon's heel run has been controversial to say the least.
His original turn on The Miz after attacking his father at Fastlane was superb. The fans genuinely got into Miz as a legitimate babyface as Shane relentlessly beat him down.
What made this heel turn even better was that Shane was so detestable in the build to his WrestleMania 35 match against The Miz. Moreover, one could argue their match stole the show, as it was miles better than it had any right to be.
Sadly, where this heel turn has been let down is with the over-pushed nature of Shane following WrestleMania. He was featured on every episode of SmackDown Live to the point of hampering legitimate wrestlers such as Drew McIntyre. In addition, he was even rumoured to take on Kofi Kingston for the WWE Championship at SummerSlam, something nobody wanted to see at the time.
Thankfully, this concept formed the catalyst for Kevin Owens' sensational promo mentioned earlier. In that sense, Shane's over-pushing ultimately reaped some benefit despite the months of frustrating WWE TV fans had to endure.
---
6. Io Shirai – Heel
When you look at Io Shirai, you think her natural fit is as a babyface. However, her heel turn on NXT TV was simply fantastic storytelling – and was a great way for her to not lose anything by not winning the title from Shayna Baszler.
Candice LeRae entered the cage to even the odds against the MMA Horsewomen. But, after losing the match against Baszler, a frustrated Shirai turned on her 'friend' to brutal effect, repeatedly striking Candice with a steel chair.
What makes this heel turn even better, and different to the likes of Shane McMahon's, is that Io's presentation as a heel has been exceptional. With new music, a new entrance and a new look, Io is presented as a legitimate threat and ultimately a superstar.
With LeRae now the #1 Contender for Shayna's NXT Women's Title, Io will no doubt play a role in their upcoming match to continue their feud and hopefully we will see this 'dark' Io Shirai crowned NXT Women's Champion very soon.
---
5. AJ Styles – Heel
Coming off a lengthy WWE Championship reign for most of 2018, AJ Styles' 2019 started fairly strong in a feud with Randy Orton.
However, after WrestleMania 35, AJ's babyface run seemed to be running out of steam. That all changed following his United States Championship match against Ricochet on Raw.
Having airing his frustrations with Gallows & Anderson's floundering careers in the run-up, The Club come down to the ring during AJ's match and looked ready to cause the DQ. Styles seemed to protest their presence, before turning and striking Ricochet, clearing Gallows & Anderson to join him in the attack.
From that point, we have seen the newly named 'O.C.' become the top heel faction on Raw. They are being consistently integrated into the Universal, United States and Tag Team title pictures, therefore revitalising not only Gallows & Anderson's careers, but also reversing AJ's declining face run in the process.
---
4. Batista – Heel
"HUH!"
This was, in my opinion, the best ending to Raw we have seen all year.
It had been announced ahead of time that Ric Flair's birthday celebration would be capping off the February 25th episode of Raw. Given the nature of wrestling, we knew that something massive was bound to happen.
After Flair missed his cue to come to the ring, fans were left in a state of confusion. Cameras cut backstage to reveal Batista dragging a whimpering cameraman to Flair's dressing room. He then proceeded to pull the 'Nature Boy' out by his suit collar before spitting the memorable line:
"Hey Hunter. Do I have your attention now?"
The segment was perfection, and laid the foundation for phenomenal heel work by Batista, culminating in his retirement match at WrestleMania. The subsequent bout with Triple H was decent, although nothing special.
However, it was Batista's initial heel turn that must be considered one of the highlights of 2019.
---
3. Bray Wyatt – Heel
https://youtu.be/J_rCqmyFkic
Admittedly, this one is up for debate as to whether it constitutes an actual heel turn. However, The 'Fiend's debut has to be mentioned for shear fear-factor alone.
After weeks of promos within the Firefly Funhouse, Bray Wyatt's heavily-teased alter-ego finally debuted on the July 15th edition of Raw by attacking Finn Bálor. Overnight, Bray Wyatt became the most talked about person in wrestling.
In subsequent weeks, The 'Fiend' began assaulting a combination of legends and those who had done him wrong in the past, thus sparking an element of fear across the WWE landscape. The systematic extinguishing of lights which herald his arrival have brought a feeling of dread across opponents and fans alike.
The issue is, despite being presented as a heel, The 'Fiend' is both feared and beloved by fans – raising the question of whether he truly is a heel character. Nonetheless, The 'Fiend' continues to be the most intriguing character on WWE's roster and we could well see him become the Universal Champion when he takes on Seth Rollins at Hell in a Cell.
---
2. Johnny Gargano – Face
Arguably the greatest feud NXT has ever seen, Gargano vs. Ciampa looked set for yet another bout over WrestleMania weekend; however, a devastating injury to Ciampa prevented the final encounter between the two. Nonetheless, the face turn that set-up the match was nothing short of poetic.
After Ciampa finally brought Johnny around to his side of thinking, the two teamed up for the Dusty Rhodes Classic. After unsuccessfully taking on Black & Ricochet, Ciampa looked set on recreating the turn that started it all at TakeOver: Chicago in 2016.
His plan however backfired, as Gargano foresaw Ciampa's betrayal and began a babyface turn of his own. Johnny fought Ciampa to the ground and stood tall with Candice LeRae at his side to close this episode of NXT.
One could argue we are still yet to see the true conclusion of the Ciampa and Gargano feud (and who knows if we ever will), but with Ciampa's return seemingly on the horizon, the feud is not dead just yet.
---
1. Ronda Rousey – Heel
Talking about the best heel turns of 2019, the turn to set-up the WrestleMania main event has to be atop the list.
After Ronda crashed a signing of Lynch's 'Hold Harmless Agreement', she began berating Stephanie McMahon. However, she soon turned her attention to Becky and Charlotte's "frail" bodies. It all seemed slightly off for Ronda's heavily fan-friendly character until…
… she began slating the fans for booing her at the Staples Centre, claiming she exceeded every expectation placed one her.
"Damn The Man! Boo The Woo!" she asserted.
This promo reinvigorated Ronda's character and set-up a ground-breaking match in the process.
The heel turn continued to be a success in the following weeks and we even saw one of the best brawls WWE has produced in years between the three women in the build-up to their 'Mania match.
WWE took the risk of turning one of their biggest stars into a heel and it payed off. What is exciting is we are yet to see the conclusion of this Becky vs. Ronda feud as Rousey has been absent ever since her 'Mania loss.
Hopefully Ronda returns as a heel to continue the feud, and this time she might have three accomplices as back-up…
Follow WrestleTalk on Twitter to stay up-to-date with all the latest wrestling news. And join the entire community on Discord to have your voice heard.