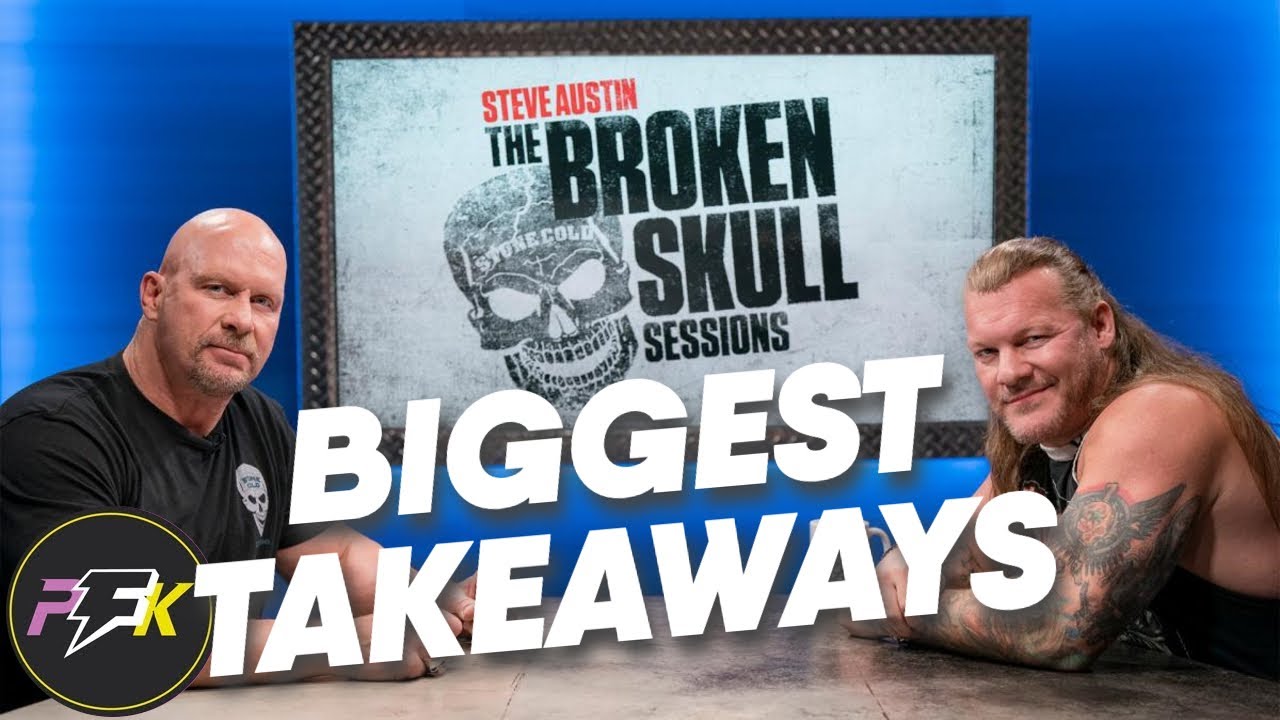 Well here's something you don't see everyday. On April 11th, the day of WrestleMania 37 Night 2, the names AEW, Tony Khan, Kenny Omega, Young Bucks and Orange bloody Cassidy were featured in official WWE programming. Hell, 2 hours into Chris Jericho's appearance on Steve Austin's Broken Skull sessions, they display a picture of Jericho holding the AEW title. I mean sure, the programme chapters only ever refer to All Elite Wrestling as quotes 'a new company' but man it's something to hear Steve Austin say AEW on WrestleMania weekend. While the 2 hour interview between the rattlesnake and le champion might not have spilled quite as much tea as fans might like, there were still plenty of ace stories that made it a hell of a watch. I'm Adam, hailing from PartsFunKnown and here are the 10 Biggest Takeaways From Chris Jericho on Broken Skull Sessions.
---
Another Forbidden Door Opens
While the big story going into this show is the proverbial forbidden door between WWE and AEW being smashed in, as you might expect, it's not the main focus of the show, with Austin and Jericho instead taking us on a potted retrospective of Y2J's entire career, which makes it all the more amusing that Jericho's big break came from the opening of another forbidden door. In 1996, Bossman of New Japan Pro Wrestling Antonio Inoki organised the World Wrestling Peace Festival, an event designed to bring together multiple wrestling promotions for a collaborative show. WCW took part, as did New Japan, Michinoku Pro WWF did not, of course, both AAA and CMLL took part, which was surprising considering their rivalry. Lionheart Chris Jericho took park in a triangle match with Konnan and Bam Bam Bigelow. At the event Jericho met Bischoff who invited him to be part of WCW, although apparently Bischoff then left the show before watching Jericho's match so…huh.
Leaving WCW
Gosh working for WCW seems like it would be hard work. Jericho recounts a number of strange stories, working without a signed contract for the first 17 months of his employment, being told he'd be WCW's Shawn Michaels before getting locked in the cruiserweight division, which Jericho compared to being low in an Indian caste system, but the most interesting story is the one when he finally realised he needed to leave. Jericho had a plan for a match with Goldberg, which he pitches as the 'greatest squash match of all time', he'd provoke Goldberg, and when the PPV match finally came, Goldberg would literally spear him out of his shoes. Despite putting in the work, the money match was consistently rejected, which led to Jericho letting his contract expire and looking for better things.
Vince McMahon's Trust Exercise
It seems everyone's got a 'Vince is a really weird dude' story, which makes sense. Look at him. Jericho's is that during the final months of his WCW contract he was summoned for a meeting with Vince McMahon, at Vince McMahon's house. Jericho attended the secret meeting, ate brownies with Vince, sat in awkwardly on a booking meeting, then had a brief chat with Vince, with scary old bastard McMahon saying nothing to him except, let us know when your contract is up. A confusing day then, Jericho only realised later that the whole meeting was a test to see if Jericho would blab about it, or if he was someone Vince could trust. Since word didn't get around, he was designated the right type of human to work for WWE. Not a paranoid place to work at all, I see.
Don't Hate The Player, Hate The Game
Yeah turns out WWE was a super rough place to join in the late 90s, especially if you were a former WCW guy. Despite a whopper of a debut, Jericho recounts a few stories of him struggling during his first year with the company. Apparently him and triple h hated each other, that helps, he was constantly being booked to lose, a bunch of WWF guys, the game included, still saw him as a WCW guy who wasn't prepared to adapt to the WWE style. It all came to a head in April 2000, the month after mania 2000, for which Jericho was originally on the poster before being replaced by Mick Foley, though Jericho doesn't mention that. April 17th Jericho requested a chat with Vince to tell him 'I want out', but never actually made it to that meeting, because he found out, oh hey, that's the night they were going to have him briefly win the world title. Jericho describes it as a turning point, he let Triple H lead, proved he could play ball with a guy he didn't like, had a great match and after he gave up the belt, Vince said 'don't worry, you'll have it again someday'. And indeed he did.
The Saddest World Title Win Of All Time
In probably the funniest section of the interview, Jericho ran down everything that happened the night he became the first ever undisputed champion at Vengeance 2001 and POOR LAD. First of all, he found out in the least ceremonious way possible, overhearing Vince at catering 3 hours before the show saying to undertaker, loud enough for y2j to hear 'you know how you know the business is going down the toilet, we're putting the title on Jericho'. Cool, thanks boss. The finish of that main event was so over-booked and Austin was so fried that he couldn't keep track and told Jericho 'Just call it to me', there was no one there backstage when he won, because everyone used the main event as a chance to beat the traffic, and later that night he locked himself out of his hotel room getting a pizza, the guy wouldn't let him in back in his room and when he finally got back in, he dropped his pizza on the floor. What a night.
I Understood That Reference
It's always fun to see where people get the inspiration for their gimmicks, like Oli Davis current haircut being inspired by the Mayor of Whoville from How The Grinch Stole Christmas. Throughout the show, Jericho outlined a lot of things he had borrowed or referenced during his long career. The whole standing with his back to the crowd entrance thing was inspired by Michael Jackson, who did it at a concert in Mexico while Jericho was wrestling down there. The moss covered three handled family Gradunza from his list of 1004 holds was a reference to a Dr Seuss song sung by the cat in the hat, the walk to the stage mocking Goldberg at Fall Brawl 98 was an homage to spinal tap getting lost on their way to the stage, his countdown to the millennium debut gimmick was inspired by a similar clock at the post office and his 2008 heel character, possibly his finest work, was modelled after Javier Bardem's quiet intensity in No Country for Old Men.
Heartbreak Soulmates
It's no small wonder that Shawn Michaels and Chris Jericho made magic in their 2008 feud, if Y2J's WrestleMania 19 story is anything to go by. An underrated mania classic, the match between the two at the show of shows was also the first time that both men were ever in the ring together. In a weird soulmate-level coincidence, Jericho had a flash of inspiration and wrote down the finish of the match in a sporting goods store on the back of a receipt, but didn't know how the match would start. Meanwhile Shawn had gone away and written up the start of the match, but didn't know how the finish should exactly go. Both men presumably made heart eyes at each other, combined their two halves of a match and their mania rehearsal was done in an unprecedented 10 minutes. Cute. Cute boys.
An Unacceptable Position
Full credit to Chris Jericho despite working for a rival promotion, a promotion that he in fact carried on his back in the first few months, based of his WWE generated worldwide fame, Jericho has few harsh words to say about WWE. However, despite such professionalism he does tell a similar style of story over and over again, which paints a picture when taken together, that of plans being changed on him at the last minute. First was Jericho departure in 2005, wanting to leave wrestling in general after suffering from burnout. Jericho was repeatedly told he'd be done after Summerslam, so much so that he booked a holiday with his family the day after, only then to be told at the last minute, no we need you for raw. More egregious, 'powers that be' (Jericho didn't name names) tried to change the iconic festival of friendship at the last minute scrap some of the comedic elements, which forced Jericho to contact an absent Vince to back him up. Finally, the straw that broke the camels back, at Mania 33, Kevin Owens and Jericho's match at the show was changed from one of the main events over the Universal title (which Jericho would win before dropping it to brock the next month) to the second match on the card for the US title. According to Jericho going on second was quotes 'unacceptable' and made him reevaluate his place in the company.
The Parting of The Ways
Chris Jericho's final appearance for WWE was being part of the Greatest Royal Rumble in the first ever Saudi Arabia show, and the story behind that show is one of an acrimonious breakup. See, Jericho's original deal with New Japan, a match with Kenny Omega at the Tokyo Dome for Wrestle Kingdom was for one match, which was approved by Vince who told him to go fly the WWE flag in japan. Jericho lost, but the next night beat up Naito to leave with heat but maybe plant a seed for something in the future, which made Vince ask 'hey what was that, that wasn't part of the deal'. Fast forward to the greatest royal rumble and the original card advertised a casket match between Chris Jericho vs The Undertaker in a casket match. Well actually the original plan was for Rusev to fight taker but that was changed to Jericho. However, before the show, Jericho told Vince that new japan wanted him back for a match with Naito, and shortly after Jericho was removed from the match and it reverted back to its original plan. Apparently the prince wanted the change, which Jericho doesn't believe, but he says this moment made him realise, ok maybe this new japan stuff can lead to more, and he became much more open to talking with Tony Khan.
Make Wrestling Fun Again
Without ever really getting explicit about it, throughout the show, Jericho paints the picture of a damaged friendship between him and Vince McMahon, he talks about how Vince used to trust him although probably not as much these days, he refers to his relationship with Vince in the past tense a lot, but most telling in his description of working with Kenny. Putting together their match, he didn't have to approve it with anyone and he said that quotes 'wrestling became fun again'. By contrast, talking about if he'd made a different choice and gone back to WWE he says 'I knew what would happen, I knew the first thing I'd have to do is I'd have to put someone on the list'. Reading between the lines, it's quite a damning picture, on WWE branded programming no less.
What are your thoughts on the above story? Let us know in the comments on Twitter or Facebook.