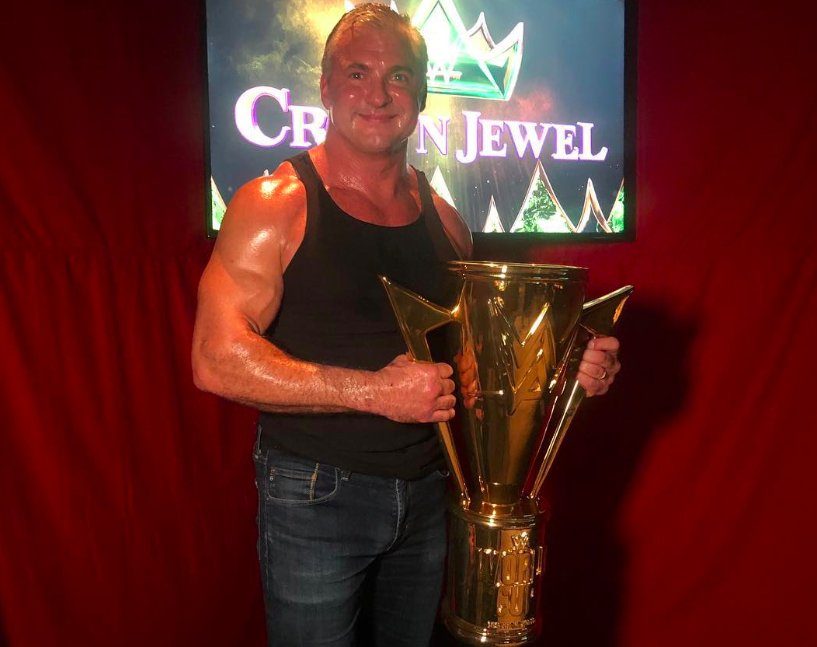 Mistakes, we all make them. And when you do you've just got to hold up your hands and say, I'm sorry, I F'ed up, I forgot you were vegan Sharon and I accidentally put chicken stock in the dinner and let you eat it. Bit of a wasted apology because Sharon likes wrestling about as much as she likes chicken, so there's no way she's watching this video.
See it's hard to apologise properly. And it must be even harder to turn around and apologise when you're making those big mistakes in front of millions of people and not just Sharon and her plant-based taste buds.
WWE is not the sort of company to dwell on its mistakes instead choosing to just pretend they never happened wiping them out of history all together. And as 2018 has been a bit of a bumper year when it comes to cock ups and gaffs it'll be interesting to see if any of the 2018 pages in the history books have anything written on them at all.
10. Lashley's Sisters
Talk about starting strong. We're flying out of the gate with the cross dressing jokes.
Bobby Lashley returned to WWE after a 10 year spell in Impact and MMA, and you just have to look at the man to know he's someone that could easily be pushed as an unstoppable force, or even a walking armageddon.
So, what do WWE do with him?
Well, in a sit down interview segment with Renee Young, Bobby cut arguably the lamest promo of the year about his three sisters, Cathy, Jessica and Frances. Explaining that despite their differences, he still loves them dearly.
Turns out they weren't so different after all, they all had dicks.
Because it turned out it wouldn't only be Bobby getting burned by this nonsense, Sami Zayn was about to feel the pain too.
Sami cut a promo about how he would expose Bobby for who he truly is, which turned out to be him bringing three cross-dressers to the ring who pretended to be Bobby's sisters. Lashley then beat up the cross-dressers and that was that.
The worst thing is that someone will have written this and all the writers agreed that it was a good idea. Just cross cross-dressing off the list of acceptable jokes for 2019 eh lads.