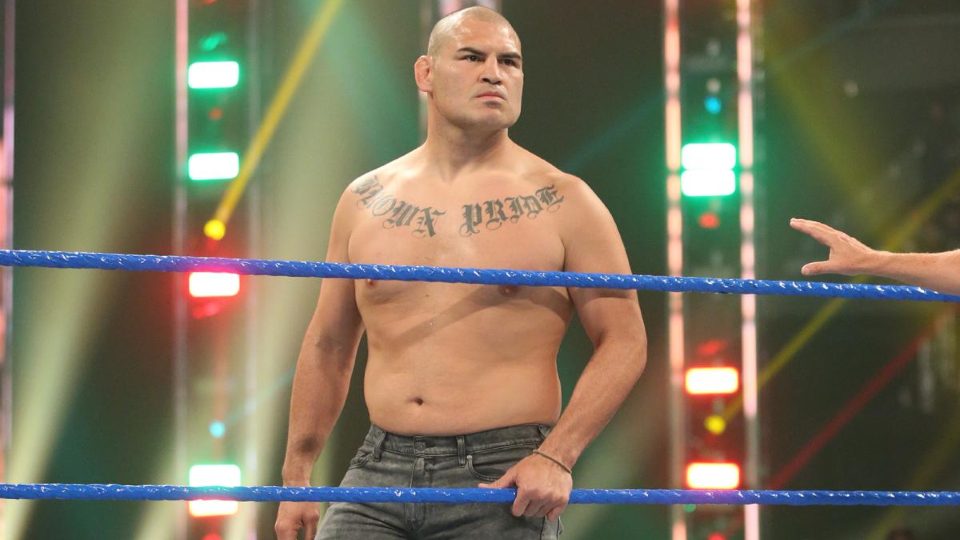 WWE had a pretty crazy 2019. Their biggest pay-per-view of the year was main evented by lady people, Brock Lesnar left and rejoined the company as top champion every other pay-per-view cycle, and the promotion faced its biggest competition since WCW folded two decades ago with the rise of All Elite Wrestling.
So what do WWE reportedly have planned for the start of the roaring 20s? Other than cuckold storylines, cuckold storylines for everyone.
Roman Reigns vs. The Fiend at WrestleMania 36
First up is one of the reported featured matches for WWE's biggest show of the year, Fastlane, I mean WrestleMania 36. Which could see Bray Wyatt's unstoppable, completely dominant Fiend against the just as unstoppable, completely dominant push of Roman Reigns.
Current betting odds have Reigns as the runaway favourite to not only win the Royal Rumble match, but also to go onto challenge Bray Wyatt at WrestleMania. Because as we all know, Vince loves to see Roman defy the odds and defeat the one person no-one else can. 
Wyatt has already seen off Roman's former Shield partner Seth Rollins, Daniel Bryan and the Miz, three former WWE Champions, so it's only a matter of time before Reigns switches his attention on SmackDown from Baron Corbin to the Fiend.
Imagine if it only takes one spear…
Cain Velasquez vs. Brock Lesnar At WrestleMania 36
Another pencilled in match for Roman is, as usual, Brock Lesnar. But if they don't face each other for the 37th WrestleMania in a row – yes, I do know we're only at number 36 – the other reported plan is the Beast vs… that guy everyone thought was Rey Mysterio's son when he first debuted on SmackDown's premiere episode on Fox.
Former MMA fighter Cain Velasquez – who legitimately beat Lesnar a decade previously for the UFC championship, giving him a facial scar Brock still wears to this day – had a dud first run with WWE in October and November. 
He had one match at Crown Jewel in Saudi Arabia against Brock Lesnar, lost in about 2 minutes, and hasn't been seen since. He did have one match at a Mexico house show at the end of November, but he and Brock would disappear from WWE TV in the months since..
Brock seems likely to return for the Royal Rumble to defeat a smaller person, as is the yearly tradition, and Velasquez is undergoing knee surgery, so any build for a match between the two would likely not be possible much before WrestleMania.
Brock and Cain are now "1-1" in the eyes of WWE, so this match would likely be advertised as a "bragging rights" rubber match where the winner will claim dominance over the other. Hopefully it gets more than 2 minutes this time.
But they're not the only former UFC stars who could be at the top of the card.
Ronda Rousey vs. Becky Lynch At WrestleMania 36
Ronda Rousey hasn't been seen in WWE since she lost her Raw Women's Championship to Becky Lynch in a botched roll up at WrestleMania. Rousey had said in interviews that she now wanted to step away from her one year wrestling career to focus on starting a family.
Instead she started filming TV shows and horribly injured her hand in one show. Now that production on those projects is over, though, and her hand is healed, we might be looking at a return exactly two years after she made her debut at the 2018 Royal Rumble.
Justin Barrasso of Sports Illustrated reported earlier this year that WWE had "tentatively slated" Ronda Rousey vs. Becky Lynch for WrestleMania 36, and it would be easily the biggest women's match they could put on the card.
Lynch is the only person to defeat Rousey since her debut, so it makes sense for Ronda to seek revenge on her. The only question really is whether Ronda is returning. And if she does, that's not the only way WWE will start caring about their women's division again.
Evolution 2?
The lack of Ronda Rousey in WWE since WrestleMania didn't just result in a lack of focus on the Raw and SmackDown women's divisions, the company's pay-per-view schedule this year oddly lacked the all-women's Evolution show that was a critical and commercial success in 2018. Without the star power that Ronda brings with her, it seems WWE had no intention of putting on another all-female show.
Even prior to her WWE departure following WrestleMania 35, Dave Meltzer reported in the Wrestling Observer Newsletter that WWE was holding off on announcing a second Evolution show until they knew what Ronda's plans were. Unfortunately for the rest of the roster, she left, and that pretty much cancelled any notions of a sequel. But with Rousey's potential return, it's highly likely we'll also see back the all-women show.
Explaining why there was no Evolution in 2019, inventor of women's wrestling Stephanie McMahon said it was because all the focus went on WWE getting a women's match in Saudi Arabia. 
"We did consider it. A lot of our focus has been on having this particular match as a part of this PPV in Saudi Arabia. More to come on Evolution but it's most likely not going to happen in 2019." Because planning two things at once is impossible.
But that's not the only thing WWE's highly controversial business relationship with Saudi Arabia has affected in the company…
WWE Stars Refusing To Work Saudi Arabia
One of the biggest wrestling news stories of 2019, and 2018 for that matter, was the travel issues endured by the WWE wrestlers and staff stuck in a Saudi Arabia airport following November's Crown Jewel show.
Many were stranded for several hours while others chartered another flight to try and get back for SmackDown the following evening. There were countless rumours as to why this all took place, with some claiming financial disagreements with the Saudi government, and others reporting mechanical issues with the plane.
What we seem to know for sure is that the incident left a lot of people very upset and angry, with many WWE wrestlers reportedly vowing never to return to Saudi Arabia for any future shows, with some even implying as much on Twitter.
We already know that high-profile wrestlers such as Daniel Bryan, Kevin Owens and John Cena have refused to travel to the country, and Sami Zayn hasn't been booked on any shows due to his Syrian heritage. Whether morals and ethics can withstand the lure of a huge paycheque is another question, though, so we'll have to see if the disgruntled wrestlers make good on their promises at the next show likely around April to July time.
Or maybe they'll go one further and quit the company altogether.
Mass WWE Talent Exodus/Releases
One of the major wrestling themes of 2019, likely due to the rise of a viable alternative place to work in AEW, is that many of WWE's currently contracted talent is creatively frustrated and they want out of the company.
This led to a slew of WWE stars either reportedly or publicly asking for their releases, with several like Luke Harper, Mike Kanellis, Tye Dillinger, Mike Kanellis, Sin Cara and Mike Kanellis all posting that they want out of their contracts on Twitter.
WWE granted several of those releases in February, letting go Dillinger, Goldust, TJP and Hideo Itami, but went into contract lockdown for most of the rest of the year with the looming threat of AEW.
That all changed on December 8th, though, when WWE suddenly announced that Luke Harper, Sin Cara and Viktor and Konnor of the Ascension had all been granted their releases. 
Inspired by this, there were reports that several other WWE wrestlers were now considering asking to get out of their contracts while the company was in a 'releasing mood', with Fightful reporting WWE might make the decision for some, with rumours going around the NXT locker room that developmental talent could be cut in early 2020 as cost-cutting measures.
The easiest way to leave WWE, though, is just to wait for your contract to expire.
The Hardys To Leave WWE?
The Hardy Boyz are responsible for one of the biggest pops in recent WWE history when they returned to the company at WrestleMania 33, but their run since has been hindered by a reliance on nostalgia, Vince McMahon not understanding Matt Hardy's cult favourite Broken gimmick, and Jeff's struggles with injury and substance abuse through 2018 and 19, having been arrested twice for alcohol related crimes in the second half of 2019 – for which he is thankfully now "aggressively" getting help with WWE's support. 
But the contracts they signed for their WrestleMania 33 returns were only three years long, meaning Matt's reportedly expires in February, and he seems to be gearing up to leave, most likely for AEW given his friendship with the Young Bucks…
I needed to return to @WWE to finish in the right way. I didn't want 2010 to be my finale. I returned in the most EPIC way & repaid my debt. I waved the #WWE flag with pride & worked hard to be a model employee. My conscience is clear & I am at peace. pic.twitter.com/EpT1gjNZNT

— MATT HARDY (@MATTHARDYBRAND) December 10, 2019
It's unknown when or if Jeff will return once he's dealt with his issues outside of the ring, but WWE will likely have frozen his contract and will make him stay a while longer as a result. 
Rey Mysterio To Leave WWE?
Rey Mysterio is another WWE legend with their contract up in 2020, with his two year deal with the company expiring in October. And interestingly AEW co-executive vice president Cody Rhodes had admitted he'd love to have him on his roster – which he already has links with, wrestling in the main event of AEW's 2018 prelude show All In. 
Before he signed with WWE, there were contract sticking points over Rey not wanting to work the gruelling touring schedule with several live shows a week and endless travelling. He may have only signed a two-year contract with that in mind, which is definitely on the shorter side of what most WWE wrestlers are offered. But one of the big positives of staying in WWE is to get over his son Dominic, who has already featured in the Lesnar storyline, and seemingly appears to be building to a feud with his dad.
But the Hardys and Rey are nowhere near the biggest names potentially stepping away from WWE…
Vince McMahon To Step Down?
As 2020 could be the year we see Mr. WWE himself, Vince McMahon, finally start to succeed control of his company, hopefully complete with all the 'F Offs' of Brian Cox in Succession.
Because Vince has got a brand new idea – take an old idea that failed cataclysmically, losing him $35 million in 2001, and try it again! 
In February 2020, the weekend after the NFL season concludes with the SuperBowl, McMahon's XFL will launch with a 10-week inaugural season. Vince is apparently intent on rectifying one of his most costly ever business mistakes, reportedly prepared to invest up to $500 million – which is five times more than he put in the first time round. He's already liquidated 4% of his WWE stock, or $270 million, to fund the project.
With that much money and personal pride riding on the XFL's success, it's expected McMahon will step back from the day-to-day running of WWE, with Triple H and Paul Heyman set to take on bigger roles at weekly TV and pay-per-view. 
If Hunter and Heyman do step up, their focus on building young talent could heavily influence the promotion's first big event of the year.
A Very Different Royal Rumble
Since its inception, the Royal Rumble match has been almost entirely made up of stars from WWE's main roster, with the odd legend or NXT star making a surprise appearance here or there.
But from the new decade, it seems things are about to change, as Bryan Alvarez has reported on Wrestling Observer Live there are plans to have the match made up of 10 stars from Raw, 10 from SmackDown and 10 from NXT, meaning each brand theoretically has an equal chance of winning – but it'll still most likely be Roman Reigns.
WWE is putting a much bigger focus on NXT at the moment due to its ongoing Wednesday Night War with AEW, with the 'third brand' even winning overall at November's Survivor Series, them playing a big part in the Rumble will definitely help bring more eyes to the product.
In 2019, the men's Rumble match featured just 3 stars from NXT, with Aleister Black, Pete Dunne and Johnny Gargano all making surprise entrances. For the women's Rumble, and due to the smaller Women's roster size, 6 NXT stars went over the top rope, with Candice LeRae, Kacy Catanzaro, Rhea Ripley, Io Shirai, Xia Li and Kairi Sane all making an appearance.
With NXT UK also in town for the Worlds Collide Tournament, WWE has a very talented roster to choose its 10 best stars from for both the men's and women's Rumble matches.
Have you heard any WWE rumours for 2020? Let us know on Twitter and on Discord!