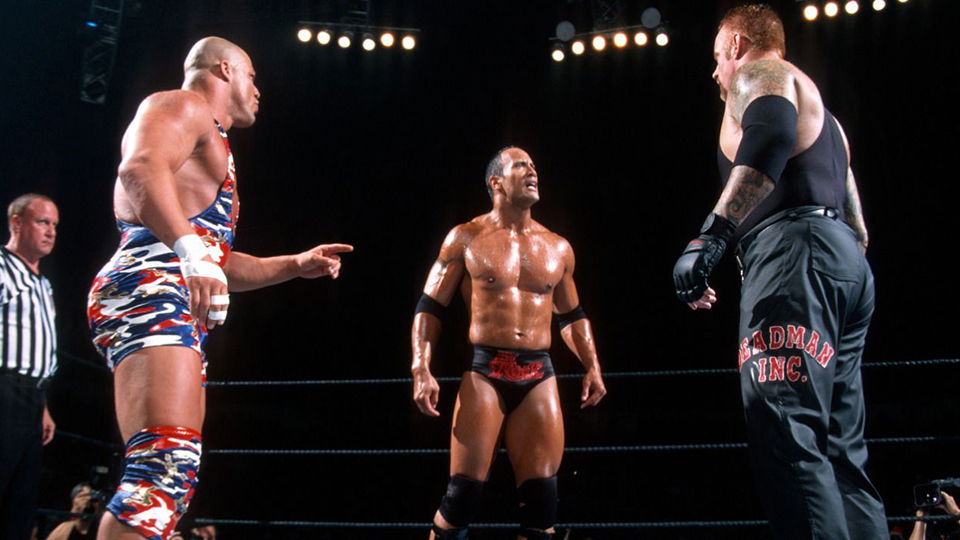 10. The Rock vs. John Cena – WrestleMania XXVIII
When Rocky Maivia debuted at Survivor Series in 1996 no one could have imagined he would climb to the heights he has. As of this writing, he is the biggest movie star in the world and the most famous wrestler in North America. Here we will list the ten most must-see matches from the career of The Rock.
After a long time away from the business, the Great One finally returned to set up a colossal match with John Cena at WrestleMania XXVIII. This match was no masterpiece, but it was a massive moment in both Cena's and The Rock's careers.
The main event had been built up for a full year and it did have a big match feeling. Both men worked very hard and it concluded with a huge Rock Bottom for the win. This completed the trifecta as this made The Rock the only man to defeat Hulk Hogan, Steve Austin, and John Cena at WrestleMania. A truly incredible feat.
---
9. The Rock vs. Kurt Angle – No Way Out 2001
As WrestleMania X-Seven drew closer, the WWE Championship match started to come into focus. Steve Austin had won the Royal Rumble, earning him a shot at the title. Who he would be challenging was still determined. Kurt Angle was the champion heading into No Way Out and he had to do was make it through the Brahma Bull.
Unfortunately for Angle, that was a near-impossible task. This was a very Attitude Era match with rabid fans, lots of big moves, and a bizarre run-in from the Big Show. While the match does get bogged down a big by the run-in and the botched finish by Earl Hebner, this is a great look into the Attitude Era and the lead-in to the best WrestleMania ever.
---
8. The Rock vs. CM Punk – Royal Rumble 2013
After defeating John Cena at WrestleMania XXVIII, The Rock shocked the world by announcing his intentions to challenge for the WWE Championship. Some time later, he finally got his shot at the Royal Rumble against CM Punk. This was The Rock's best match in his career resurgence due in large part of the work of CM Punk.
It was no secret that Punk was unhappy with WWE during this time but when he got in the ring he was on top of his game. He had been WWE Champion for 434 days and this was an excellent way to cap off his reign. There was some backlash to having The Rock end Punk's lengthy reign but anyone who couldn't see this coming was kidding themselves.