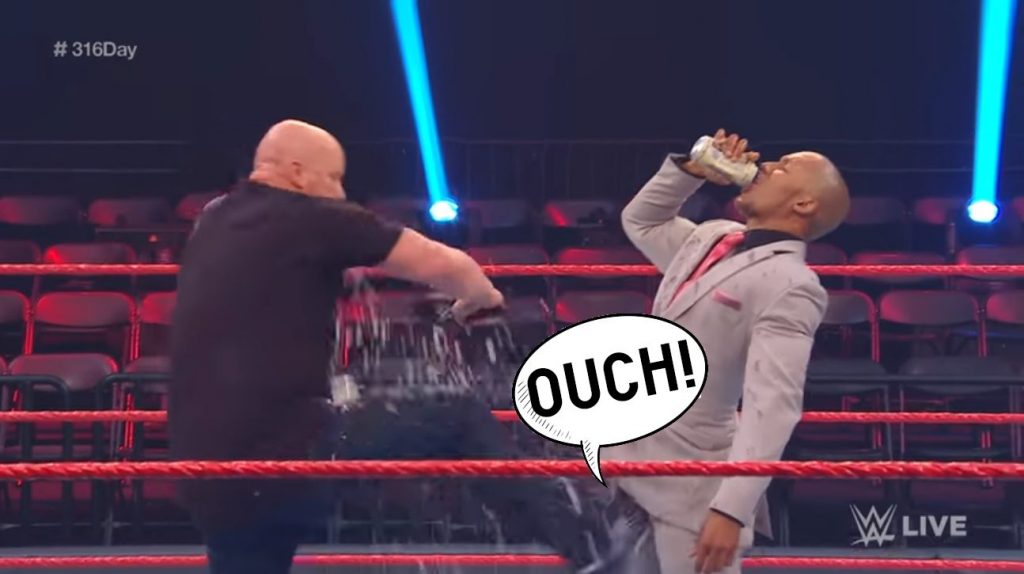 10. Rey Mysterio 619 Botch (January 27, Raw)
Rey Mysterio is one of the greatest wrestlers on the planet, except when he's not.
To be honest, this one isn't really Rey's fault, but I wanted to come up with a fun opening line, so I'm sure he'll understand.
On the January 27 episode of Raw, Rey took on a returning MVP, who had returned to WWE the night before in the Royal Rumble. The finish of the match, as it often is, was supposed to be your classic 619, but either MVP forgot this, or the finish was just really weird, because instead of dodging out of the way of the move, MVP sort of stood up, realised he was doing something wrong, and then took the move to the small of his back instead of his face.
Thinking on their feet, Rey then hit a splash on MVP's back, and pinned him. Oh well, it all worked out in the end.
9. Security guards attack actor (January 6, Raw)
Oops! The "fan" who was tackled by #RAW security was Lana and Bobby Lashley's pastor. pic.twitter.com/MjLlqqLnIM

— WrestlingNews.co – WWE/AEW News (@WrestlingNewsCo) January 7, 2020
If you remember last year's WWE Hall of Fame ceremony, you'll remember that a moronic fan decided it would be a good idea to rush the ring and attack Bret Hart, so it's probably no wonder that WWE security are very wary of potential ring invaders.
On the January 6 episode of Raw, the security team did exactly the right thing when a man they didn't recognise rushed the ring, and immediately tackled him to the ground before dragging him out of the ring.
Unfortunately, that man was actually an actor who was playing the pastor in Bobby Lashley and Lana's wedding. Yep, that was actually this year.
Upon realising their mistake, the actor was allowed back in the ring and allowed to conduct the wedding ceremony, looking distinctly dishevelled at his less than warm welcome.
8. Montez Ford misses dive (March 30, Raw)
"WrestleMania!!!!!" shouted Montez Ford, before running towards the ropes and performing a beautiful suicide dive.
The only problem was that Austin Theory forgot he was supposed to be standing in the way. As a result, what actually happened was that Ford dived over the top rope and landed back first on the entrance ramp with the noise of a small, ignorant neighbour hammering pieces of metal at 8am on a Sunday morning…sorry, I'm projecting here.
Thankfully the damage to Ford was minimal, and while Theory went on to appear at WrestleMania in a match against the Street Profits, he was very quickly moved back to NXT where hopefully he's learned how to concentrate on the match more. He needs more Ford Focus.