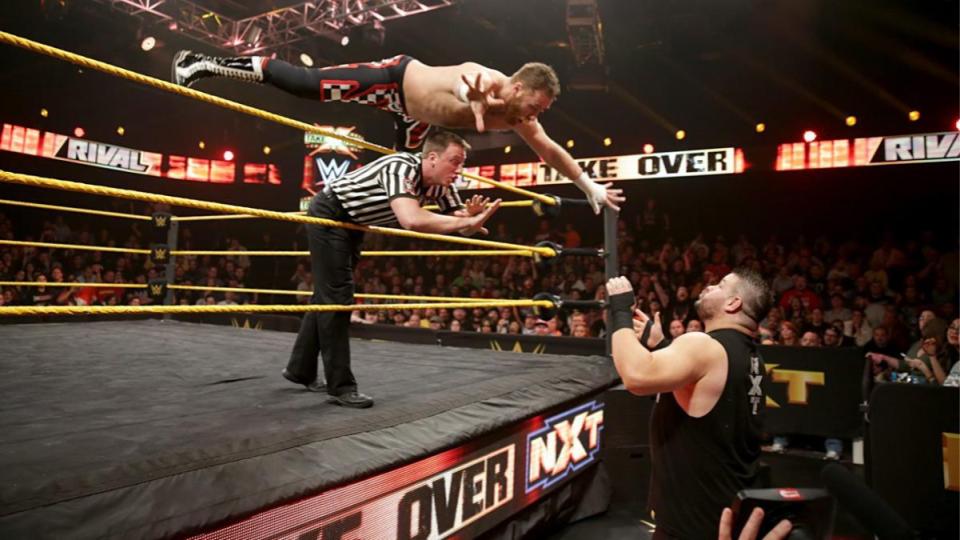 Support wrestling, screw COVID-19. On YouTube, Pete gave us 10 brilliant feuds to marathon whilst stuck indoors.
The great thing about wrestling is variety. Whilst that list was packed full of memorable moments, there are many more to see! If you've already binge-watched the matches from that video, here are 10 more WWE rivalries to entertain you during social isolation.
---
10. Finn Bálor vs. Samoa Joe 
Key Matches: 
Bálor and Joe vs. Corbin and Rhyno (NXT TakeOver: Respect)
Bálor (c) vs. Joe – NXT Championship (NXT TakeOver: London) 
Bálor (c) vs. Joe – NXT Championship (NXT TakeOver: Dallas) 
Joe (c) vs. Bálor – NXT Championship Steel Cage Match (NXT TakeOver: The End)
If you're a pure wrestling aficionado, this rivalry was made for you. The unstoppable Samoa Joe and 'The Demon' Finn Bálor mixed classic storytelling with their veteran styles, making each clash special. 
Joe teamed with the NXT Champion to compete in the inaugural Dusty Rhodes Classic. This was before brutally turning on Bálor, setting up an amazing series of NXT Championship matches.  
With each battle, the feud got more intense, leading to NXT's first-ever cage match. This was Finn's last NXT TakeOver match before moving to Raw, and what a swan song it was. 
The vicious Bálor that returned to NXT last year is reminiscent of his 2016 NXT Championship successor. A feud with long-lasting effects and world-class grappling, Finn vs. Joe was a rivalry that had it all. 
A completionist may also want to watch the triple threat between Bálor, Joe and Sami Zayn. Taped at the live event the night before TakeOver London, it showcases three of NXT's greatest ever performers.
---
9. Pete Dunne vs. Tyler Bate 
Key Matches:
Dunne vs. Bate – United Kingdom Championship (United Kingdom Championship Tournament)
Bate (c) vs. Dunne – United Kingdom Championship (NXT TakeOver: Chicago)
 Dunne (c) vs. Bate – United Kingdom Championship (NXT 20th December 2017) 
A shorter option, you could watch all the bell-to-bell action from this trilogy in less than an hour. Despite this, Dunne vs. Bate became one of the most influential trilogies in recent history. 
Their first meeting was the dramatic conclusion to the inaugural United Kingdom Championship tournament. The duo told the compelling story of Tyler refusing to be kept down by The Bruiserweight's cunning tactics. 
Their TakeOver: Chicago rematch was a high octane wrestling clinic. Both athletes were determined to make a name for themselves in the US, and it's safe to say they succeeded.  Even though this TakeOver saw Ciampa turn on Gargano, many remember that night for the UK Championship match. 
Their third match took place almost a year after their first but was just as outstanding. Even though their finale was on NXT TV, both men put on TakeOver caliber performances, reminding everyone that they're the future of WWE. 
At the beginning of 2017, Pete and Tyler were only known by fans of the UK independent scene. By the end of the year, they had become international stars, and this series is a reason why.    
---
8. Kevin Owens vs. Sami Zayn 
Key Matches:
Adrian Neville (c) vs. Sami Zayn (and aftermath) – NXT Championship (NXT TakeOver: R Evolution)
Zayn (c) vs. Owens – NXT Championship (NXT TakeOver: Rival) 
Owens (c) vs. Zayn – NXT Championship (NXT TakeOver: Unstoppable)
Owens  (c) vs. Zayn vs. Ryder vs. Ziggler vs. Miz vs. Sin Cara vs. Stardust – Intercontinental Championship (WrestleMania 32) 
Owens vs. Zayn (Payback 2016)
Owens vs. Zayn (Battleground 2016) 
Good friends, better enemies. In 2014, Kevin Owens betrayed his best friend for a claim at the NXT Title, on an NXT special. Two years, a shoulder injury, and a brand change later, Sami finally got his revenge, on a WWE special.  
Two wrestlers who probably could 'fight forever', Kevin and Sami laid the groundwork for a rivalry of the ages on The Gold Brand. The conclusion never took place due to Sami getting hurt, and Kevin targeting John Cena. 
At the time, it looked like we'd never get a finale, with both men in very different positions in WWE. This was until Sami entered the Royal Rumble, attacking his former friend. 
After preventing Owens from retaining/reclaiming his Intercontinental Championship, the culmination of one of NXT's biggest rivalries was set. 
Owens and Zayn have had a few battles since, but their 2014-2016 rivalry was something special. Owens receiving his comeuppance at the hands of his former friend made this feud must-watch for any wrestling fans and if you are in the mood, you can check out their numerous matches in ROH and PWG as well.