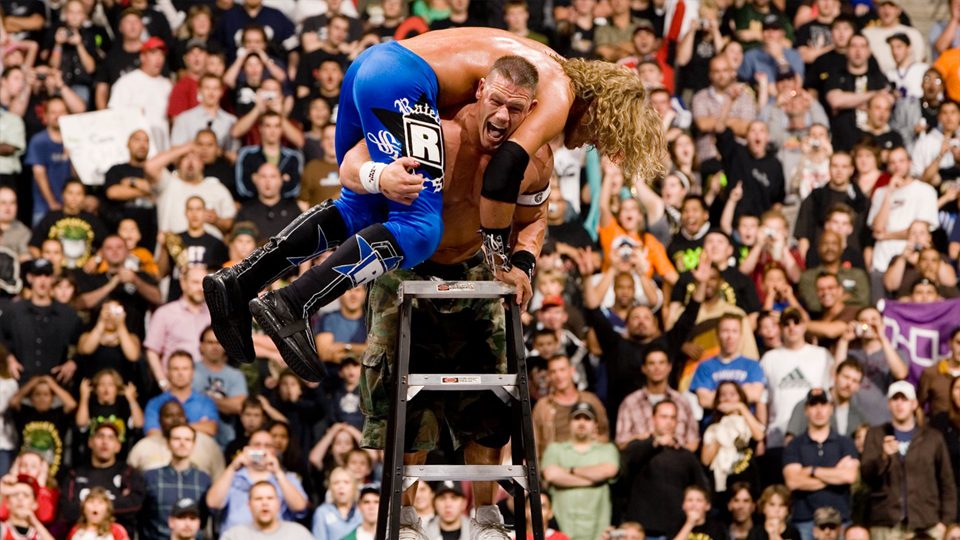 Some of the most iconic moments in WWE history have taken place in TLC matches, and it's a match type that is looked fondly upon by many wrestling fans all over the world. With TLC 2020 fast approaching, it's time for another list.
TLC matches don't just happen at the TLC PPV, so today we're going to be flipping the script, and looking at the 10 most extreme TLC moments that happened NOT at a TLC PPV. As such, the moments included on this list have to have happened in a TLC match, not a Ladder, Table or the ridiculous Chairs match, at a show that is not the TLC PPV. Is it contrived and convoluted? Sure. But let's get into it anyway!
---
10. Edge's Last Ride (One Night Stand 2008)
The last show to use the "One Night Stand" moniker, One Night Stand 2008's main event saw Edge take on The Undertaker for Vacant's World Heavyweight Championship in a TLC match. Shockingly, Vacant didn't show up for this match.
There were plenty of high spots during the match, such as a splash from Edge from a commentary table through a regular table on the outside, but there were two that took the cake here. This entry is about the one that came first.
Edge had plenty of friends to help him out with this match. Zack Ryder and Curt Hawkins, the 'Edgeheads' attempted to interfere, but received Chokeslams through tables for their troubles. Thanks to their distraction though, it seemed as though Edge may have the match won as he ascended the ladder. 'Taker wasn't having any of that though.
'The Deadman' walked up to the ladder and promptly lifted Edge into a Last Ride position, before slamming him directly through two tables that were set up one on top of the other in the corner of the ring. What's better than going through one table? Going through two tables!
---
9. Yeah Yeah, Jeff Does A Dive, Whatever (SummerSlam 2009)
CM Punk and Jeff Hardy had an absolutely brutal TLC match at SummerSlam 2009 for the World Heavyweight Championship which was part of their intense blood feud. And when I say blood feud, I mean these two absolutely despised each other. You could feel the hate and the vitriol with each blow they dealt to each other throughout the match, and they left everything in the ring. And out of it too, I suppose.
One of the highest points of the match came when CM Punk was laid out on a commentary table and Jeff began to climb a ladder that was set up nearby. Hardy climbed all the way to the top of the ladder, balancing precariously on the very top rung before throwing himself off for a Swanton Bomb on to Punk. In other words, a regular Sunday for Hardy.
---
8. MegaSuperUltra AA (Unforgiven 2006)
Unforgiven 2006 saw John Cena facing Edge for his WWE Championship in a TLC match, with the added stipulation that if Cena lost, he would leave Raw for SmackDown. Spoilers, he didn't lose.
The closing moments of the match saw the two competitors atop the ladder, punching each other in an effort to get the other to fall so they could achieve glory. That didn't really go to plan for Edge.
Cena hoisted Edge on his shoulders from the top of the ladder, then promptly threw him off for a MegaSuperUltra AA through two tables that were set up on one on top of the other next to the ladder. It's a MegaSuperUltra AA because a Super AA is from the turnbuckle, so a MegaSuper AA must be from a ladder, and it was through some tables, so it's a MegaSuperUltra AA. That's canon now.