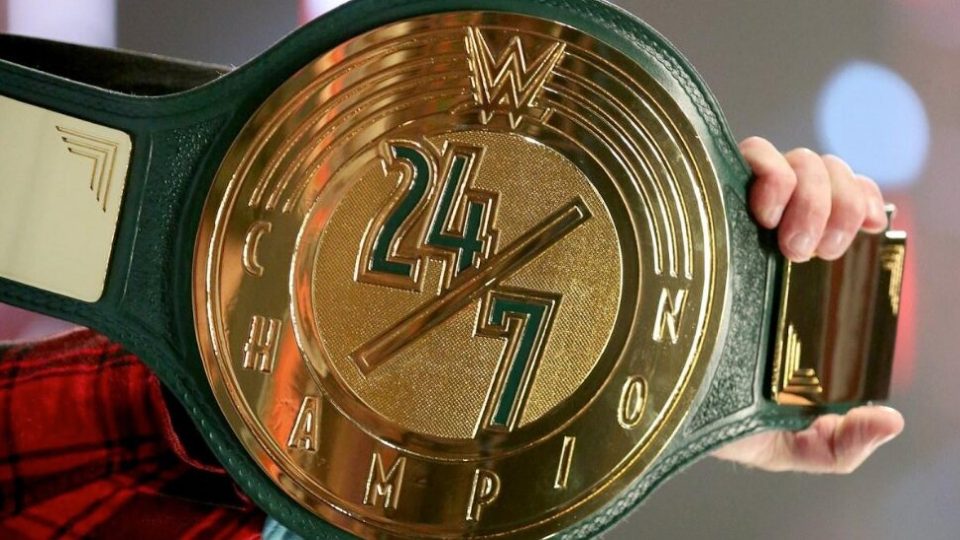 It has been over two months since WWE introduced the 24/7 Championship to our screens. While many have initially looked down on it, it cannot be argued that the 24/7 Championship has brought some memorable moments to our screen.
Since its inception, it has been won by 15 superstars, 4 of which are Hall of Famers, and defended in various non-arena locations, such as a golf course, an airplane, and during a wedding reception. Thanks to the talent involved, the 24/7 Championship has become one of the most entertaining titles to look forward to.
Here are ten memorable moments that this exciting title has given us thus far.
---
1. R-Truth Defends The 24/7 Championship At A Golf Course
R-Truth was relaxing at a golf course with the 24/7 Championship. Suddenly, Jinder Mahal came out of nowhere and pinned R-Truth for the title. During Mahal's celebration, Truth rolled him up to regain the title. Afterwards, Carmella drove away while R-Truth was hanging onto the golf cart from behind.
This was the first time the title was defended outside of WWE TV, which made this very memorable. At this point, Truth mostly defended the title by running away from a horde of underutilized wrestlers. This was a nice chance of pace, focusing on one person in a non-arena setting.
This would become the first of many moments where the title was defended outside of a WWE arena.
---
2. Jinder Mahal Pins R-Truth On A Runway
R-Truth was on the phone, informing the other person that no one would pin him during his flight to Saudi Arabia. Unfortunately for him, he was rolled up by Jinder Mahal, who successfully won the title.
The humor in this segment lies in its irony. Jinder was doing everything he could to win the title. What better way to win than to pin the champion during a transfer flight to Jeddah?
With Truth distracted, Mahal was able to capitalize on the situation and become victorious. However, that title will not be on him for much longer.
---
3. R-Truth Pins Jinder Mahal On An Airplane
As the plane was flying over to Jeddah, Trruth was walking down the aisles, trying to find Mahal. After a couple of failed attempts and hilarious moments, he was able to find him and pin him.
As soon as R-Truth was announced the new champion, everyone on the plane woke up and chased after him. He managed to lock himself inside the bathroom to remain champion.
What made this moment special was the lengths Truth would go to regain the title. This may not be as silly as Crash Holly defending his title at a playhouse, but defending the title while one is flying in the air is a good close second.
It makes the 24/7 Title truly live up to its name to be defended anytime and anywhere.
---
4. R-Truth Ruins Drake Maverick's Wedding
Things were really looking up for Drake Maverick on Raw. After weeks of putting posters wherever he went, he finally won the 24/7 Title from R-Truth. To celebrate, he was going to wear the title during his wedding. But all he did was place a target on his back.
One would think that WWE would not be so cruel as to ruin a wrestler's wedding. but, history has taught us otherwise, and this was no exception.
After exchanging his vows, Maverick was confronted by a referee. Truth took advantage of the distraction and won the title. This would continue to set up a series of memorable skits between the two.
---
5. R-Truth Ruins Drake Maverick's Honeymoon
The angle between R-Truth and Drake Maverick continued to thicken. Since losing the title, Maverick was in a tight situation of either choosing his wife or the championship. However, he managed to regain the title, and the honeymoon was underway.
The two would book a room to finally consummate their marriage when food service suddenly arrived. In his continued effort to ruin Maverick's marriage for the sake of the title, R-Truth came out of the service cart, and to add insult to injury, pinned Maverick on the bed to regain the title.
The lengths that both superstars would go to make the title feel special was a welcoming sight.
---
6. R-Truth Defends The 24/7 Championship At San Diego Comic Con
Crossovers of different genres can be a hit or miss. However, people like R-Truth are able to make such a crossover relatively easy.
Earlier that day, Truth was walking around San Diego Comic Con disguised as a penguin. However, the crowd was still able to determine who he was and got a good laugh from his antics.
During an interview with the convention hosts, R-Truth was confronted by a returning Hurricane Helms, who fit perfectly in the comic convention, but also Drake Maverick, who was dressed in a banana suit.
This dynamic was the perfect way to introduce wrestling to different audiences such as the comic world. If WWE continues to utilize the 24/7 Title in similar events and conventions, it would grant them a lot of exposure to have more people attend and/or watch WWE content.
---
7. Pat Patterson And Gerald Brisco Win The 24/7 Championship
The Raw Reunion episode of Raw was bound to have a variety of 24/7 Title shenanigans, and it delivered in that aspect.
While Drake Maverick was packing his things to escape the venue with the title he had just regained from R-Truth, he found his suitcase filled with worms. This brought out a cameo appearance from The Boogeyman, who surprised Maverick. Soon, Pat Patterson would appear to pin Maverick and win the 24/7 Title, becoming the oldest person to ever win a WWE title. Not too long after, Gerald Brisco would pin his former stooge partner to also win the title.
This marks the first time a WWE Hall of Famer won the 24/7 Championship. It is almost too appropriate that Patterson and Brisco would end up in the 24/7 chase at some point.
---
8. The First Three Women Who Won The 24/7 Championship
The women of WWE would have to be involved with the 24/7 Title at some point. WWE pulled that trigger at Raw Reunion.
As soon as Gerald Brisco won the 24/7 Title, Kelly Kelly appeared to congratulate him. However, she quickly showed her true intentions by knocking Brisco down and becoming the new champion, thus becoming the first woman to hold the 24/7 Title.
Afterwards, she celebrated with Candice Michelle, Melina, and Naomi. As soon as Melina revealed she was a referee, Michelle attacked Kelly Kelly to win the 24/7 title. Immediately, Alundra Blayze appeared to choke Michelle out to also win the 24/7 title.
While it was fun to see women actively chasing the 24/7 Title, WWE should consider giving women a longer reign than less than a day, which Maria Kanellis (who we'll get to shortly) has already surpassed.
It never happened when the WWE Hardcore Title was active, so this should provide WWE the opportunity to try something new and different.
---
9. Ted DiBiase Buys The 24/7 Championship
Thanks to WWE Raw Reunion, two iconic moments were meshed into one segment to form yet another highlight for the 24/7 Title.
Alundra Blayze was about to trash the 24/7 Title, a la 1995 when she threw the WWE Women's Title in a similar fashion. If this were DDT's Ironman Heavymetalweight Championship, the trash can had the chance to become the first object to win the a WWE title.
Out came Ted DiBiase, who had other plans with the title. With his trademark laugh, he bought the 24/7 title off of Blayze, a repeat of when he infamously bought the WWF title from André the Giant. It seemed that everyone has a price for the Million Dollar Man.
Ted DiBiase may be the only one who could convincingly win the 24/7 title by buying it, but WWE should consider this avenue if it wants to raise the antics of the 24/7 title even further. Trading it for a bottle of beer, winning via rock-paper-scissors, having superstars climb for it in a 24/7 title on a pole match – the possibilities are endless.
---
10. Maria Wins The 24/7 Championship
On the latest episode of Raw, Mike Kanellis won the 24/7 Title after a horde of superstars were stacked on top of him trying to pin R-Truth. Although Mike managed to get away, his continued story with wife Maria would prevent him from holding the title any longer.
In a continuous effort to emasculate him, Maria ordered Mike to lie down on his back. After calling for a referee, she easily pinned him to become the new champion. Afterwards, she taunted the men waiting for Mike to come out to try and take the title off of her, despite her being pregnant. All chose not to do so.
WWE has put itself into an interesting situation by having a pregnant woman hold the title. It will be intriguing to figure out how WWE creative will try and write a solution to this predicament. Perhaps Carmella or Renee Maverick will be her obstetrician-gynecologist and pin her.
Maybe R-Truth can use his unorthodox antics to try and get the title off of her. Or maybe a certain former 24/7 Champion will put flyers out in the streets and do what no man has dared to do…
https://twitter.com/WWEMaverick/status/1156790570175668224?ref_src=twsrc%5Etfw%7Ctwcamp%5Etweetembed%7Ctwterm%5E1156790570175668224&ref_url=https%3A%2F%2Fwww.sportskeeda.com%2Fwwe%2Fwwe-news-former-24-7-champion-says-he-will-pin-maria-kanellis-to-win-the-title