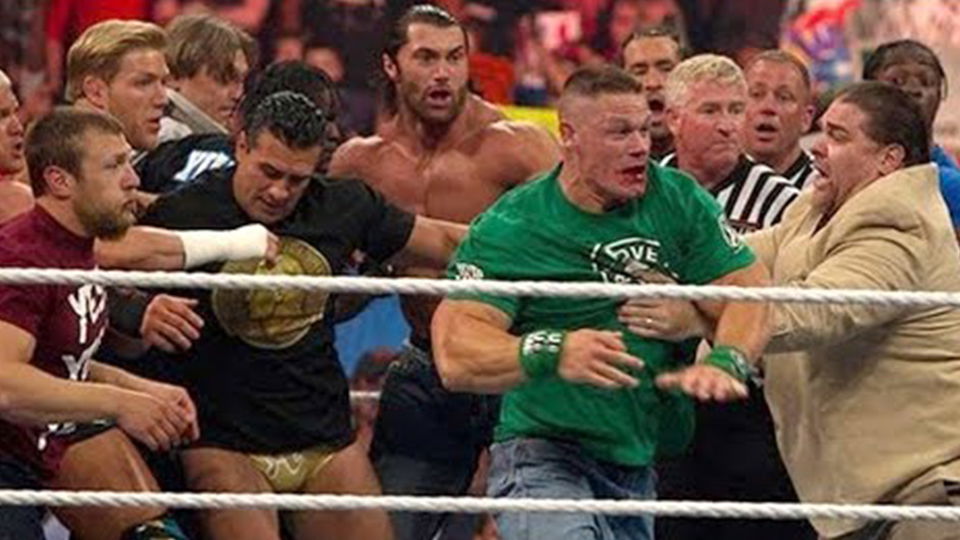 10. John Cena & The Undertaker vs. D-Generation X vs. Jeri-Show: Raw, November 16, 2009 – 102 million
One of the most interesting metrics for WWE business is YouTube views. While not nearly as important as WWE themselves will try to tell you they are, it is an interesting window into what fans want to see. As such, these are the ten most viewed segments and matches on WWE's official YouTube page.
In tenth, you have a colossal triple threat tag match from the Madison Square Garden episode of Raw in 2009. These are three monumental teams. In one corner you have DX, in another, you had the Unified Tag Team Champions Chris Jericho and Big Show, and then in the final corner, you had the WWE and World Heavyweight Champions John Cena and The Undertaker. You don't get much bigger than that.
This was the go-home show for Survivor Series that Sunday and clearly the match has maintained its interest over a decade later, amassing over 100 million views. While it didn't go anywhere, the match features a tease of a Cena vs. Undertaker match, which was very exciting at the time.
---
9. 41-Man Battle Royal for a Championship Match of Winner's Choosing: SmackDown, October 14, 2011 – 105 million
While the people involved usually don't enjoy them, fans always seem to love battle royales. Now, there are a few things about this particular video. It starts with an edited clip of Teddy Long and John Laurinaitis announcing that SmackDown had moved into second place on the list of longest-running tv shows. However, if you care to go track down the original edit, this line was hilariously botched by Teddy Long.
From there, the largest battle royale ever in WWE took place. 41 men filled the ring and the stars ranged from top tier talent like Randy Orton and CM Punk to absolute nobodies like Tyler Reks and David Otunga. Basically, if they saw a warm body they sent it to the ring.
Also included in the video is the resulting World Heavyweight Championship match between Orton and Mark Henry. It ended in disqualification so cut the video short if you care to watch it.
---
8. Rey Mysterio vs. The Great Khali: SmackDown, May 12, 2006 – 112 million
This is an odd inclusion. I guess people just really wanted to see the ridiculous size difference between Rey Mysterio and The Great Khali. Their match from this 2006 episode of SmackDown was during Mysterio's poor reign as World Champion. Through no fault of his own, his reign saw him booked very poorly.
In case anyone thought it possible, no the tiny Rey Mysterio did not overcome the gargantuan Khali. Despite this, the clip has garnered 112 million views since being posted. Thankfully, Mysterio would go on to defeat JBL at Judgment Day later that month.
---
7. Arrests are made during the chaotic aftermath of the WWE Triple Threat Match: Hell in a Cell 2011 – 112 million
It was a bizarre time for WWE in 2011 and by bizarre I mean absolutely terrible. Very little made sense from a booking standpoint and this was further exemplified by this entry on the list. After they ruined the main event of Hell in a Cell, The Miz and R-Truth were arrested with Triple H and the WWE roster at ringside.
Perhaps fans have thought that these arrests were real and needed to see it because this clip has also been viewed over 112 million times. WWE's attempt at making The Miz and R-Truth into badasses did not work and they returned to the lower midcard following their loss to John Cena and The Rock at Survivor Series.
---
6. Stephanie McMahon is furious with Roman Reigns: Raw, December 14, 2015 – 119 million
Stephanie McMahon's reign of terror was perhaps more damaging to the rise of young stars over the last decade than even her husband Triple H's from the 2000s. Constantly berating and belittling stars with zero comeuppance, Stephanie was a nightmare to watch on Raw for years. For some reason, this particular clip of her barking at Roman Reigns and slapping him repeatedly has been viewed 119 million times.
This show took place the night after TLC 2015 where Reigns went berzerk and decimated Triple H. Ultimately the night ended with Reigns winning the WWE Championship from Sheamus but that was not the thing people wanted to see I guess. Stephanie slapping the hell out of Roman Reigns did the trick though.
---
5. 20-Man Battle Royal for the vacant World Heavyweight Title: SmackDown, July 20, 2007 – 131 million
Remember when I said people love battle royales? Well, they love them even more when the World Heavyweight Championship is at stake. In 2007, a torn pectoral muscle forced Edge to vacate the title leading to a 20-man battle royale to decide the new champion.
Realistically, the only people who had any chance to win this match were Batista and Kane. There were some outside chances such as Finlay, MVP and Matt Hardy, but surely WWE would go with a safe pick. HAHA SIKE. Yeah, no, they went with all-time horrible worker The Great Khali. Solid choice. His reign lasted two months and was horrible. But hey! Battle Royales AMIRITE?!
---
4. John Cena, Batista & Rey Mysterio vs. Randy Orton & Jeri-Show: Tribute to the Troops, Dec. 20, 2008 – 140 million
Sometimes, the biggest matches get the most views. Back in 2008, a huge six-man tag team match took place at WWE's Tribute to the Troops show. On one side, Batista, Rey Mysterio and World Heavyweight Champion John Cena stood together. On the other, Randy Orton, Chris Jericho and The Big Show.
The match itself was nothing newsworthy but the setting was significant for obvious reasons. Perhaps as a combination of those factors, this is the most viewed WWE match on their YouTube page with 140 million views. Pretty nuts.
Also, a neat tidbit is WWE lists Jericho and Big Show as Jeri-Show despite them not forming their tag team until seven months later.