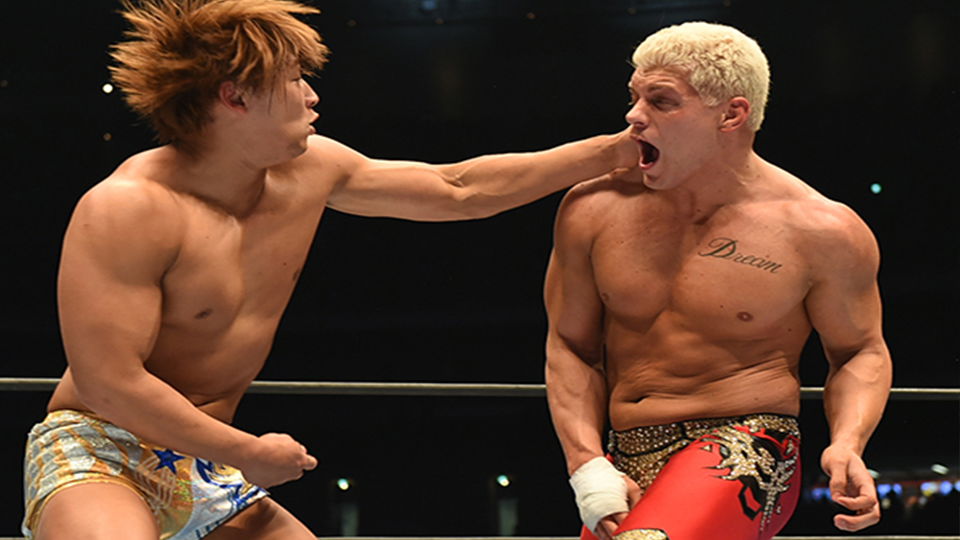 10. Cody vs. Jungle Boy – AEW Dynamite (June 3, 2020)

Cody Rhodes has taken an unbelievable path in professional wrestling. From the bright-faced rookie son of Dusty Rhodes in WWE, to an Executive Vice President of AEW, his career has been far from ordinary. With that said, we shall be taking a look at his ten most must-see matches.
First on the list is the most recent. After becoming the TNT Champion at Double or Nothing, Cody vowed to defend it weekly in an open challenge. The first challenger for the title was Jungle Boy. While Jungle Boy had not been in the business long, he has shown great potential and the ability to have fantastic matches, even at a young age.
Cody stated he wanted to up his workrate in these matches and he sure did that with this match. They had a classic television main event match, complete with Cody donning the crimson mask. Jungle Boy was unable to top the Grandson of a Plumber but this was a great way to start Cody's reign as TNT Champion.
---
9. Cody vs. Christopher Daniels – ROH Best in the World 2017
After he left WWE in 2016, there was doubt that Cody Rhodes could succeed on the outside. Eventually, he made his home in Ring of Honor. Not too long after that, he was their World Champion. Even though the ROH World Championship is a step below top world titles like the WWE and IWGP Heavyweight Championships, this was a tremendous accomplishment for Cody who had been a career midcarder in WWE.
The match itself is great too. Cody is an old-school worker and Christopher Daniels had more experience than anyone in ROH at the time. Together they had a very good main event match at Best in the World. Cody helped elevate ROH as champion and the company suffered as soon as he lost the belt to Dalton Castle.
---
8. Cody Rhodes & Goldust vs. The Shield – Battleground 2013
Cody was never a top guy in WWE, although he could have been. That being said, this was as over as he ever was in the promotion. The Authority had fought to take down the Rhodes Family, firing Cody, Goldust, and having Big Show knock out Dusty. At Battleground, the Rhodes Family fought for their jobs back.
Their match with The Shield was a bright spot on an otherwise dreadful pay per view. Cody and Goldust had never been a team in their WWE careers as Cody had mostly been a heel to this point. The crowd embraced him as a babyface and it resulted in probably his most memorable match under the WWE umbrella.