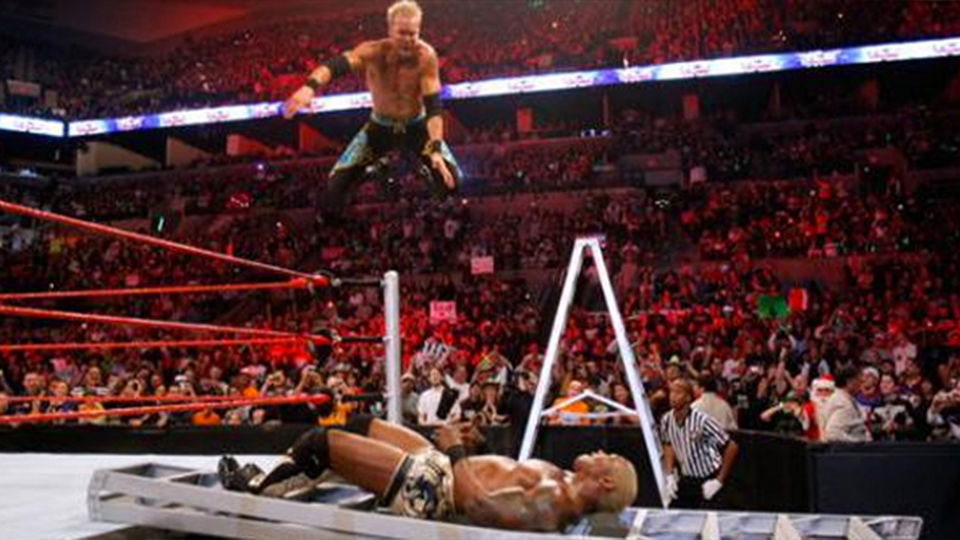 10. Edge vs. Christian – No Mercy 2001
For the sake of this list, TLC match and Money in the Bank ladder matches are not being included, that will come at another time.
We kick off this list with a battle of two guys who helped revolutionize the ladder match. Edge and Christian remain one of the greatest tag teams in WWE history but that could not last. Edge had begun to grow as a singles wrestler, winning King of the Ring and the Intercontinental Championship. This did not sit well with Christian who turned his back on his partner, beating him for the IC title at Unforgiven.
This led to the only singles ladder match between the two at No Mercy 2001. It wasn't quite the spectacle of the tag team ladder matches of old, but these two pulled out a ton of stops. There was an anger and a viciousness that hadn't been present in other ladder matches and it culminated with Edge hitting a con-chair-to on top of two ladders to finish Christian off. A fantastic little battle that you should seek out.
---
9. Brian Kendrick & Paul London vs. The Hardys vs. MNM vs. William Regal & Dave Taylor – Armageddon 2006
Considering the majority of the people involved in this match had left WWE for much of the 2010s, WWE didn't have much incentive to promote this four-way ladder match from 2006. Brian Kendrick and Paul London were the WWE Tag Team Champions and were scheduled to defend the titles against William Regal and Dave Taylor. Teddy Long had other plans and made it a ladder match with MNM and The Hardys.
This ended up being one of the best ladder matches of the 2000s. Most famously, this was the match where Joey Mercury's nose exploded. The Hardys set up the teeter-totter spot but the ladder caught Mercury square in the face, resulting in a horrifying scene and Mercury being rushed to the hospital mid-match. This match is not talked about nearly enough as it had a fantastic mesh of ladder match styles.
---
8. Chris Jericho vs. Christian – Unforgiven 2004
Christian and Chris Jericho are two of the best ladder match performers in WWE history. Their 2004 rivalry had to end and with the Intercontinental Championship vacant, a ladder match was decided as the stipulation.
This match is incredibly solid. Jericho and Christian had great chemistry together and managed to put together a very good series of matches. This match, in particular, was very snug with plenty of creative ladder spots.
The finish went slightly awry as Jericho intended to swing the title belt and have it come back and hit Christian in the face, causing Christian to fall to the mat below. Jericho swung and missed so he just bulldogged Christian off the ladder instead. It isn't super noticeable if you aren't told about it and it doesn't hurt the match either way.