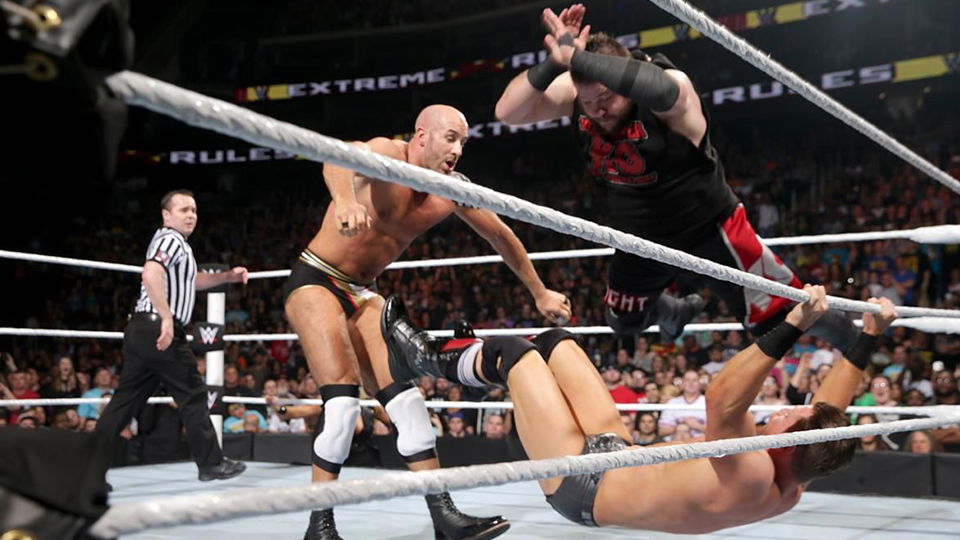 Extreme Rules has been one of WWE's longest-running B-show pay-per-views, first airing officially in 2009.
Since then there have been many good matches and a few really great ones. Even if WWE has forgotten that the show is supposed to be full of stipulation matches, we have still been treated to some very memorable performances.
As we approach the next Extreme Rules pay-per-view, we can take a look back at some of the best matches in the show's history. So buckle up and let's get EXTREEEEEEME.
Here is our list of the ten most must-see matches from Extreme Rules.
---
10. John Cena vs. Batista – Extreme Rules 2010
First on the list is the main event of the 2010 show. John Cena took on Batista in a Last Man Standing match and it resulted in one of the most creative finishes you will see.
After long stretches of beating on each other, Cena managed to tape Big Dave's feet together around the ring post. This meant he was unable to make it to his feet by the count of ten.
You might think this is odd considering it followed 25 minutes of violence. But such was the norm in 2010 with WWE focusing more on PG fluff than blood and brutality. Plus John Cena would be the one to duct tape someone's legs in a fight.
This is a very fun match and one of the best moments of Batista's 2010 heel run.
---
9. Chris Jericho vs. Rey Mysterio – Extreme Rules 2009
Rey Mysterio and Chris Jericho had not worked together as much as one might think before 2009. They had minimal interactions in WCW and were on separate brands in WWE until 2008.
Finally, they began a rivalry over the Intercontinental Championship in 2009 with one of their best matches coming at Extreme Rules.
They had a No Holds Barred match and it was stellar, which shouldn't be surprising considering the men involved.
Jericho had developed an obsession with Mysterio's mask and managed to rip it off Rey's face when he went for a 619, allowing Jericho to roll him up and win the title.
The finish was tremendous but the rest of the match was just as great.
---
8. Christian vs. Alberto Del Rio – Extreme Rules 2011
Christian had always been an underappreciated member of the WWE roster with the world title just out of reach.
When Edge was forced to retire in 2011, Christian earned the chance to battle for the World Heavyweight Championship at Extreme Rules.
The match was scheduled to be a Ladder Match, a playing field Christian was very familiar with. Alberto Del Rio was his opponent and together they had one of the most underrated Ladder Matches ever.
Christian had to fight off Del Rio, Brodus Clay, and Ricardo Rodriguez before finally capturing the world title for the first time.