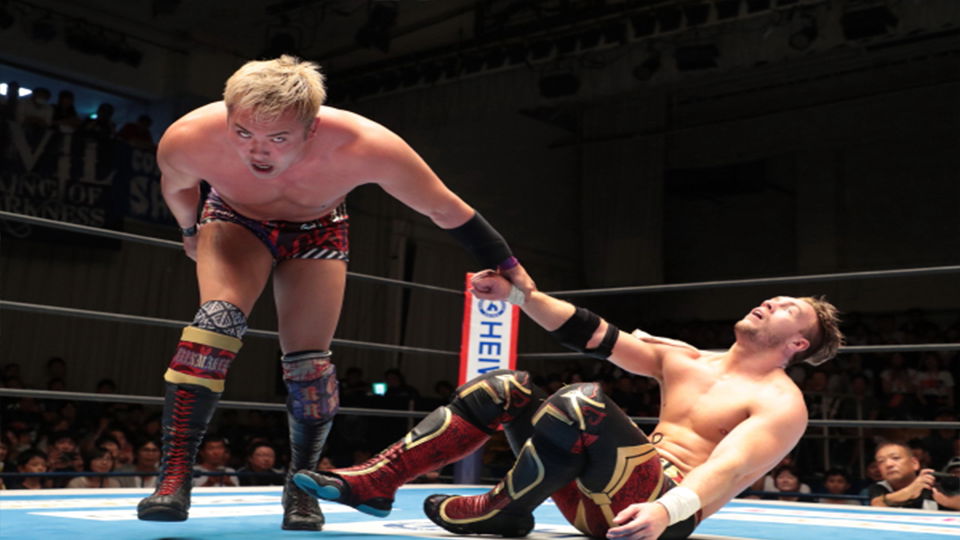 Another year draws to a close and we have many NJPW matches to be thankful for.
Best believe there were many more than just ten must-see matches from New Japan Pro Wrestling this year, but these are the ten that we felt were the best of the best. If you missed any of these matches, rectify the situation as soon as possible.
Please note that this will not be a ranking from best to worst, but rather a chronological list. There is no need to bicker about the rankings of such things so soon after the holidays.
With that out of the way let us begin.
---
Hiroshi Tanahashi vs. Kenny Omega – Wrestle Kingdom 13 (January 4, 2019)
A hell of a way to start. Hiroshi Tanahashi vs. Kenny Omega meant a lot of different things. It was the first time Tanahashi held the IWGP Heavyweight Championship since 2014 and it was the last time Kenny Omega has appeared in a New Japan ring to date.
The match itself was one of the best main event matches ever. They told a tremendous story of how Kenny Omega was trying to show that his philosophy of wrestling was the way of the future while Tanahashi was trying to prove the opposite. This was storytelling at its finest. As the main event of the biggest NJPW show of the year it is less likely that this one was missed, but if it slipped by you do yourself a favour a go watch it.
---
Will Ospreay vs. Shingo Takagi – Best of the Super Juniors Final (June 5, 2019)
It goes without saying that every match on this list is a match of the year contender, but this one is that and then some. Shingo Takagi and Will Ospreay managed to put on the best match in the history of the Best of the Super Juniors tournament. Both men had incredible years in 2019, and this will not be either man's last appearance on this list, but this may have been the best match of either of their careers.
The story was simple. Shingo had muscled his way through the tournament and his size and strength could possibly be too much for Ospreay to handle, but young Will is the best junior heavyweight in the world. Something would have to give. Would it be Shingo's power or Ospreay's skill and agility. In the end, Ospreay raised the trophy once again but what he and Shingo accomplished in the ring may have been more important.
---
Kota Ibushi vs. Will Ospreay – G1 Climax Day 5 (July 18, 2019)
In a rematch of their Wrestle Kingdom 13 match, Ospreay took on Kota Ibushi. Ospreay managed to get the win in January but would he be able to repeat that feat? In a word, no. This was Ibushi's tournament and his first of many great matches happened here. This was his first win in the competition and he has yet to be defeated since.
Ibushi and Ospreay are natural opponents for each other. Ibushi is more than capable of wrestling an aerial style, which compliments Ospreay's ability. However, Ibushi is also able to work magnificent stories. Working with an ankle injury for the entire G1 Climax allowed Ibushi to tell stories with his body that were based in a reality that the fans were privy to. This was no different but no injury would stop him from evening the score against his rival Will Ospreay. Fantastic stuff, track it down.