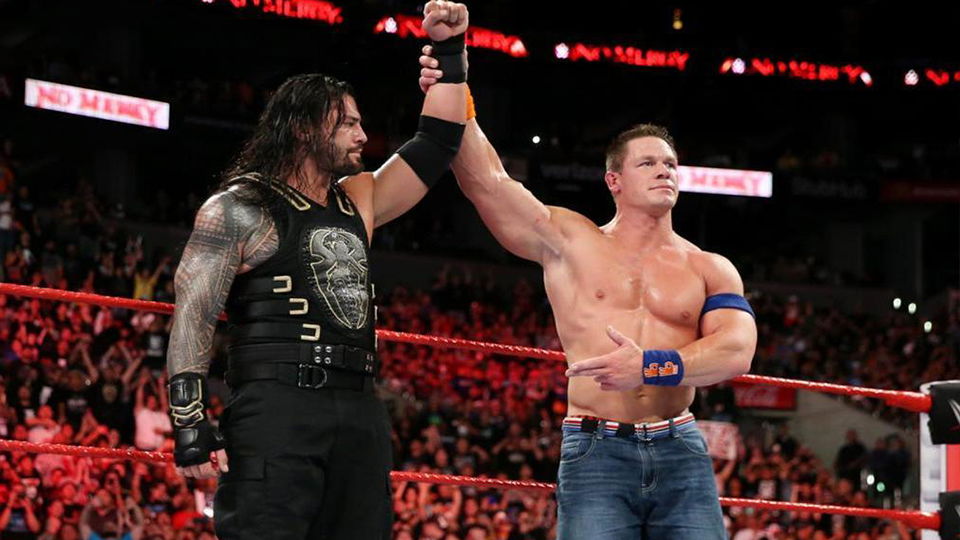 10. The Shield vs. The Wyatt Family – Elimination Chamber 2014
Roman Reigns had a bad wrap for a long time as someone who was not a great worker. For the early going, he wasn't but he managed to have some pretty good matches. While he has had many great singles matches, some of Reigns' best matches have come during his time with the Shield.
This is one of those matches. In 2014, the Shield was headed towards its destruction. This is when they ran head-first into the Wyatt Family. This match was the perfect example of how each member of the Shield was different. Dean Ambrose was the brawler, Seth Rollins was the flyer, and Reigns was the muscle.
Their styles meshed together perfectly and the Wyatts were great opponents for them. Reigns was the featured member of the Shield in this match and they sewed the seeds of the Shield's impending doom.
---
9. Roman Reigns vs. John Cena – No Mercy 2017
John Cena's big matches have evolved over the years. By the time he faced Roman Reigns at No Mercy 2017, his matches were entirely based on hitting a finisher, kick-out, lie there, repeat. That isn't a knock as the fans eat it up but that is what this match was.
The last ten minutes of this match saw Cena hit FOUR AAs on Reigns before being pinned by a Spear. It was the equivalent of turning on unlimited finishers in a video game and going to town. It accomplished its goal as the fans were losing their minds by the end and Cena essentially passed the torch to Roman Reigns.
---
8. The Shield vs. Ryback & Team Hell No – TLC 2012
The one that started it all. The Shield debuted at Survivor Series 2012 and they had their first match one month later at TLC. Daniel Bryan, Kane, and Ryback stood in their way, and together they had a truly memorable match.
This match showed that the Shield was not just another group. They were a team in every sense of the word. During this match they never split off to fight their own battles, they were constantly triple-teaming their opponents and always maintaining the upper hand. It was something WWE had never seen before and it was a perfect introduction to what the Shield and Roman Reigns would bring going forward.