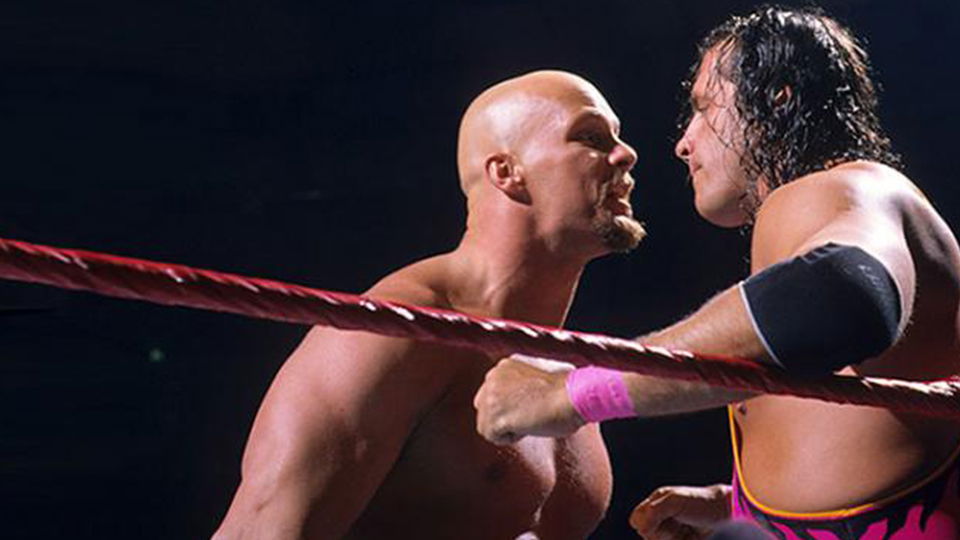 10. Steve Austin vs. The Rock – WrestleMania XIX
Where better to begin than at the end? 'Stone Cold' Steve Austin has been called the greatest WWE Superstar of all time by the likes of Vince McMahon himself. If that doesn't tell you how big of an impact he has had on WWE I don't know what will. Unfortunately for everyone involved, Austin's career came to an end at WrestleMania XIX when he was only 38 years old. That being said, his final match was one of his best.
Aside from Vince McMahon, The Rock was always Austin's greatest rival. They had fought each other hither and yawn and there was one last thing on The Rock's bucket list: beating Steve Austin at WrestleMania. Not quite as good as their prior matches, but they still had one of the best matches on one of the best WrestleManias in history. The Rock accomplished his goal and Austin got to ride off into the sunset.
---
9. Steve Austin vs. Chris Benoit – SmackDown (May 31, 2001)
Steve Austin's run as a heel in 2001 is not looked back on fondly. From a business standpoint, it was a large factor in the decline in popularity of WWE following the Attitude Era. On a positive note, Austin's heel turn gave him the chance to wrestle some new stars. One of those new stars was Chris Benoit.
This match for the WWE Championship had all the crowd support in the world as the fans were solidly behind Benoit. Austin had Vince McMahon in his corner who would step in and interfere whenever the referee wasn't looking. These two were two of the best and most dynamic workers in the business and it is a shame they couldn't have a match together on a bigger stage.
---
8. Steve Austin & Shawn Michaels vs. Davey Boy Smith & Owen Hart – Raw (May 26, 1997)
Steve Austin is not often thought of as a tag team competitor but one of his best matches came in that environment in 1997. Of course, Austin could have had many classic tag matches if the Hollywood Blonds were given a bigger chance but I digress. In 1997, Austin and Shawn Michaels had a brief run as a tag team and captured the World Tag Team Championships by defeating Owen Hart and Davey Boy Smith.
Austin and Michaels didn't like each other but when you are as good as they are, you can afford a little animosity. This was as good a Raw match as you are going to find in the late 90s. The chemistry was always evident between these men and the story really was whether or not Austin and Michaels could put their differences aside long enough to get the win. It is truly a hidden gem of the Attitude Era.