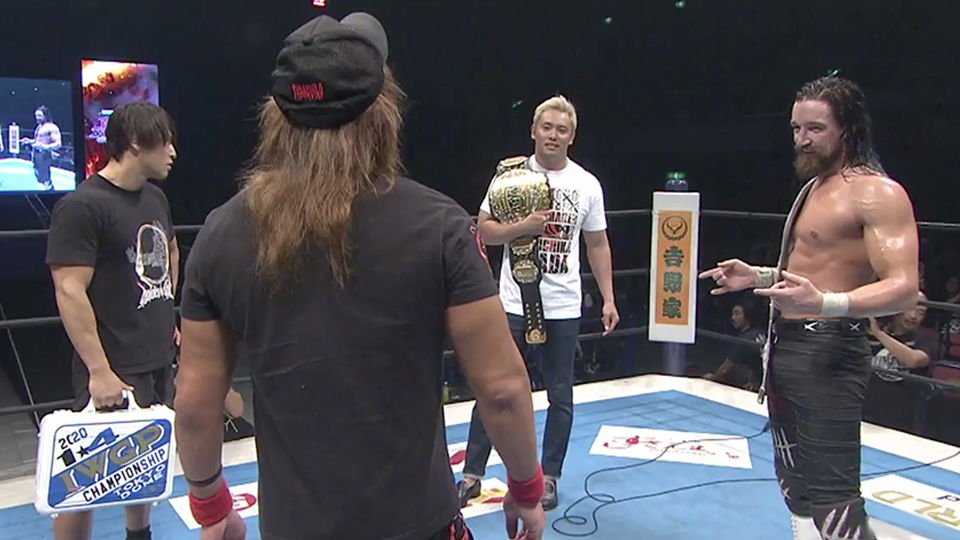 Wrestle Kingdom 14 is set to be one of the biggest events in the history of New Japan Pro Wrestling. The annual Tokyo Dome show was split into a two-day event for 2020 due to the growing interest for New Japan. Now that we are approaching the climactic event, here are some things you should know.
New Japan is the master of telling intricate, nuanced storylines. Some of which are not explicitly explained beforehand. So, here we will try and help with that by providing you with a list of things you need to know before Wrestle Kingdom 14. Some are less complicated than others, but they are all things you should keep in mind.
---
KENTA and Hirooki Goto's Relationship with Katsuyori Shibata
Many hearts were broken when Katsuyori Shibata was forced into retirement following a brutal brain injury in April of 2017. He appeared to finally be on his way towards sustained main event status. Alas, the injury has kept him sidelined since with Shibata only making sporadic appearances.
One of those appearances came at Dominion last June. At Dominion, Shibata introduced KENTA to New Japan Pro Wrestling. KENTA declared himself for the G1 Climax and proceeded to finish in a tie for second place in the A Block. The New Japan fans never seemed to accept KENTA who had spent his career in WWE and rival promotion Pro Wrestling NOAH.
On the night of the G1 Climax Final, KENTA turned heel and joined Bullet Club. What happened next was the shocking part. In his first display of physicality since his retirement, Shibata ran in to fight off Bullet Club. He was unsuccessful, as KENTA laid him out and sat on his chest.
Speculation ran wild that Shibata would be cleared to compete and face his former friend at Wrestle Kingdom 14 but that did not come to pass. In the weeks that followed, KENTA won the NEVER Openweight Championship. As fate would have it, Hirooki Goto would end up being KENTA's challenger.
In some ways this is even more perfect. Goto and Shibata are real life best friends dating back to high school. They have shared a difficult past as partners and as rivals, holding the IWGP Tag Team Championships together and facing one another at two different Wrestle Kingdom events. More recently, Goto trained with Shibata at the L.A. Dojo. If there is anyone fit to fight for Shibata's honour, it is Hirooki Goto.
---
Hiromu Takahashi & Ryu Lee, Partners with a Past
Hiromu Takahashi's return from injury was one of the most emotional moments of 2019. At G1 Special in San Francisco in July 2018, Hiromu was dropped on his head by Dragon Lee, breaking his neck. It was a tragic accident as he was on his way to even greater things than he had previously accomplished. Over 16 months later, Hiromu returned at Power Struggle and challenged Will Ospreay to a match for the IWGP Junior Heavyweight Championship at Wrestle Kingdom 14.
As Hiromu is booked for the second night of the event, it is not unrealistic to think that he will win his title back. What is interesting, however, is his match for the second night. Hiromu is scheduled to wrestle Jushin Thunder Liger and Naoki Sano in a tag team match, but his partner? Dragon Lee. Dragon Lee (now renamed Ryu Lee) not only was the one who broke Hiromu's neck but the two have a rich history dating back to their time in CMLL.
Hiromu wrestled in CMLL as Kamaitachi while on excursion from New Japan. While in Mexico he and Lee engaged in a bitter rivalry. A rivalry that has been revisited multiple times since Hiromu's return to New Japan. We don't know how Hiromu or Ryu Lee will react to sharing the ring with the other but rest assured this is something to pay attention to. If Hiromu manages to beat Ospreay on Night One, Ryu Lee could end up being his first challenger.
---
The End of a Legendary Career at Wrestle Kingdom 14
If you are already planning to watch Wrestle Kingdom 14 you probably know that you will be witnessing the end of a legendary career. Jushin Thunder Liger will be ending his nearly 36 year career in the Tokyo Dome this year. On Night One, Liger will compete in an eight-man tag team match alongside Tiger Mask IV, Tatsumi Fujinami and The Great Sasuke to take on Naoki Sano, Shinjiro Otani, Tatsuhito Takaiwa & Ryusuke Taguchi.
It is not every day that you get to see the likes of Fujinami, Otani and Sasuke compete in the same ring. It very well may be the last time we get to see a number of these men wrestle so it should be appreciated.
Meanwhile on Night Two, we have the aforementioned Liger & Sano vs. Takahashi & Ryu Lee match. This match has more going on in it as Takahashi and Lee have pre-existing history but this will be Liger's final match.
We have seen the returns of Kishin Liger and Battle Liger in the months leading to the Tokyo Dome so it is not out of the question to think that Liger may have something special planned for his final song and dance.