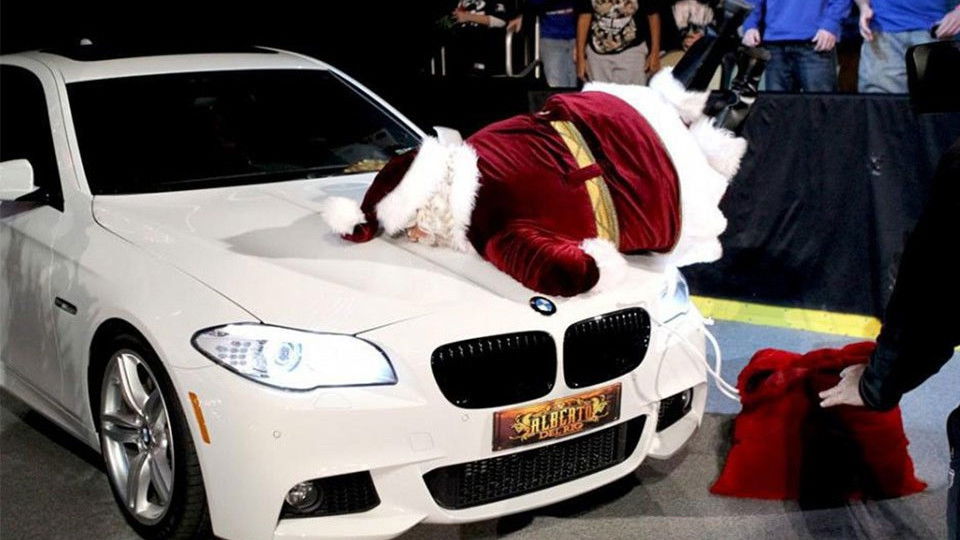 1. The Christmas Swerve
https://www.youtube.com/watch?v=XjPn19PNrSk
We start with a Christmas edition of Prime Time Wrestling in 1989. After losing a bet with Roddy Piper, Bobby Heenan sat on commentary wearing a Santa outfit. Although reluctant, Heenan slowly got into the role he had for the day.
At first, it seemed like Heenan was going to continue to play the jolly old man by the end of the show. However, Heenan pulled the rug under everyone and revealed his heelish ways. Gorilla Monsoon looked visually uncomfortable with Heenan's actions, but Heenan did not care.
As Heenan continued to berate Christmas, Piper, who was recorded in another location, came to the table and starting throwing major right hands at him. Heenan tried to ruin Christmas for everyone, but Piper managed to salvage it by sending him packing.
---
2. The Christmas Creature
Remember that time a mutated Christmas tree chokeslammed a couple of babyfaces for a hot few months? One shouldn't, but that one video lives on.
Yes, yes, we know it was not in WWE but it is too good to leave out.
On December 1992, United States Wrestling Association was haunted by a thing called The Christmas Creature. It may be red, white, green, and full of tinsel, but it sure was not merry.
Kevin Lawler, son of Jerry "The King" Lawler, came up with the idea. The person who donned the outfit was none other than Glenn 'Kane' Jacobs.
Jacobs has had several interesting characters on his resume during his early wrestling career before he went to WWE. But, naturally, everyone now knows Jacob for that beloved character that he played in WWE: Issac Yankem. That, and Fake Diesel, but we don't talk about that.
---
3. Xanta Claus
After the Christmas Creature flop, no other promotion would try such a ridiculous idea, right? Wrong.
On December 1995 at In Your House, Savio Vega and Santa Claus were handing out presents to the fans. However, Ted DiBiase showed up to ruin the fun, claiming that everyone had a price. From here, Santa attacked Vega.
Santa revealed himself to be Xanta Claus, who lived in the South Pole and stole presents. He would make a couple more appearance over the following months until he disappeared from existence. The same fate that took the Christmas Creature happened to poor Xanta. Who would've thought?
At lease Johnathan Rechner, the person who played Xanta Claus, found better success in ECW. This time, it was under a better-sounding ring name: Balls Mahoney.
---
4. Kurt Angle Destroys St. Nick
As a December PPV near Christmas, Armageddon gets the misfortune of playing host to various bouts of Christmas tomfoolery. Such was the case at Armageddon 2004.
Kurt Angle put his gold medals on the line and challenged anyone to outwrestle him. His opponent came in the form of Santa Claus. Of course, Angle was not amused.
As soon as the bell rang, Angle hit his finisher on St. Nick and tapped him out with the ankle lock. In less than 30 seconds, Angle made the jolly red man limp. It didn't look like he would be giving out presents that year
---
5. Santa's Big Surprise
It doesn't seem like Armageddon is going to catch a break with all the Christmas nonsense. Such is the case for Armageddon 2006.
Santa came out to the ring to host a 'Naughty or Nice' contest with some of the divas. The diva with the loudest fan reaction would win the contest. It was the usual shenanigans WWE did to further disrespect the women of wrestling.
When all is said and done, Santa did the right thing in making all of them winners. However, Santa did the wrong thing by revealing himself to be Big Dick Johnson. A dance break ensued between him and the Divas. It was terrible.
Does anyone ever think of the children who could be watching this at home or at ringside?
---
6. Santa's Little Helpers Match
We are at Armageddon once again for more Christmas nonsense. What is better than treating your female wrestles as eye candy? Making them wear sexy Christmas costumes, of course.
At Armageddon 2008, an eight-women Christmas-themed tag match occurred for no reason other than the usual WWE shtick. While there have been plenty of Santa v. Santa and Santa's Little Helpers match in the past, this had to be the worst of the bunch.
It is such a shame, too, given the talent involved, such as Mickie James, Michelle McCool, and Natalya. The match was sloppy, inconsistent, and downright terrible. The fan's reaction to the match tells the story.
---
7. That 12-Diva Tag Match
One would think that the treatment of women in WWE would be more respectable during WWE's PG era, but that is not the case here.
On the 2013 Christmas edition of Raw, the six women of Total Divas challenged the rest of the women in WWE in a Jingle Belles match… whatever that means. It was just another excuse for WWE to dress up their women in sexy Christmas attire.
The finish came when the Total Divas cast linked arms and started clotheslining everyone. Natalya finally ended the match by applying the Sharpshooter to Aksana.
---
8. WWE Sings Jingle Bells
This may not be a Rocky sing-along or an Elias segment, but that does not stop this particular video to be outright insufferable.
For a fun way to open the 2012 Christmas episode, the WWE Raw locker room sang a pre-taped Jingle Bells. Well, at least they tried to sing.
The lyrics were fun and goofy, but it was more spoken lyrics than actually singing. It was also painful to see many superstars so out of character during the song. Even when they tried to be in character, they still failed to do so.
The E may stand for entertainment, but not like this.
---
9. The 'Epic' Christmas Sing-Off
What is better than a pre-taped Christmas song from the Raw locker room? Making them sing live, of course.
WWE proves once again that it never learns from its past. In the 2013 Christmas episode of Raw, R-Truth, Xavier Woods, two members of 3MB (Jinder Mahal & Drew McIntyre), and Santino Marella and The Great Khali partook in a Christmas Carol Sing Off. The team with the largest fan reaction won.
R-Truth and Xavier Woods went first. Woods had a beautiful voice. R-Truth just spoke the lyrics every now and again. Mahal and McIntyre were next. They were purposefully terrible. Finally, Santino and Khali did their part, and it was… something, to say the least. At least, Khali looked like had fun.
In the end, Santino and Khali won, which 3MB tried to ruin, but R-Truth and Woods saved the day. The segment ended with the four singing 'We Wish You a Merry Christmas,' which was okay. It still does not change the fact that the segment was silly.
---
10. Santa Got Run Over By Del Rio
What better way to close out the list than by seeing Christmas icon Santa the victim of vehicular manslaughter?
In the 2012 Christmas edition of Raw, the show opened with that horrible song mentioned earlier. Afterwards, we cut to something more tame: Santa giving presents to the crowd.
Unfortunately for the jolly man in the red suit, Alberto Del Rio's music hit. Ricardo Rodriguez came out and did his usual introduction. All was going as normal, expect the limousine driver ran over Santa. Medics ran to the scene as the crowd chanted "You killed Santa" to Del Rio.
This would have been a great way for someone like Del Rio to get massive heat. However, Del Rio was supposed to be a babyface! But, since he was facing John Cena by Santa's order, he became heel for the night.
Right.