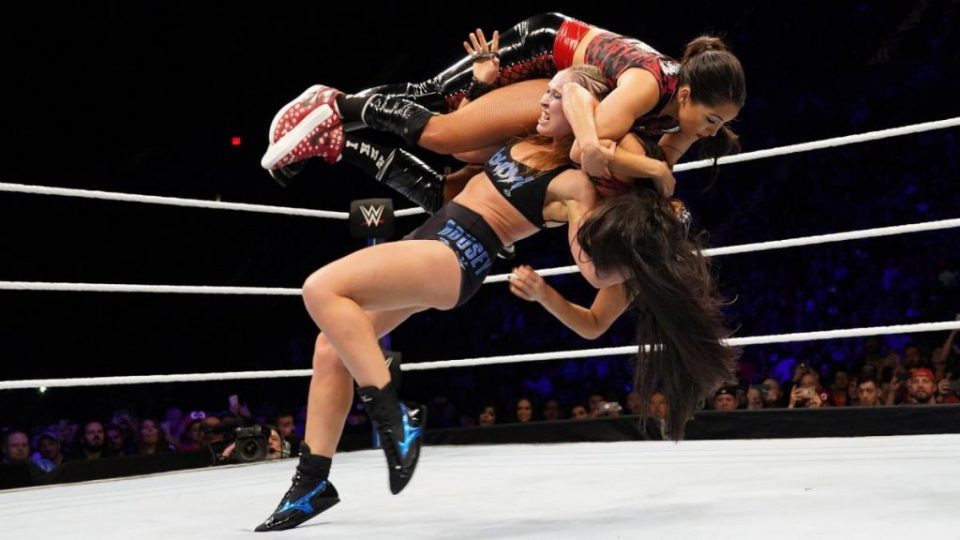 For years now, have has been so many matches in the WWE women's division that have been forgotten. Whether they're random TV matches, people focusing on men's matches instead, or just fans simply underrating what they've just seen.
The likes of Nikki Bella, Becky Lynch, Ronda Rousey, and so many more, have proved why the women's 'evolution' was inevitable. So here are 10 underrated WWE women's matches.
---
10. Paige vs. Nikki Bella – Main Event (January 6, 2015)
Despite criticism of both Bella Twins' wrestling ability over their 10 year WWE run, Nikki Bella's record-setting Divas Championship reign proved why she has become such a mainstream star.
Her heel character started the 'women's revolution' alongside the likes of AJ Lee, the Four Horsewomen, and her opponent here, Paige.
As many know, Main Event is a show used to give wrestlers some TV time. It's hardly advertised, and not many people watch it due to the already hectic WWE schedule. However, occasionally there are great matches that are pay-per-view worthy.
When this aired, there was a lot of buzz at the effort both women put into this 15-minute match.
While June 2015 was just one month shy of the introduction of Becky Lynch, Sasha Banks, and Charlotte Flair, women were still underused within the company. We were past the 'bra and panties' matches, but three-four minute matches per show were still the norm.
Both Bella and Paige proved why the women deserve to be at the top of the card. The Bella Twins' heel work opposed the underdog Paige perfectly, and the match included so many fun and unique moves that have yet to be seen by the 'Divas'.
---
9. Kelly Kelly vs. Beth Phoenix – Night of Champions 2011
Similar to many other women during this time, Kelly Kelly was regarded as not the best of in-ring performers. While this isn't necessarily incorrect, Kelly's feud against Beth Phoenix created some decent matches for the time.
"For the time" is the important phrase in this entry. While this Night of Champions match doesn't compare to the women's matches of today, it was much better than the two-minute squashes that the 'Divas' were getting.
With Beth Phoenix being from the arena's location, New York, the fans were loud for the match. The mixed-up face/heel dynamic made for a bit of confusion, but also added so much.
Phoenix's strength with Kelly's athletic background allowed the women to create some unseen spots, most notably a Superplex as well as a Military Press dropped onto the top rope.
Despite the difficult and rowdy New York crowd, the women put so much effort into proving 'Divas' deserve more credit.
---
8. Alexa Bliss vs. Bayley vs. Emma vs. Nia Jax vs. Sasha Banks – No Mercy 2017
This is the first multi-woman match on this list, but certainly not the last. Over the past five years, women have killed these stipulations.
Whether it's the Royal Rumble, Elimination Chamber, Money in the Bank, or this sort of match, it's hard to believe that these are relatively new for the division.
While the men were given the opportunity to have multi-man matches, women only had pillow fights. As an all around message for the list, it is a great thing that we see the women getting more opportunities.
With the success of the five-pack challenge at Backlash a year prior, it was the Raw division's chance to prove itself.
Five of the best women on the brand, putting full effort into creating a great match. Bliss was the champion, Banks and Bayley were the team, Nia Jax was the unstoppable force, and Emma?
People forget how good Emma was as she was dancing with Santino Marella for most of her run. Her NXT heel turn, and final few months before leaving, were really good. She had a new 'all about me' attitude as said in her theme song, and proved why she should've been given so much more.
The multiple stories and characters all worked together perfectly. Despite the different heel and face wrestlers, they would have to work together to stop Nia Jax.
This led to the most memorable part of the match when Jax is dropped on her neck from a powerbomb. Banks and Bayley also showed some dissension in their friendship which wouldn't pay off for another three years. It was brilliantly produced and is well worth a re-watch.