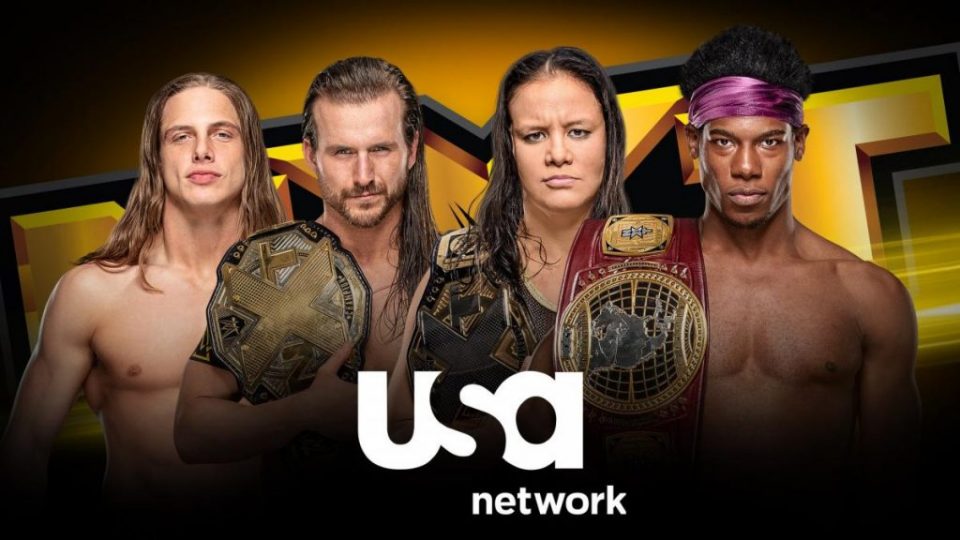 Earlier this week WWE announced that NXT, its developmental brand, would move to the USA Network starting on September 18.
This sudden move is speculated to be WWE's way of counter-programming AEW, which will have its first TV show only a few weeks later on October 4.
The now two-hour NXT live show marks a new chapter in the black and yellow brand and amidst criticism and praise for the move, we thought it would be interesting to point out some of the positives that can come from this, so here are 10 ways NXT's move to the USA Network can be beneficial to the brand.
---
1 – More Time To Feature More Stars
Since NXT changed from a variety show to an actual wrestling show, it has been consistently an hour-long program with TakeOver shows being around the three-hour mark.
This hourly weekly format was one of the things that made the show be so praised, as it was seen as a very digestible wrestling experience as opposed to the three-hour-long Raw every Monday night.
However, in the past couple of years, the NXT roster has grown considerably to the point where very talented individuals end up with little to no TV time in some tapings loops. All this despite the number of call-ups to the main roster.
Keith Lee is a very good example of someone who's arrived in NXT in early 2018 and has done practically nothing in there, going as far as this situation being incorporated into his character motivations.
An extra hour every week, if well put together, can greatly benefit underused wrestlers and develop said wrestlers in a shorter period of time.
---
2 – Officially The Third Brand In WWE
NXT's status in WWE is and has always been as the 'developmental brand'. I even called it that at the beginning of this article.
NXT's storylines and, subsequently, its impact on characters were thrown out of the window the moment they got to the main roster.
For every time Kevin Owens appeared on Raw with the NXT Title or his feud with Sami Zayn was mentioned, the War Raiders/Viking Experience/Viking Raiders debuted on Raw without the NXT Tag Team Titles or Gargano and Ciampa would become a babyface tag team in the midst of a year-long blood feud on NXT.
The comparisons with WWE's version of ECW are inevitable but NXT has a few things in its favor that will grant it a success, such as being Triple H's 'baby' and having an amazing pool of talent at its disposal.
From now on, the traditional NXT to Raw or SmackDown route will be slightly different, as NXT may be the final destination for some wrestlers.
This will be very important to establish the brand on a mainstream stage and could mean names like Johnny Gargano and Tommaso Ciampa can become WWE legends without having to step foot on Raw or SmackDown.
Let's forget those two weeks, shall we?
---
3 – Relaunching Careers
The announcement of AEW TV starting in October was considered by many as the start of a long-needed revolution in pro-wrestling.
What many didn't expect a year ago was that WWE would also see significant changes in its programming.
Not only will NXT move to USA Network but SmackDown will ditch the network to move to FOX, on a reported billion-dollar deal.
With the two tops brands on rival networks, it's safe to assume talent won't be shared between them anymore and hopefully, a brand split of sorts will come into effect this coming October.
With an extra hour to fill, many more performers could follow the steps of Tyler Breeze, Fandango and Killian Dain and return, or even debut on NXT.
Names like Chad Gable, AOP, EC3 or Sarah Logan would be great additions to the black and yellow brand and could potentially relaunch their careers in WWE.
This is also a very good way to prevent talent to leave the company and join AEW.
---
4 – Cruiserweights Galore
Speaking of changes and relaunching careers, there are reports that FOX may had a third hour to SmackDown once it starts airing on the channel next October.
With this, there is a big possibility that 205 Live gets canceled, as it never managed to grasp the momentum and excitement of the Cruiserweight Classic tournament back in 2016.
If this ends up being the case, it wouldn't be surprising if most cruiserweights were to join NXT to help fill the extra hour, since over the years wrestlers from both brands went back and forth between both shows.
Besides, the style of wrestling practiced in 205 Live closely resembles the NXT wrestling style and the extremely talented cruiserweights could use an opportunity to shine on national television.
---
5 – More Brand Exposure
Throughout the years, and despite the insane numbers of NXT wrestlers being called up to the main roster, NXT always managed to stay true to its identity.
Often called "the hottest thing in wrestling", NXT managed to succeed and stay on top of their game while only being watched by a small percentage of the WWE audience.
Much like 205 Live, a big reason for that is the fact the show only airs on the WWE Network but being on national television could change all that very quickly.
People who are used to watch Raw and SmackDown on USA Network once in a while may be intrigued to see what this 'new brand' has to offer and may be hooked by its slightly different presentation and style of wrestling.
Many believe this move jeopardizes NXT's identity of good presentation with somewhat of an 'indie' show feel but I believe this is an amazing opportunity for the brand to expand and show what it can do on the same stage as Raw.
---
6 – Live TV Is Better For The Performers
In 2016, for the first time in its history, SmackDown started airing live every Tuesday night.
It was reported at the time that this move was proposed by USA Network to improve the show's ratings, as they thought a taped show wouldn't be as appealing as a live one.
Taped shows tend to have the very annoying problem of being easily spoiled by fans in attendance, especially in the age of social media and this is particularly true with NXT.
Going live every week will prevent this from happening but it also allows the wrestlers to grow as performers.
A taped show is usually a more controlled environment, where mistakes can be sponged and things can be altered at ease. On a live show, the opposite happens.
Injuries, botches and forgotten lines are just some of the things that can happen on a live show and it's up to the performer to be able to turn a bad situation around.
Going live will allow some of the more inexperienced wrestlers to think fast and 'winged it' if need be and over time that will make them better performers than they were before.
---
7 – NXT vs Raw & SmackDown
Long gone are the days where a sense of competition between WWE brands existed.
Yearly drafts meant that brand loyalty was something increasingly hard to pull off, making shows like Survivor Series and Bragging Rights meaningless since next year's lineups would be completely different.
Still, athletes are competitive and despite the wrestling business having changed a fair amount over the years, putting on the better show is a good enough reason for bragging rights (pun definitely intended).
However, with NXT on national television from now on, the competition inside WWE won't necessarily be about brand dominance but about the level of performance.
If reports of Vince McMahon being hands-off NXT's creative process are to be believed, then we can expect NXT to continue with its unique style of performance, quite different from Raw and SmackDown's.
With increased exposure and good ratings, NXT on USA Network can revolutionize WWE's product and its style can become the standard formula used in all of their shows.
---
8 – A Glimpse Into The Future
NXT is Triple H's brainchild and, in many ways, all the success and popularity the show has garnered over the years are due to his vision and knowledge of the business.
Knowing that a man so close to Vince McMahon has such a different vision of how pro-wrestling should be is nothing short of amazing but knowing that Triple H is the successor to the throne is even better.
Triple H has some input into the day to day decisions in WWE but when it comes to NXT 'The Game' has full control over the product.
Going live on TV won't be anything new to Triple H and it will be a very good opportunity for him as a producer to show ideas on a bigger stage, and for us as fans to have a glimpse into some of the things that may become the norm once Hunter takes over WWE (another pun intended).
---
9 – Better Contracts For The Performers
Over the years NXT managed to recruit some of the best wrestling talents the world has to offer.
Despite being very successful in this regard, with the prospect of being part of wrestling's biggest company being enough to convince most performers, there were still a few who managed to get away.
The indie wrestling boom of the past four or five years has shown that WWE doesn't have to be the end goal anymore and any performer can make a good living in wrestling doing its own thing.
Speculating about values won't get us anywhere but we know from interviews and other forms of media, that the Young Bucks, just to give an example, made more money from their merchandise sales than they ever made from any wrestling contract.
NXT being a developmental brand means talent gets offered developmental deals, which often isn't appealing.
With TV money on the mix, however, NXT stars will most likely be offered new deals, with substantially better paychecks than ever before.
Not only is this good news for the already contracted talent but it also reinforces NXT's ability to recruit more and better talent from other wrestling promotions.
---
10 – Turning A Profit
For the first time in its history WWE is getting paid by a Network to put on NXT, which means for the first time ever, the brand is turning on a profit.
This is especially good news if we take into account some of the best matches happening under WWE's umbrella take place in NXT programming.
This means that NXT's product could potentially be more appealing and engaging to a broader audience, especially teenagers, and if that's the case and it pulls good numbers, not only a bigger money deal could be offered, but USA may look at NXT as the way WWE should be going forward.