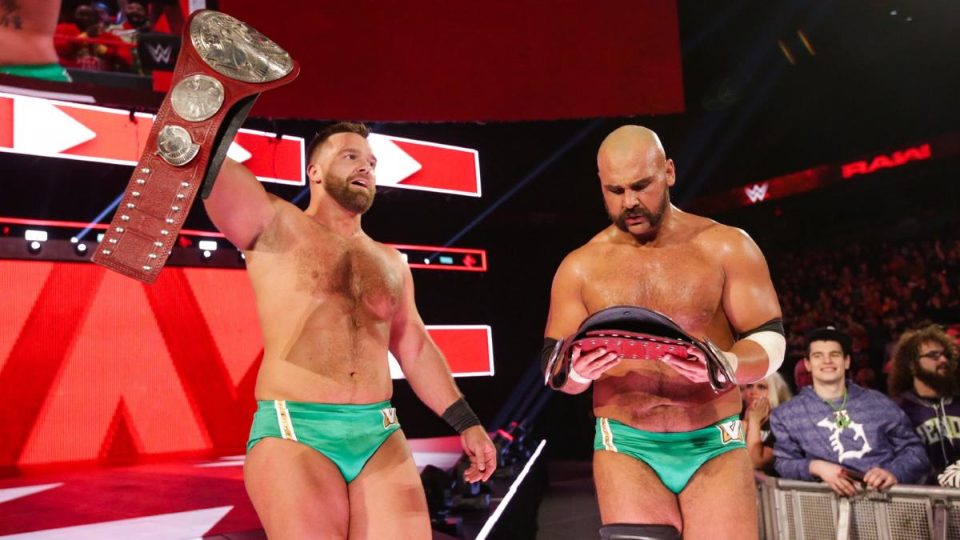 It seems like an endless quest to revive the tag team division in WWE. With Vince McMahon, known to not necessarily be fully behind the idea of tag team wrestling, at the top, this is not an easy task.
But with AEW pushing to install a respected tag team division, WWE might have to answer by breathing fresh air into its own.
In this article we will focus on several aspects on how to make a compelling tag team division.
---
10. Improve Characters
WWE is known to be the land of wasted opportunities and in the tag team division this fact is more than true.
Ryder & Hawkins, The Colons, The Ascension, B-Team. These teams are currently not used at all and they do not seem that interesting, which can be blamed on WWE simply not doing anything with them. Seriously, would you buy them as a credible threat to the Tag Team Champions? Probably not!
All eight of them are fantastic talents and with WWE being able to improve teams like The Usos or Gallows & Anderson in the past, a new presentation and a more serious attitude would result in more challengers to pick from and ultimatley in a more competetive and interesting division.
---
9. Use different stipulations
Tag team matches in WWE are mostly just that, standard tag team matches. When was the last time, apart from the fantastic Usos vs. New Day feud, that stipulations actually played a factor?
Apart from a rare ladder or tornado-style tag team match, WWE is not really trying with the tag team stipulations are they?
Imagine tag team title feuds featuring clashes inside Hell in a Cell, a Steel Cage, WarGames or as TLC, Turmoil or elimination matches more often? The possibilities are endless and this is one of the easier ways to draw attention to the division.
---
8. Make Tag Teams Feel Important
Tag teams usually do not get to main event a show, unless they are part of another random six-man tag team match. Why is that so? If you want to present legitimate tag team wrestling in your company, they need to be equal to the singles divisions.
No.1 contender matches on TV and the champions competing in the main event of both weeklies and pay-per-views would, if done right of course, help rebuilding prestigious championships and just an overall more balanced product.
---
7. New Championship Designs
As previously rumored, WWE was working on new championships earlier this year, but nothing came after this news had surfaced. The current championships are often referred to as the 'penny titles' and are also received as 'toy belts'.
This is certainly not the reputation you'd want for a strong and respected tag team division. As The Revival teased earlier this year, the return of the World Tag Team Championship design from the Attitude Era does not seem like the worst idea.
And it worked before: Back in 2011, when Cody Rhodes brought back the classic Intercontinental Championship design, it helped a lot to bring back respect to the title.
---
6. Call up more teams from NXT
You know what they say: Quantity is not always quality. Agreed. But the tag team division also needs to set itself apart. Just having two more players in the match is not enough.
WWE should bank on making this division feel as fresh as it gets. No more Usos and New Day stacking up championship reign over championship reign. Also, as Breezango have shown, unused teams can also easily go back to NXT or NXT UK, also keeping those divisions fresh.
In addition: Fans do love stable wars. Undisputed Era vs. The O.C. for the Tag Team Championships comes to mind. This sounds like something that could headline a pay-per-view, doesn't it? So as the addition of new teams: keep them coming.
With four tag team divisions, five if you include the weak-legged women's division, there is enough room for everyone.
---
5. Install Secondary Feuds
With five hours worth of main roster TV every week, not every tag team feud has to be for the titles. I can honestly not remember a real feud between two tag teams that was not over the tag team titles.
It is an easy way to keep teams relevant and also you can do it bi-weekly, if you still feel there is not enough room for a strong tag team division with multiple feuds. There is no excuse. It would at least save us from another Ryder & Hawkins situation that we had earlier this year.
---
4. Retire Franken-Teaming
There is nothing wrong with putting together two singles wrestlers that just do not connect in singles action. Just look at Breezango, that worked wonders for them.
But in most cases, it just does not work. Especially because WWE usually just puts these teams together to put over another group.
Remember The Dogs of War? The League of Nations? Chad Gable & Bobby Roode? Well with the latter, you can say that WWE at least tried to make it work. For a short while.
WWE should focus on rebuilding the teams they already have and if you want to team-up two singles wrestlers, take a slow approach, so when they turn up on Raw or SmackDown, they already feel like a team.
Another fantastic example: The Bar or Cesaro & Tyson Kidd. Both were formed slowly and with a story behind them. Only then it might work. All I am saying is retire franken-teaming that is just there for the sake of it.
---
3. Retire Random Six-Man Tag Team Matches
Finishing up your weeklies with a good-old fashion six-man tag team match is a trap you can easily fall into whilst booking a show. Usually these matches are nice to watch, but do not really further a storyline.
Also it takes away a special element that could be useful for actual tag team feuds. The constant use of the six-Man tag team main event made this stipulation grow very stale. It usually only gets interesting when actual teams face each other. Ideally with a purpose.
Use this match type for stable wars rather then just having an excuse to feature as many singles stars as possible on one show.
---
2. Bring Back Tag Team Managers
Some teams, much like in the singles division, are just not as charismatic or strong on the microphone as others. That counts for guys like AOP or The Colons for example. Adding a manager to them is just another great way to help those teams get over and also set themselves apart from the rest.
Also imagine Curt Hawkins and Zack Ryder with Edge as their manager for a minute. That would be major.
---
1. Celebrate Tag Team Wrestling
Tag team wrestling offers so much. Fantastic in-ring competition, epic stories and, especially in WWE, a tremendous history. From the formation of the Mega Powers, to The Rockers splitting, the TLC-Matches between the Dudleyz, Hardyz and Edge & Christian, all the way to The Usos vs. The New Day matches or the Revival vs. DIY wars in NXT.
Tag team wrestling is so full options to choose from and full of energy to set free. If WWE is willing to go all out and remind itself that tag team matches are not just small part of the show, it is actually a major attraction, then the possibilities are endless.
Imagine having the first ever all-tag-team pay-per-view event. Imagine legendary tag teams coming back every once in a while just to be a part of the newly revived tag team division. It is time for a tag team revolution in WWE, and the fans and talents are ready for it.