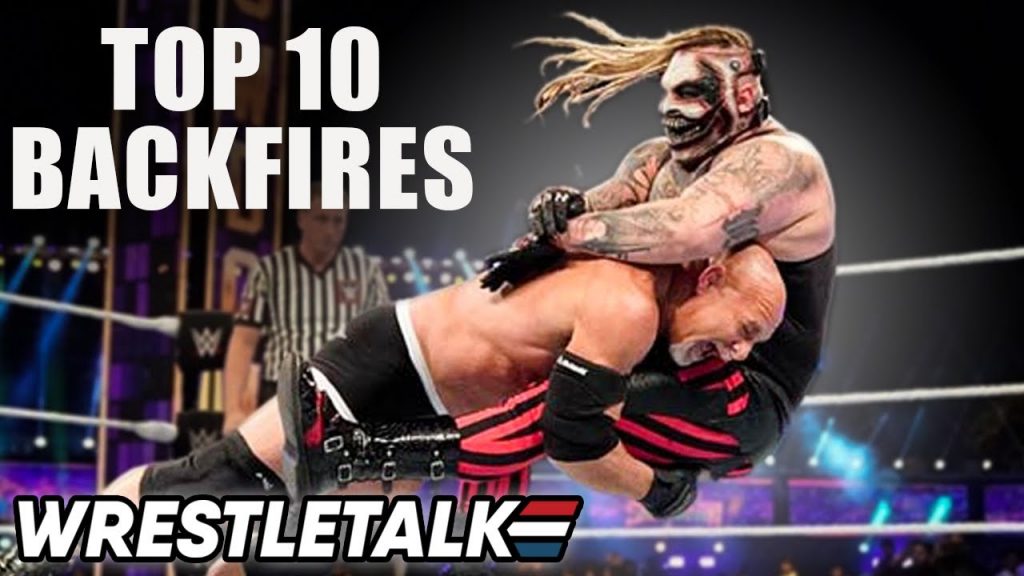 Wrestling is sometimes a story of balance. Yin and yang. Light and dark. For every Roman Reigns vs Jey Uso, there's a man throwing urine in another man's face. For every Hangman Page and Kenny Omega, there's a spooky Braun Strowman swamp doppelganger.
It's true, not all wrestling storylines are created equal, and as 2020 draws to a close, let's take a look at ten wrestling storylines that massively backfired this year. For the sake of clarity, these will be looking at storylines that had potential and went drastically south, rather than ones that sucked from the get-go, otherwise we'd be here forever.
---
10. Charlotte Flair vs. Rhea Ripley
When Charlotte Flair won the 2020 Women's Royal Rumble, many people groaned exasperatedly at the prospect of yet another Charlotte Flair inclusion in a WrestleMania title match, when the obvious winner should have been Shayna Baszler, who had just been brought up to the main roster. But when Rhea Ripley made the challenge for NXT Women's Championship to her on Raw, people were definitely intrigued.
The hottest star at the time in NXT facing arguably the most well-protected and most solid female big match performer in WWE, this had the potential to be fantastic, cementing Ripley as one of the next big stars in the company.
But then the match happened, and while it was a very good match, arguably the best non-cinematic match across the two nights of WrestleMania 36, Charlotte made Rhea tap in the Figure 8 and proceeded to beat everyone in her path in NXT. At least Rhea got her win back. Oh, wait no, Charlotte dropped the title to Io Shirai, with Io pinning Rhea in a Triple Threat.
Charlotte cleaned her hands of NXT and went on as she had been before, leaving for surgery not long after, and Ripley's diminished starpower was highlighted across the year, with her only now starting to catch glimpses of the star that was there before. 
---
9. EVIL Joins Bullet Club
When New Japan Pro Wrestling returned from their hiatus due to the pandemic, they stepped right into the New Japan Cup. Not many people foresaw EVIL being the person to come out on top, but you know what? Yeah, cool, a new potential top star! And then it all went off the rails.
After he defeated Kazuchika Okada in the tournament final, he turned on Los Ingobernables de Japon and joined super edgy villain group Bullet Club and defeated Tetsuya Naito for both the IWGP Heavyweight and IWGP Intercontinental Championships the next night. Wow! New Japan isn't known for doing these massive surprise moments very often and while the matches with Okada and Naito weren't all that good, things could still get better!
And then they didn't. EVIL's run as a main eventer just didn't work. His excellent matches from years past didn't translate to his work as a heel as constant outside interference took it down several pegs. This works for someone like Jay White whose performances are much more nuanced but when EVIL just pushes the ref down and kicks his foe in the dick, nah. No good.
---
8. Brock Lesnar vs. Ricochet
Much like all Saudi Arabia shows, this year's Super Showdown needed the big stars to come out to play. So come on down Brock Lesnar, spin the wheel and find out who you'll be beating. The wheel this time landed on Ricochet, who at the time was under the wing of Paul Heyman and who reportedly was looked at very favourably by him. Even though no-one expected Ricochet to beat Lesnar for the WWE Championship, this could be a star-making performance for him, much like Lesnar's fantastic matches against AJ Styles and Daniel Bryan in years prior.
Instead, Lesnar steamrolled Ricochet and beat him in 88 seconds. Ricochet was not a superhero, he was not fuelled by determination, and he did not get over. This could have been great but it wasn't, and Ricochet has never recovered from this as evident by his loss to RIDDICK F****** MOSS for the TWENTY F****** FOUR SEVEN CHAMPIONSHIP on the very next show.