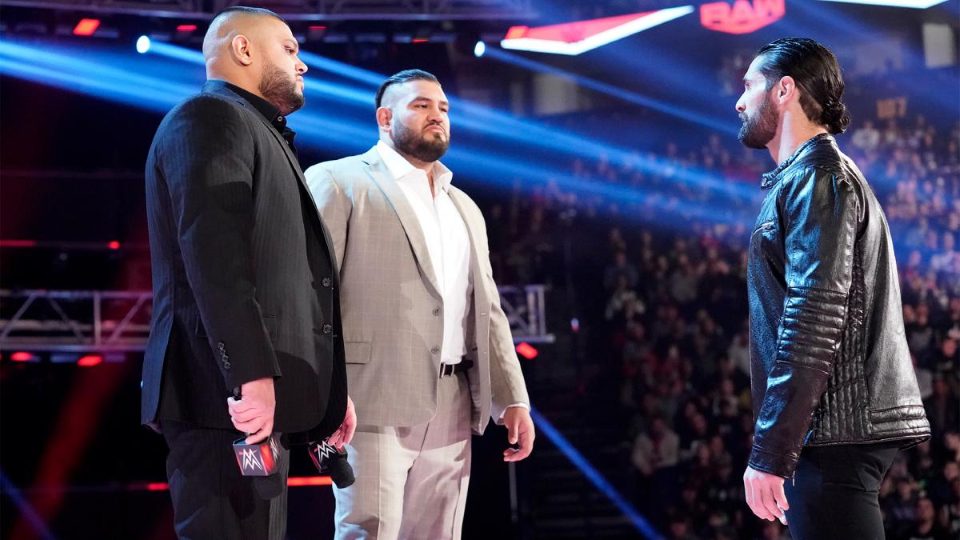 WWE's had plenty of heated rivalries this year, such as Rey Mysterio vs. Brock Lesnar, Lynch vs. Charlotte vs. Rousey, the ongoing Bray Wyatt vs. Daniel Bryan feud.
We have even seen Raw vs. SmackDown vs. NXT – a dream for some people!
Of course, I can't predict the future, however, here are 10 WWE feuds that should happen in 2020!
---
1. Seth Rollins vs. Ricochet
Seth Rollins recently turned heel and aligned himself with AOP. This means he has a new set of potential rivalries heading into the new decade.
One of them, which could deliver some mouth-watering spectacles, is against Ricochet.
Ricochet is so athletic and always keeps your eyes glued to the screen whenever he is in a match. Also, you cannot argue against the fact that Seth Rollins is a really good wrestler, and a clinic between these two would be a dream match in the making!
Ricochet has an underdog feel and therefore would be fighting the odds in this incredible challenge.
This feud could have a title on the line, but saying that, it wouldn't necessarily need it to be entertaining.
---
2. "The Fiend" Bray Wyatt vs. Roman Reigns
As of this writing (December 20, 2019), Roman Reigns is the favourite to win the 2020 Royal Rumble. This isn't a surprise – the 'Big Dog' hasn't been in the title picture since he had to relinquish the Universal Championship due to Leukaemia in October 2018.
Therefore, if Reigns wins the Rumble, he will have to face either Brock Lesnar again, or Bray Wyatt.
The Universal Champion, The Fiend, seems like an interesting choice for facing Reigns at WrestleMania. Wyatt has only been targeting former enemies of his older-self as "The Fiend", so facing Roman Reigns ticks that box.
Roman will most likely be the one to conquer The Fiend, but it does give us a 'what if?' moment:
What if Bray Wyatt defeated Roman Reigns, and Reigns, like the rest of Wyatt's defeated list, has a change in character?
Seth Rollins and Finn Balor turned heel after suffering a loss to The Fiend. Will the same happen to Reigns in 2020?
---
3. Becky Lynch vs. Ronda Rousey
Ronda Rousey is rumoured to be the winner of the 2020 Women's Royal Rumble Match. This means her choice in champions – if they don't lose before 'Mania – would be Becky Lynch or Bayley.
A feud with Becky Lynch was expected in late 2018, with a singles match at Survivor Series, but it was pulled due to Lynch having her face broken by Nia Jax. Then, when they were supposed to fight at WrestleMania 35, Charlotte Flair was added last minute.
Could we finally get that singles match between the two of them?
If it happens, would Rousey be the one to take the Raw Women's Championship away from 'The Man', one year after Lynch made her tap in the main event?
---
4. Brock Lesnar vs. Cain Velasquez
At Crown Jewel on October 31, Cain Velasquez suffered a massacre at the ferocious hands of the 'Beast Incarnate' Brock Lesnar.
This was reportedly done because Velasquez needed knee surgery, and WWE needed a reason to write him off TV. It was still a humiliating way to start your career with the company.
Hopefully, Velasquez can recover from this as, according to reports, he is one of the planned challengers for Lesnar's WWE Championship at the 'Grandest Stage of them All' in 2020.
If the match happens, expect Cain Velasquez to have a decent fight with Brock this time around, and it could be anyone's game.
---
5. Seth Rollins vs. Samoa Joe
While Samoa Joe has been recovering from a broken thumb, he has been doing commentary on Monday Night Raw.
It looks like he could be returning to the ring any day now and his commentary recently has given the assumption he will be a babyface.
If Joe returns to in-ring action, a rivalry against Rollins and the AOP would be fantastic, and would contrast with the Ricochet feud mentioned earlier.
Ricochet will be trying to overcome the odds, however, Joe will try to take them on head-on and show he is a bigger force to be reckoned with.
---
6. AJ Styles vs. John Morrison
It was announced on WWE Backstage a few weeks ago that John Morrison had signed a multi-year contract with WWE. There is still no acknowledgement on what brand he will grace his presence on, or whether he will be a babyface or heel. He has been spotted at the WWE Performance Center, so he it looks like he'll be returning very soon.
One feud that would have the fans engaged would be with the 'Phenomenal' AJ Styles.
Styles can go with anyone, and a fight with Morrison would be a portrayal of both their athletic ability.
This certainly should be in WWE creative's thoughts when thinking of potential storylines for Johnny Morrison.
---
7. Bayley vs. Sasha Banks… Again
Sasha Banks and Bayley have overlapped in their illustrious careers many times.
Friends or enemies, they have mostly been able to put on awesome storylines (forget about the therapy and split teases of 2018).
Matches against each other have been fantastic, but we haven't really had that blood feud happen on the main roster.
With the roles reversed, Banks being the face and Bayley being the cocky heel champion, another match to be cemented in their legacy doesn't sound too far-fetched.
---
8. Daniel Bryan vs. Shinsuke Nakamura
Remember when WWE just dropped the Daniel Bryan/Sami Zayn alliance teases?
If Wyatt defends his title against Reigns at 'Mania, Daniel Bryan obviously doesn't overcome The Fiend, so why not pick up the feud with Nakamura where it left off?
The "YES!" movement returned at TLC this year when Bryan ambushed the Universal Champion.
If he cannot get his hands on that blue title, why not settle with the other title on SmackDown, the Intercontinental Championship?!
There was clearly a great feud brewing with Bryan and Zayn in the same ring, and a match with Nakamura would be ace, so no doubt this should happen in the new year.
---
 9. Kofi Kingston vs. Xavier Woods vs. Big E
This is mammoth-sized speculation, but many believe it has to happen eventually.
Will 2020 be the year that the New Day break up?
Xavier Woods is currently out due to a torn Achilles Tendon. He is apparently 'ahead of schedule', but to the point, WWE can use this injury to play into an angle.
While Woods is sitting sidelined, most likely making content for UpUpDownDown, Kingston and E have been relishing in their seventh title reign.
Does this not make Woods jealous?
When the trombone playing Xavier Woods returns, have him turn on New Day to cost them the tag titles.
This feud would eventually end with the three of them competing to show who is the best in a triple threat match!
It's a New Day, it's a New Year – anything can happen!
---
10. 'The Fiend' Bray Wyatt vs Aleister Black
Aleister Black has been very underutilised this year, but hopefully, 2020 brings a queue of talent knocking on his door.
One guy – or Fiend – that should knock is Bray Wyatt.
If Wyatt loses the Universal Championship, how can The Fiend maintain popularity? He doesn't seem unbeatable with a loss.
There is only one rivalry that could keep The Fiend strong  – Bray Wyatt vs Aleister Black.
They could both end up on the same brand due to the post-Mania draft and things can get going.
This feud would be fuelled with pure hatred and darkness: A Fiend versus a Gothic Ritualist. This story doesn't need much from creative as it basically writes itself.
Ultimately, that should be a common theme for feuds in 2020. Some of them don't need much creative input. Leave them be and the wrestlers will intensify the story themselves.
Which feuds would you like to see in 2020? Let us know on Twitter!