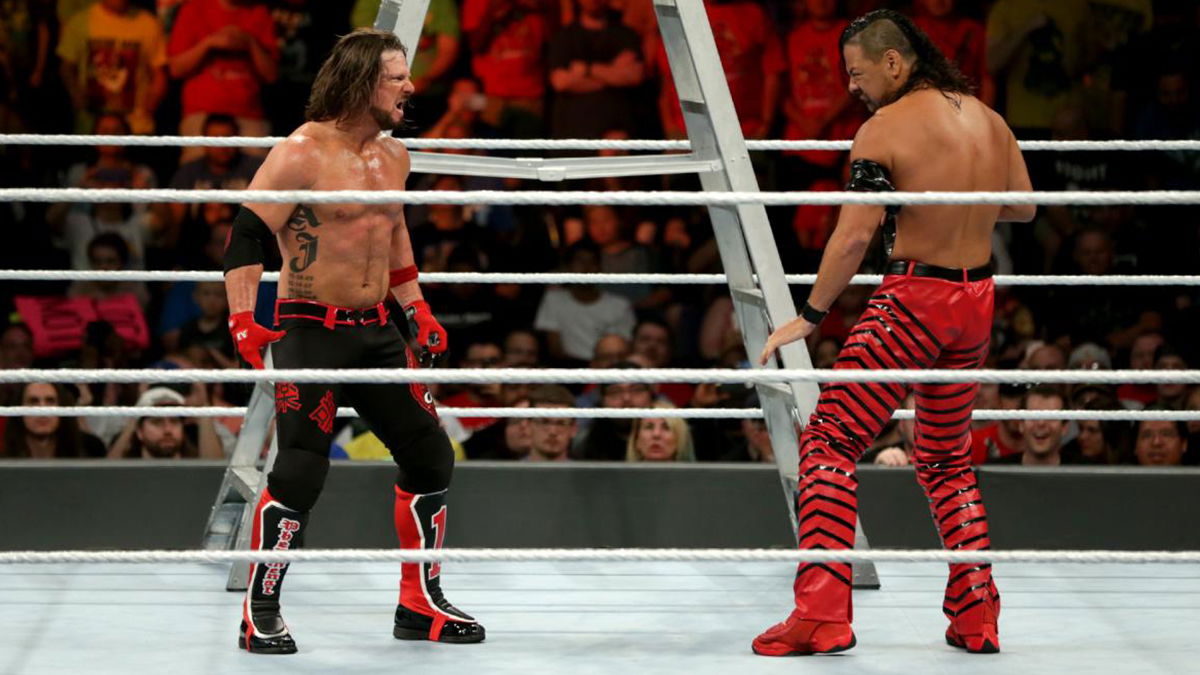 WWE was still going strong with their Brand Split in 2017 which meant twice as many pay-per-views as usual. While that made it hard to have Sunday nights free, it meant way more great pay-per-view matches.
That sort of thing makes writing these lists much more bearable. By 2017, WWE was well into a workrate-focused product with their matches.
The quality of the in-ring work got better and better through the years just as it did in other promotions.
Among the highlights were some great tag team matches, great Brock Lesnar and AJ Styles matches, and strangely a ton of multi-man matches. Let's talk about them.
These are the eleven best WWE pay-per-view matches of 2017.
---
11. The Usos vs. New Day vs. Aiden English & Rusev vs. Chad Gable & Shelton Benjamin – Clash of Champions
When WWE does three-way or four-way tag matches, they don't usually have one member of each team in the ring at the same time. This time, they did, and it kinda worked.
The Usos and the New Day had been feuding for most of 2017 and their work was always fantastic. Meanwhile, this was the match where Rusev Day caught on and the fans were super hot for it.
Rusev and Aiden English could very easily have won this match and maybe should have.
Also, this was one of the few times Chad Gable and Shelton Benjamin got to really shine as a team. Gable ran wild with Chaos Theory German suplexes and it was awesome.
There is just so much stuff to love about this match and it doesn't get talked about enough.
---
10. Dean Ambrose & Seth Rollins vs. The Bar – No Mercy
WWE doesn't often give their tag teams a chance to shine. It has become one of the company's character traits at this point. However, in 2017 there were actually a few decent tag feuds.
One of the best examples of this was when Seth Rollins and Dean Ambrose had to put their differences behind them to team up to face The Bar. After winning the Raw Tag Team Titles at SummerSlam, they had their rematch at No Mercy.
This match was even better than the SummerSlam match which was great to begin with. They just really went balls out with this feud and had main event quality matches in the middle of these pay-per-views.
---
9. The Usos vs. New Day – Hell in a Cell
While Rollins, Ambrose and The Bar were having great tag matches on Raw, The Usos and New Day were doing the same thing on SmackDown.
The bulk of their rivalry came to a head at Hell in a Cell in one of the few tag Cell matches ever. It was also fantastic, keeping with the standard these two teams had set for themselves.
The match had tons of action, innovative spots, and the feeling of a feud coming to an end. For many years, that feeling was missing from many of these matches. Here, it had it in spades and it greatly added to the presentation.