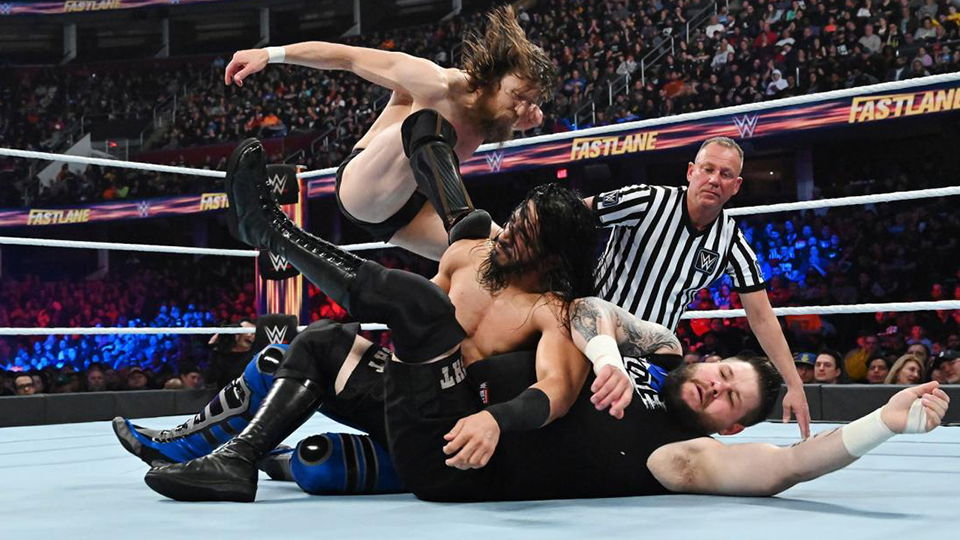 11. Cesaro & Tyson Kidd vs. The Usos – Fastlane 2015
Fastlane has become the new pitstop between the Royal Rumble and WrestleMania over the last few years. While that means we don't often see the biggest of marquee matches on the show, we have gotten to see some excellent battles since the first edition of the show in 2015.
One of those matches took place at the inaugural event as The Usos took on the duo of Cesaro and Tyson Kidd. The latter team had not been together terribly long at the time but showed great promise as two of the best workhorses in WWE. Opposite them were The Usos who could always be counted on to have a good match.
What resulted was a tag team match that was tremendous fun, an indication of the high level of quality the Kidd and Cesaro team would have during their relatively short run. Natalya and Naomi also got involved with each of them backing up their respective husbands adding to a match you should go back and watch.
---
10. Samoa Joe vs. R-Truth vs. Andrade vs. Rey Mysterio – Fastlane 2019
The United States Championship bounced around a lot in 2019 and that was again the case at Fastlane. R-Truth came into the show as champion and put the title on the line against Rey Mysterio, Andrade, and Samoa Joe.
Andrade and Mysterio had been blowing people away with their performances on SmackDown in the months prior and they put on another stellar outing here. Add Samoa Joe to the mix and you have a bunch of very good guys mixing it up, each with their own distinct style.
The match itself was very fun, culminating with Samoa Joe winning his first title on the main roster. A hidden gem that should be revisited.
---
9. The Revival vs. Chad Gable & Bobby Roode vs. Ricochet & Aleister Black – Fastlane 2019
If these three teams had been given 20 minutes to have the best match they could, they would place much higher on this list. Unfortunately, WWE's tag team division was not being highlighted in 2019 and thus this match was thrown together with little fanfare. That being said, this is still a match that should be watched.
Chad Gable, Bobby Roode and The Revival had been tearing it up on house shows and they showed why at Fastlane 2019. Add Aleister Black and Ricochet to the mix and you have three excellent teams. This match was fast-paced and fun and a perfect example of why tag team wrestling should be featured more in WWE.