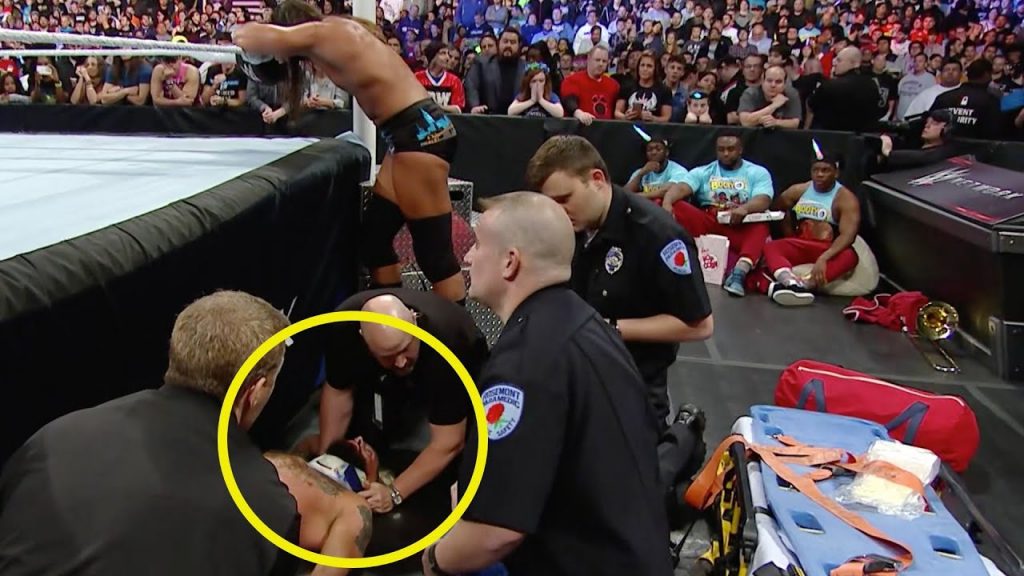 It's not Vince McMahon's Best Friend Race, wrestling is a high-contact, full-beef stuntshow. Hundreds of dates a year, the adrenaline of the crowd, the heat of the moment, dread it, run from it, injury still arrives.
Sometimes injuries happen during house shows, resulting in thousands of fans sifting through grainy footage like gothic prospectors to see Seth Rollins' knee explode, or Paige's in-ring career end with a slightly too hard kick to the back. Sometimes wrestlers get injured and through sheer demented fortiude we don't notice until after the match is over, because every wrestler has 'finish the match' scratched deep on their soul by the long fingernail of tradition.
Some wrestlers, like Droz, get injured on a pre-taped show that never airs, but sometimes, some-horrible-times, injuries happen live and everyone watching at home suddenly gasps and is forced to confront the fact that, damn wrestling, you scary.
Here are 12 Insane WWE Injuries We Saw Happen Live
---
12. And You Face Plant Teach That
Enzo & Cass, aka the entire cast of the jersey shore squeezed into one infected leopard and his giant mouse pet, slowly drowned on the main roster, with their terrible break-up and terrible feud leaving both characters dead in the water before both men were separately released. However, back in 2016, after a dynamite run in NXT everyone was very excited to see what the paid would achieve. As such, hopes were high going into Payback and the match between Enzo & Cass and the Vaudevillains to determine the number 1 contenders to the New Day's tag straps. After just three minutes, Simon Gotch went to throw Enzo out of the ring, however he didn't fall to the mat quick enough and his head collided with the taut ring ropes. His head bounced off the ropes with enough force to knock Enzo out as his head then smacked off the mat. To make things even worse, Enzo then slid to the floor, out-cold, banging his head again on the floor before Gotch, not realising what was happening, grabbed Enzo's head with both hands before he could be backed off by the ref. The match was called off as EMTs rushed to ringside, making the creative decision to have New Day be present at ringside watching and eating popcorn, suddenly excruciatingly awkward.
---
11. Technical Keith Orton
The tragic opera of the meat between Randy Orton's arms and his neck (working title). Randal Keith has had his career plagued by shoulder injuries, from as far back as his debut year in 2002 so much so they now resemble a sat on pack of twilights. Credit to Randy, he's always seemed to be able to finish matches through the pain, apart from the injury he sustained at One Night Stand 2008. Randy fought Triple H last man standing, shoulder vs quad in the battle of the recurring injuries. After a match involving choking with wires, steel steps and other hardcore palaver, the match ended with randy being chucked over the top rope. The Game reversed an RKO, plonked Orton on the outside who landed hard on his shoulder, and shattered his collarbone. Halfway through the ref counting randy down, we get a rare on camera shot of him throwong up the X, secret code for s*** has gotten real, and it looks like that's going to be the end of the match as, you know, Randy literally can't stand up unassisted. Triple H thinks, not like this, not on PPV, picks Randy up at 9, throws him shoulder first into the barricade, because b***ard, then nails him with a sledgehammer shot, finally letting the ref count the 10 and get Orton some goddamn medical help.