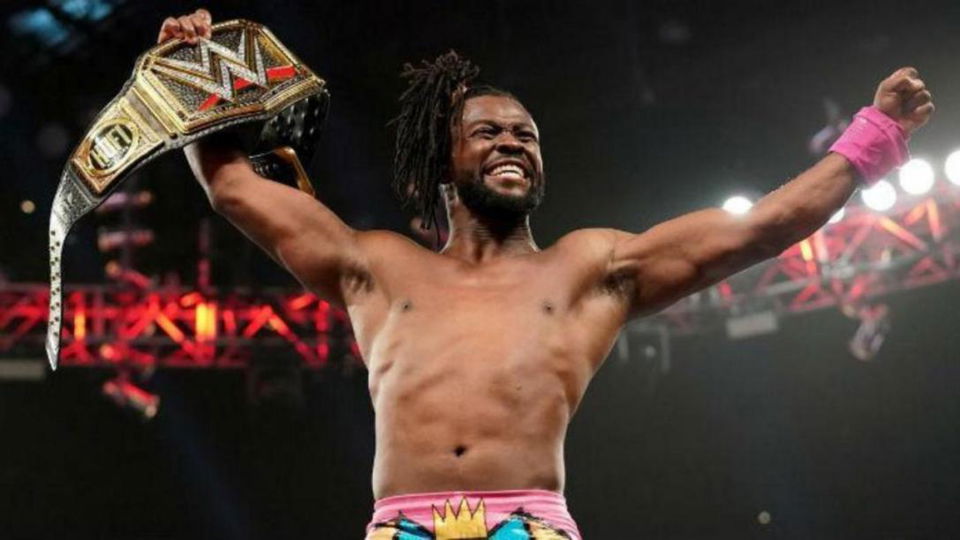 Tis' the season to be jolly as Christmas is back for another year.
As we all know, Christmas is a time for friends, family, and most importantly presents. However, not everybody can receive that special gift from Father Christmas. Only those who avoid being placed on Santa's 'Naughty List' will get what they desire the most.
With that being said, it is time to take a look back at 12 of nicest wrestlers in WWE this year and see which of them will get everything they could ever hope for come 2020.
---
12. Kofi Kingston
Without a doubt, Kofi Kingston has been one of WWE's heroes in 2019. Becoming WWE Champion was a dream come true for Kofi, and the fans where behind him all the way.
Starting at Elimination Chamber, Kingston received a last-minute entry in the Chamber where he showed guts and determination against a deluded and vicious Daniel Bryan.
Despite losing in the Chamber, Kofi had gained huge fan support and, through various star-making gauntlet matches in the following weeks, Kingston became #1 Contender to the WWE Championship just in time for WrestleMania.
From here, we all know the story. Kofi won the WWE Championship on the grandest stage of them all and won the hearts of the world in the process.
His post-show interview with the New Day shows he is clearly one of WWE's 'nice guys' and deserves to take his rightful place on Santa's 'Nice List'.
---
11. Mustafa Ali
Speaking of Kofi, Mustafa Ali was the original 6th-man in the Elimination Chamber match. However, a legitimate injury meant he could not compete. What is even more heartbreaking to know is that Ali would most likely of been in the position Kofi was at WrestleMania had he not gotten injured.
Despite this setback, Ali has continued to fight hard and act as a true role-model to all the impressionable young children in WWE's fan base.
Moreover, before signing his WWE contract, Ali spent four years as police officer in Homewood, Illinois. As a police officer, not only did Ali bring justice to those who will certainly be on Santa's 'Naughty List', but he also stayed in this job to support his family despite wrestling being his main passion at the time.
To bolster Ali's 'niceness' even further, we can take a look at what he did for this young fan over Halloween.
Man, @WWEShop hasn't made something yet. But we can't leave little man hanging like that. Can you send an email to the address in my profile and I'll see what I can do about making him his own custom one. https://t.co/YLdS18EiHt

— Mustafa Ali / Adeel Alam (@AliWWE) September 23, 2019
With this young fan wanting to be just like his WWE hero, Ali sent the fan some gear for him to light up the streets during Halloween. If that does not get Ali on Santa's 'Nice List', I do not know what will.
@AliWWE is not only a fantastic wrestler but an AMAZING person. He ❤️s it. Thank you ? pic.twitter.com/qU8Gq3fowK

— sumwhatbutnotexactly (@jyankeny) October 19, 2019
---
10. Sami Zayn
For this entry we have to take ourselves out of kayfabe and return to the real world as Rami Sebei (aka Sami Zayn) is one of the most wholesome, generous men in WWE.
Since 2014, WWE has been slowly building its reputation in Saudi Arabia and because of his descent, Zayn has been unable to work these shows over the years.
For those wondering, Sami Zayn is of Syrian descent and because of this, he decided to use the time off from Saudi Arbian shows to start his own charity Sami For Syria.
Partnered with the Syrian American Medical Society, Sami aims to raise money for life-saving medical care for Syrian refugees, something WrestleTalk supported in 2019. WrestleTalk fans raised a total of $1,514 over the Crown Jewel weekend.
If you wish to donate now you can do so here:
https://app.mobilecause.com/vf/Sami4syria
With this real-life act of generosity, Sami Zayn can be considered a truly remarkable human-being who deserves the absolute world this Christmas.
---
9. Kevin Owens
Along similar lines to his friend Sami Zayn, Kevin Owens appears to be a genuinely nice guy in real-life. In 2019, Owens refused to work in Saudi Arabia to support Zayn and his Syrian charity.
However, not only is Owens a nice guy outside the ring, this year he has also been a nice guy inside it. Back in July, Owens cut his own 'pipebomb' promo, reminiscent of CM Punk's infamous outrage back in 2011.
Kevin's promo was based around his frustrations with WWE creative, Shane McMahon's main event push, and an overall under-utilisation of talent such as Apollo Crews, Buddy Murphy and Ali.
He was 2019's 'voice of the voiceless' and gave us all hope that something would change in WWE. Fighting against regulars on the 'Naughty List' in the McMahon family, Owens deserves his place on the 'Nice List' this year.
---
8. Heavy Machinery
Heavy Machinery deserve a place on the 'Nice List' this year simply because of the joy they bring to our TV screens.
It is rare to find a duo with so much chemistry and charisma, who blend the right balance between comedy and serious wrestling. However, Heavy Machinery have found the blend and are terrific entertainers.
Tucker is a talented wrestler and a decent promo but Otis has blown it out the water in terms of fan support in 2019. Consistently funny not only during promo segments but also his matches, Otis is truly a gift we do not deserve.
Although they have not achieved championship success in WWE yet, their future looks bright on SmackDown.
For simply bringing a smile to so many people's face each week on WWE TV, Heavy Machinery warrant their place on the 'Nice List'.
---
7. Candice LeRae
When you define the word 'sweetheart', Candice LeRae's name certainly comes to mind. Despite multiple set-backs and betrayals this year, LeRae has remained positive and in good spirits throughout.
Candice began her summer by forming an alliance with Io Shirai, only to be stabbed in the back by the end of it.
Following a loss to Shayna Baszler in a steel cage match, Io took out her frustrations on her friend and ally LeRae. Despite Candice's best attempts to help Io, she was still betrayed, leading to a feud between the two in the following months.
In spite of losing a friend, Candice kept her integrity and remained a good person at heart. However, once again, she would be at the forefront of betrayal.
At NXT TakeOver: WarGames, Candice, along with Rhea Ripley, stood inside the two cells helpless as they saw Dakota Kai turn on her tag team partner Tegan Nox. LeRae took great exception to this betrayal having been in a similar position herself and challenged Kai to a match.
Despite being unsuccessful in said match, LeRae's loyalty to her friends cannot go unnoticed. For that reason she has gained Santa's trust and is placed on the 'Nice List'.
---
6. Rey Mysterio
Mysterio has appeared to have been going on a retirement journey as of 2019. The 30-year veteran is finally looking to hang up his boots but before he goes, he has been giving back to the company that made him throughout this year.
A stellar back-and-forth feud with Andrade revitalised his career in WWE and put-over a floundering Andrade in the process. Moreover, Rey has won the United States title on two occasions this year to further his legacy.
What merits Rey's spot on this list however is what he has done with his son. Mysterio has brought Dominic into the limelight and has probably set his son up with a job in WWE in the future.
His outstanding work trying to get Cain Velasquez over led to him earning his own WWE Championship match at this years Survivor Series. For me, Rey has had a glorious 2019 and has been an overall nice guy in the process. He is a workhorse and therefore warrants a spot on this list.
---
5. Tegan Nox
Tegan Nox's WWE career has been tainted with injuries; however, she finally managed to make a return to prominent WWE TV this year following multiple ligament injuries in the Mae Young Classic.
In June, 2019, Nox made her in-ring return at a NXT Live Event in Orlando and three months later, Nox made her NXT UK debut when she defeated Shax. She then made the switch to NXT and reformed a tag team with long-time friend Dakota Kai. As aforementioned, this is where things take a literal turn.
Having made the women's WarGames team over Kai, Nox looked set on taking part in her first TakeOver match. However, a turn from her best friend Kai led her to being ruled out of taking part in the match.
The girl really cannot catch a break. Despite everything she went through, to have her friend stab her in the back is no way to end 2019. So, to make her 2019 that little bit sweeter, she earns a place on Santa's 'Nice List'.
---
4. Tommaso Ciampa
Ciampa has been at the forefront of NXT for quite some time now. However, anterior cervical fusion surgery has meant his 2019 in NXT has not gone in the trajectory he would have hoped for.
In March of this year, Ciampa relinquished his NXT Championship, thus ending his 237 day reign. Fans were devastated as we were gearing up to the conclusion of his story-line with Gargano heading into WrestleMania.
Despite doctors telling him he will be working on "borrowed time", Ciampa made a triumphant return to NXT to embrace Gargano as he defeated Adam Cole for the NXT Title.
Fast forward to the 2nd October, and Ciampa has made his return to NXT TV as a full time member of the roster again.
In my eyes, Ciampa's heroic recovery to get to a point where he was fit enough to lead his team into NXT TakeOver: WarGames means he has worked hard. For his dedication and motivation to return, Ciampa gains entry onto this list.
---
3. Street Profits
In 2019, Street Profits managed to get called up to the main roster following reports of Heyman being very high on their work. Since then, the Street Profits have been nothing short of entertaining.
Not only have the Street Profits debuted on RAW, but they have also won the NXT Tag Team Championships in the process. At NXT TakeOver: XXV, the Street Profits won a four-way ladder match to pick up the titles for the first time. It was a beautiful moment as everyone in the arena was behind them.
Their tremendous fans support stems from their fun-loving, relaxed nature in promos where they feel far more charismatic than the majority of WWE's roster. Much like Heavy Machinery, for simply bringing a smile to many faces, the Street Profits earn their spot on the 'Nice List'.
---
2. Sheamus
For me, Sheamus deserves a spot on this list this year for what he's achieved during his time away from WWE.
Due to ongoing spinal stenosis, Sheamus has been out of action since April and has only recently returned to SmackDown with a video package hyping his return.
A return from an injury that caused Edge to retire is no easy feat, but the body transformation Sheamus has gone on in that time is motivational.
By no means was Sheamus in bad shape; however, the Celtic Warrior desired a more lean physique going into 2019 and the results speak for themselves.
https://www.instagram.com/p/By2iHZAlkGu/
At 41 years old, Sheamus has never looked in better shape as he's trim down significant amounts of fat around his gut to produce a far more defined physique. His entire journey has been documented on his Celtic Warrior Workouts YouTube channel and each episode, Sheamus comes off as an all-round lovely fella.
He has also kept himself busy over in Japan to provide coverage for Paddy Power during the Rugby World Cup. Sheamus is definitely on the 'Nice List' this year.
---
1. Roman Reigns
Whether you love him or hate him, Roman Reigns has had a 2019 to remember.
In October, 2018, Reigns made the heartbreaking announcement that he was battling leukaemia once again. However, Joe Anoa'i (Roman Reigns) kept fighting and clawing to make sure he overcame his illness so he could fight again inside a WWE ring…
… and in February of 2019, a miracle was born.
A truly inspirational story, Roman's return gave hope to many of those suffering similar illnesses and brought a smile to not only the thousands of kids that consider him a role-model, but thousands of adult WWE fans as well.
For him to get the opportunity to wrestle at this years WrestleMania is remarkable and simply uplifting. As a side note, Reigns has been booked far better in 2019 as well. His push to become WWE's next 'top guy' has been put on hold and he is no longer stealing the limelight from WWE's underappreciated talent.
For someone to go through so much and to return to the job he loves more than anything means he deserves the world this Christmas, seeing as last years was no doubt a struggle.
Reigns is placed atop of Santa's 'Nice List' and we will see what 2020 has in store for the 'Big Dog'.