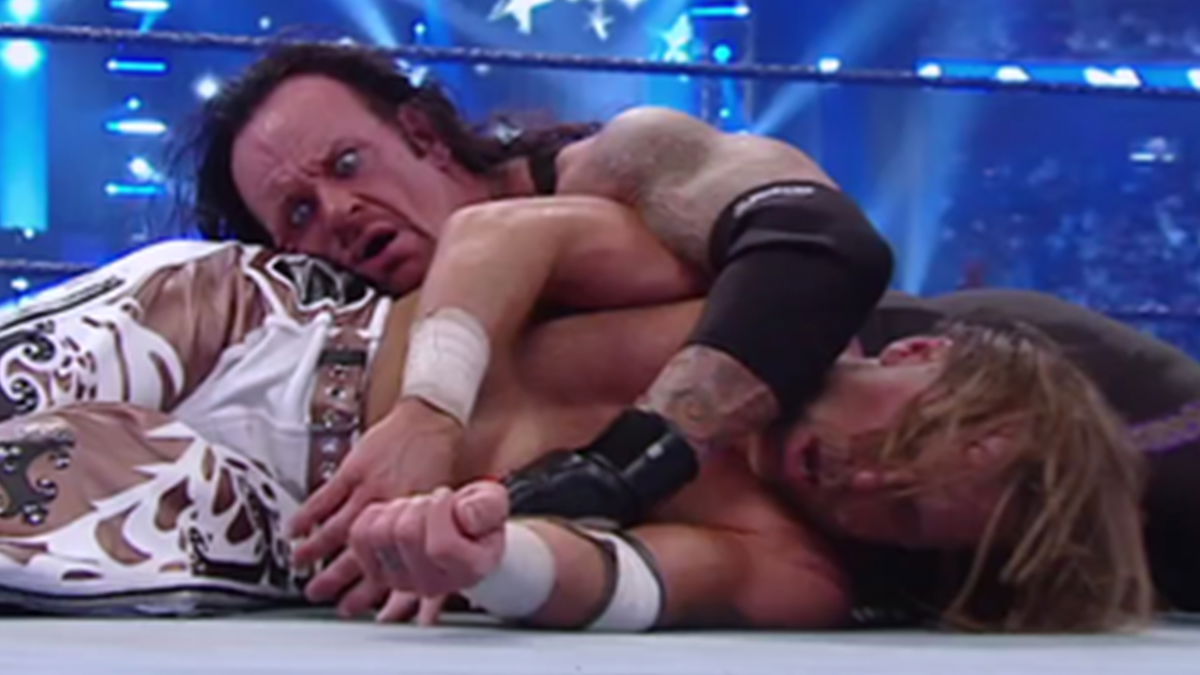 Wrebster Dictionary defines – LOOK we don't need to do that bit, if you don't know what a kickout is then why are you watching this and not baby shark for the eighth time today.
We've talked about loads of things that make wrestling amazing to watch, Table Spots, Finishers, Heel Turns, but actually, maybe the single greatest thing to experience as wrestling fan is when you are completely 100% convinced that you are watching the finish of the match and the wrestler being pinned kicks out.
That jolt of sheer electricity is unmatched in literally any other entertainment medium, the collective bellow of surprise from a crowd when the shoulder leaves the mat is just the greatest thing and I'm trying to do the impossible here so please bear with me, here are the 20 Greatest Kick-Outs In Wrestling History
Honorable Mention: these two aren't technically kickouts but they're heart-stopping false finishes.
Neville hitting the red Arrow on Seth Rollins on Raw in 2015 only for his foot to kiss the middle rope and Omega finally hitting the One-Winged Angel on Okada in their first dominion rematch and Okada just flicks his foot into the ropes at the last possible second. Amazing both. Right here we go properly.
---
20. Edge – WrestleMania XXIV
Let's be honest, we knew Edge was going to kickout of the Tombstone here because of how long the delay was until the ref started counting, but goddamn it this is going on the list because of Charles Robinson's iconic dash to the ring.
Look at them lil legs go, diddly-diddly-diddly Regular Naitch never moved like that.
Proper funny that, as is Robinson's big out-of-puff face when Edge finally kicks out.
---
19. Adam Cole – ROH Best In The World 2014
At Ring of Honor's Best in the World pay-per-view in 2014, Mike Elgin finally won the ROH World Championship.
However before the actual finish of the match, Adam Cole kicked out of the Elgin Bomb at the last possible moment, and the ROH fans were so convinced that was the end that they prematurely threw streamers into the ring, which then had to be hurriedly cleared away as the fans chanted "we f**ked up".
---
18. Mick Foley – Royal Rumble 2000
Ultimate Warrior silliness aside, the Pedigree was a super protected move going into 2000, especially with Triple H enjoying his second-ever World Title reign, which made it all the more joyous when Cactus Jack kicked out of the move in the close of one of the best street fights in WWE history.
The fans in MSG exploded with joy and Foley chants, before Mick was then completely and utterly murdered with another pedigree on goddamn thumbtacks oh no.
It was a great moment that sold just how more dangerous than mankind cactus jack could be