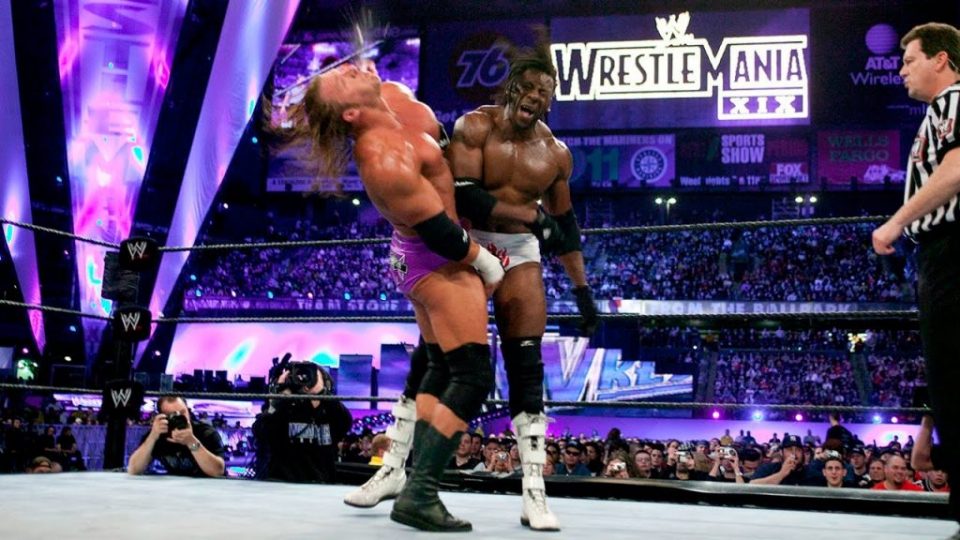 WrestleMania is the time of year where the superstars we adore finally reach the top of the mountain and prevail over their heinous opponents. The show is often jam-packed with feel-good moments like when Daniel Bryan held up the WWE and World Heavyweight Championships at WrestleMania XXX, months of storytelling had finally paid off.
Whilst in WWE as a whole wins and losses might not matter, at WrestleMania they do. The winners and losers of the bouts will be remembered far more than your standard Backlash pay-per-view. That makes it imperative that WWE chose the right person to go over on the show. Of course, they haven't always done that. Whilst WWE might often get WrestleMania bang on, there are times when their decisions have left us scratching our heads. In this piece, I will rank the top 20 times the wrong person won a WrestleMania match.
Hopefully, with WrestleMania 35 just around the corner, I won't be needing to adding to this list come April 8th… but you never know with WWE.
---
20. Andre The Giant Memorial Battle Royal – WrestleMania 31
When Damien Sandow, referred to then as Damien Mizdow, turned on The Miz and eliminated him from the Andre The Giant Memorial Battle Royal, all signs pointed towards the former WWE Tag Team Champion last eliminating Big Show and walking away as the victor.
Mizdow had been stellar in his role as Miz's lackey. His exceptional performances each and every week got him over with the crowd in a big way, and they were all waiting for the moment he turned on the former WWE Champion and won the battle royale in what would have been a great WrestleMania moment. Mizdow deserved this after months of not only working with a comedy gimmick but knocking it out of the park.
WWE instead decided to crown Big Show as the winner. Whilst having Show stand beside the Andre The Giant Trophy was a nice moment given Show debuted in WCW as The Giant, Andre The Giant's son, the moment should have been Damien Sandow's.
Show did very little with his victory and in truth, didn't really need it. The former WWE Champion had already main evented WrestleMania and was past the peak of his career. Mizdow was far more over, and the victory should have been his. Instead, his feel-good moment of eliminating Miz was cut short and he was out of the company just over a year later.
---
19. AJ Styles vs. Chris Jericho – WrestleMania 32
AJ Styles joined WWE in January 2016 and made his debut at the Royal Rumble. Styles had an illustrious career outside of the company, but more casual fans might not have been aware of just how good this guy was.
Styles was also instantly inserted into a program with fellow wrestling veteran Chris Jericho, and the pair produced some seriously good matches together. He prevailed in a bout with Y2J at Fastlane, and fans assumed that Jericho would again put over his still relatively new opponent in a big way at WrestleMania 32.
However, Chris Jericho beat AJ in the latter's first WrestleMania match…
This was mind-boggling from WWE. Especially considering Styles would win a fatal-four way match the following night for the right to challenge new WWE World Heavyweight Champion Roman Reigns. If WWE knew this was the plan all along, which they most likely did, then why not let Styles score a big win on the biggest stage against one of the best WWE had to offer.
The reason this entry is not ranked higher on this list is because of where Styles is now. It is clear that the loss didn't affect him that badly. He would go on to hold the WWE Championship on two occasions, having stellar matches with the likes of Daniel Bryan, John Cena, and Finn Balor.
---
18. Randy Orton vs. Bobby Roode vs. Rusev vs. Jinder Mahal – WrestleMania 34
The chants of 'Rusev Day' peaked in New Orleans at WrestleMania 34. He was not only the most over person in the match, but possibly even one of the most over acts over the entire weekend. WrestleMania 34 was the chance for the company to properly show their intent and give Rusev the United States Championship. The fans would have gone home happy in what was bound to be a feel-good moment.
However, WWE instead decided to give the victory to Jinder Mahal. Why? Simply because Rusev had organically gotten himself over when the company hadn't planned for it.
Mahal would go on to have a lackluster eight-day reign with the title, dropping it to Jeff Hardy on an episode of Raw. WWE should have given Rusev the win here, allowing him to cement himself as not only a fun babyface but a top guy.