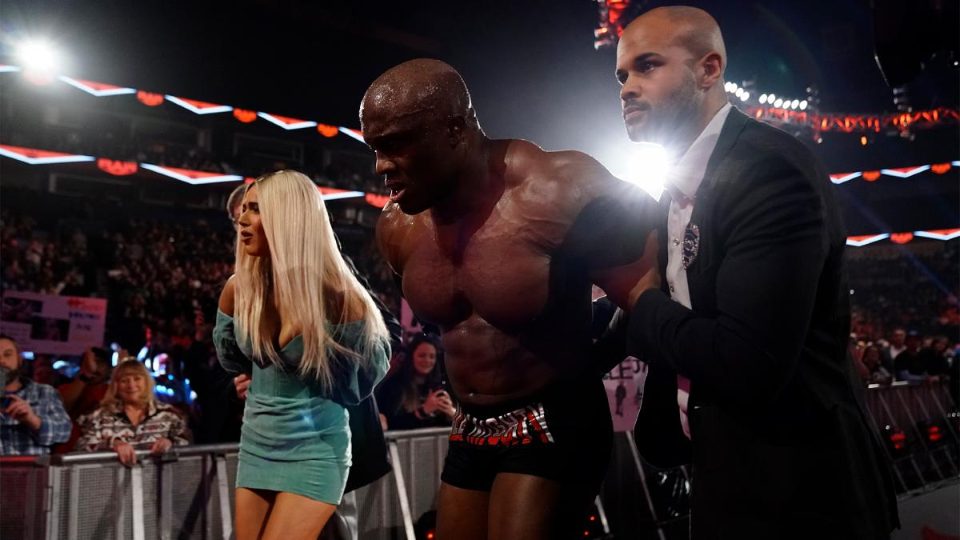 Pro wrestling does things differently when it comes to arrests, and not just in Nashville.
After law enforcement decided to ignore an active restraining order, they did 'arrest' Bobby Lashley and Lana moments later on a recent episode of Raw.  This isn't the first time law enforcement has been unusually utilized by the company. Let's take a look at some of the most ridiculous arrests in WWE history.
---
5. The Mountie
I'm not exactly sure that "Losing a Wrestling Match" is an offense in New York, but this night it would be criminal.
This SummerSlam '91 match saw the the two most popular law enforcement officers in WWE history battle in the Big Apple. The loser of this match would be forced to spend a full night in a New York City jail cell.
Boss Man got a win for the good guys this night.  Following this match, we got a wonderful performance from The Mountie, hamming it up as he was cuffed and taking to a local detainment facility.  Audiences at home got to watch him get dragged out of the arena, be fingerprinted, booked, and be threatened with the possibility of…*checks notes*…prison sodomy?
The 90s were a different time.
---
4. Undertaker
Even the Deadman isn't immune to the law. And while he did have his share of run-ins as "The American Badass," the Ministry of Darkness arrest stands out.
After crucifying Boss Man on his symbol, The Deadman resisted arrest by punching every officer in sight. When enough officers surrounded him, he decided to comply. In one final display of supernatural powers, the Undertaker symbol onstage ignited as he was calmly dragged away. Side Note: Boss Man was not on the cross when it ignited.
It makes you wonder why he saved the magic trick to teleport to Parts Unknown.
---
3. Stephanie McMahon/Brie Bella
This is a tale of two arrests.
Brie Bella had quit WWE as a result of an ultimatum by Stephanie McMahon. In the weeks between Payback and Summerslam 2014, we would get duelling response from the law.
Brie arrived as an audience member on the July 21 episode of Raw. Stephanie responded by slapping Brie, which led to an arrest for assault by the local police department.
Three weeks later Stephanie would get her revenge.
On the August 11 Raw, en route to their SummerSlam match,  Daniel Bryan's physical therapist surprised Brie with a confession of Bryan's infidelity. When Brie slapped the therapist, it gave Steph the perfect excuse to have Brie arrested in a bit of villainous karma.
---
2. Becky Lynch, Charlotte Flair, and Ronda Rousey
This segment was just fun to watch.
Tensions rose between Becky Lynch, Ronda Rousey, and Charlotte Flair leading into WrestleMania 35, and those tensions boiled over on the go-home episode of Raw. Police were left with no choice but to escort the women out of the arena, but not before suffering collateral damage.
The crowd was raucous as the women continued the fight through the back while detained.  Perhaps the best part of the segment was when Ronda and Becky found themselves in the backseat of the same vehicle, leading to kicks thrown and windows busted.
There's no better advertisement for a pay-per-view than a hot go-home angle, and this delivered.
---
1. Stone Cold Steve Austin (x8)
Maybe Steve Austin's history of in-ring arrests explain how he avoided police for 2 months while wanted for domestic violence.
Mr. McMahon was liberal with his use of law enforcement during the Attitude Era, and nobody felt the wrath more often than Stone Cold Steve Austin. The Texas Rattlesnake was arrested on TV no less than eight times between 1997 and 2002.
These arrests would include assault for stunning McMahon, assault for stunning Triple H, and assault for stunning McMahon again. No matter what the reason, the arrest was ridiculous, but the reactions were hot.
What is your favourite arrest in WWE history? Let us know on Twitter or on Discord!