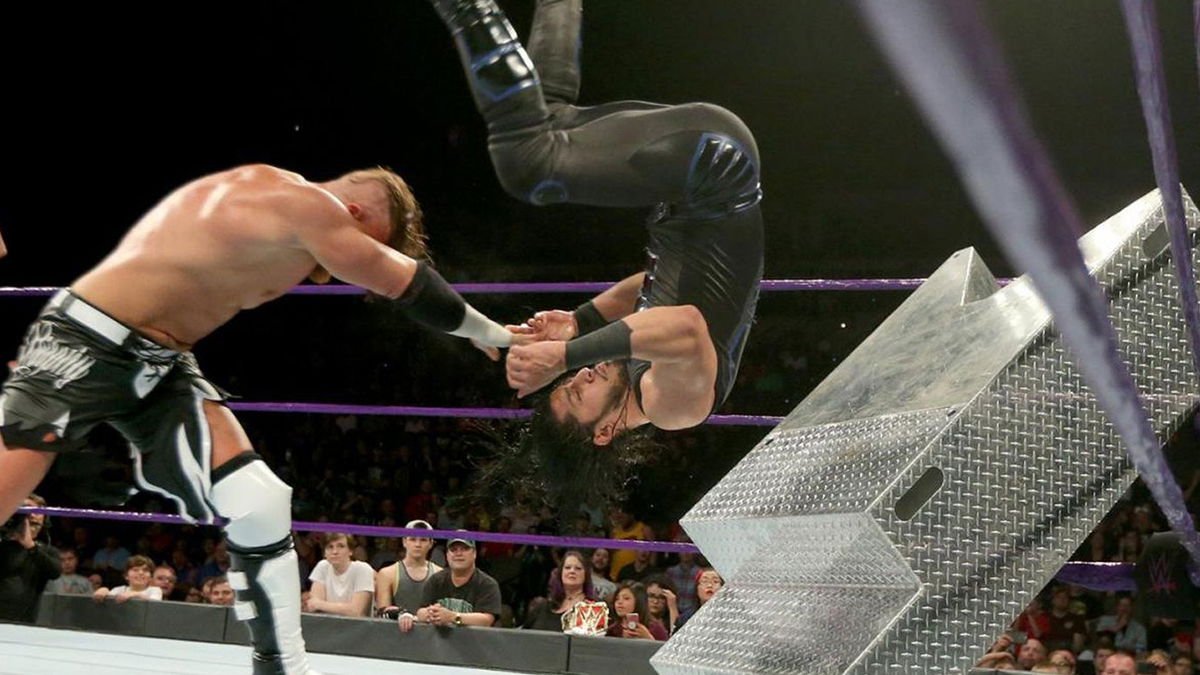 Mustafa Ali publicly requested his release from WWE earlier this month after another scrapped gimmick for the star.
This has caused many fans to think back on the many missed opportunities by WWE for Ali. He was a star who often delivered in the ring and on the mic, but was let down by creative.
However, there is a lot of positive to remember from Mustafa Ali in WWE. The Chicago native has been involved in quite a few showstealers.
Whether it be as the Heart of 205 Live or the leader of RETRIBUTION, Ali consistently produced quality against a variety of opponents.
Here are the five must-watch Mustafa Ali matches in WWE.
---
5. Mustafa Ali vs. Mansoor – WWE Crown Jewel 2021
The tag team of Mustafa Ali and Mansoor felt shoehorned due to their backgrounds and Raw having more popular dysfunctional tag team partners on the show.
However, the two men got some fans invested before subsequently breaking up ahead of WWE Crown Jewel 2021.
In Mansoor's home country, the former partners put on a spirited bout that showcased both men's talents. Ali, in particular, dictated the pace and displayed his character work with some trash talk.
Mustafa Ali even showed his high flying expertise with some spectacular 450 splash attempts.
His failure to hit the move proved to be the difference-maker here when Mansoor avoided it and hit a slingshot neckbreaker for the win.
This may prove to be Ali's final pay-per-view appearance for WWE if his release request is granted.
---
4. Mustafa Ali vs. Ricochet – WWE Main Event (May 27, 2021)
The series of matches between Mustafa Ali and Ricochet on Main Event last year is often brought up by both men.
The two competitors were lost in the shuffle on Raw and made something out of nothing on the C-show of WWE.
This series culminated on the May 24, 2021, episode of Main Event in a two out of three falls match.
Both men crafted a hard-hitting and fast-paced encounter that had plenty of high-octane action.
Ali was in full control after two falls with an attack on Ricochet on the floor causing a countout in the first fall and a disqualification in the second fall after Mustafa pushed the referee into the ropes to knock off his opponent.
The third fall was fierce and intense. There was a double countout callback to their last match after a crazy superplex off the barricade.
Finally, Ricochet caught Ali in mid-air with the Recoil to defeat his rival and put their issue to rest for now.
---
3. Mustafa Ali vs. Buddy Murphy – Survivor Series 2018
Buddy Murphy's Cruiserweight Championship run has to be considered a highlight of the entire division for WWE.
Once a forgotten former NXT Tag Team Champion, the Best Kept Secret proved himself on 205 Live. Murphy's reputation grew after his initial rivalry with Mustafa Ali in the summer of 2018. More on that later.
Heading into Survivor Series 2018, Ali was considered the biggest challenge Murphy had faced yet with many believing the challenger had the champion's number.
The two men once again delivered a tremendous clash that had high impact moves back and forth.
The closing stretch saw Murphy catch Ali with flying knee strike in mid-air and then Murphy's Law to retain the Cruiserweight Championship.
The "This Is Awesome!" chants heard here were well deserved.