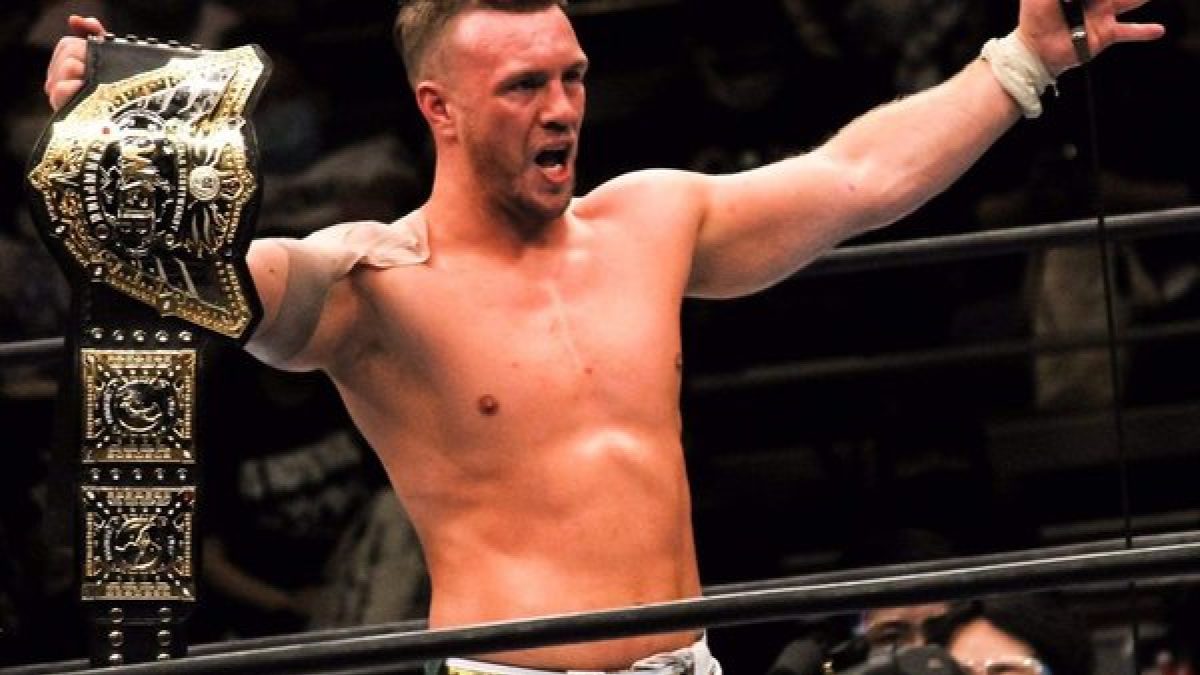 Will Ospreay shocked fans by beating Kota Ibushi at New Japan Pro Wrestling's Sakura Genesis to win the IWGP World Heavyweight Championship.
On top of that, he became the first wrestler to win the company's newest title and this means he has a huge target on his back.
All the wrestlers on the New Japan roster will be out to get that chance to challenge Ospreay and end his first IWGP World Heavyweight Title run as soon as possible. Yet, with so many vying for the opportunity, it will not be easy.
Here is a look at five potential challengers for Will Ospreay and the new IWGP World Heavyweight Title.
---
5. Tetsuya Naito
Even with his disappointing singles win/loss record in 2021, there is no denying that Tetsuya Naito will always be on the list of potential IWGP challengers. As the first man to win double gold at Wrestle Kingdom and start the whole conversation that led to creating the new title, he will definitely want a shot at it.
Looking at the two men's wrestling styles, they initially seem more similar than you would think. Naito and Ospreay are extremely athletic and are not afraid to throw caution to the wind and go high-risk with no regard for safety. They are also not afraid to take the fight to the mat and use a power game if necessary. Although Ospreay now has a mean streak, Naito also has the ability to be brutal and break the rules to get what he wants.
Over the years, Ospreay and Naito have met several times in tag matches between Los Ingobernables de Japon and CHAOS or The Empire. Yet, if this match does happen, it will be the first time these two have met in a singles match. It will be something new for the fans and your standard babyface versus heel, even though Naito could be described as anything but your traditional hero.
Could a shot at the IWGP World Heavyweight Title be a chance for Naito to split the titles? Or will he use it to elevate his career and cement his place as one of the best wrestlers in New Japan? Whatever happens, Naito will not let a rough start to 2021 stop his dreams of being back at the top of the company.
---
4. Minoru Suzuki
For many fans, the fact that Minoru Suzuki has not won IWGP gold is one of the biggest injustices the company has seen. There does not seem to be an explanation for this as, despite being over 50, Suzuki is still as strong, scary and talented as ever before.
When Ospreay was a junior, the two men seemed to have wrestling styles that were worlds away. However, if you look at the British roots of Ospreay combined with his new strength, those differences have lessened. Both now utilise a varied style with some sort of emphasis on strength and submissions alongside a mean streak.
The two have met several times in tag matches but have only met once in singles action during last year's G1. With Ospreay picking up a win against the King of Pro-Wrestling, Suzuki will be out to get revenge for that loss. Even with this personality change, it will not be something that fazes him and would probably make him even more motivated.
With his sadistic style and ability to fight through anything, another fight against a tougher Ospreay would excite the King more than anything. The idea that it could also be a chance to cement his name in New Japan history at his expense would be a bonus that fans would welcome.
---
3. Tomohiro Ishii
Tomohiro Ishii is another man who has surprisingly failed to win IWGP gold during his career in New Japan. With a new title in the company, could the new championship be the key to finally cementing his name in history and could this come at the expense of Will Ospreay?
Even with Ospreay's new style, he is still worlds away from Ishii in every way and those differences have only got deeper. Ishii continues to focus on using his power and strength to gain an advantage over his opponents. Whereas Ospreay now uses a more dangerous offence combining his newfound strength with the risk-taking and athleticism he used as a Jr Heavyweight.
On top of that, despite Ishii's hard exterior, everything is done with honour and respect. Even with his clean win over Ibushi, there seems to be a part of Ospreay willing to break all the rules to get what he wants.
On top of this, there is added animosity after Ospreay turned on CHAOS last year. Throughout the early years of his career, Ishii and the rest of the faction always supported the Aerial Assassin. To have another member betray them, following Jay White, Gedo and Jado, must have got to Ishii. The idea that the Stone Pitbull could win his first big title by beating a man who betrayed CHAOS would be a fairytale ending.
---
2. Jay White
Compared to many of New Japan's feuds, the rivalry and history between Ospreay and Switchblade Jay White is not one that people think about. However, it has spanned not only years but for various companies throughout their careers.
The two men first met in a singles match back in 2018 when White was on an excursion with Ring of Honor with Ospreay getting the win. After Jay returned and became the newest CHAOS faction member, there seemed to be respect between them. Since Jay joined Bullet Club, the two have met several times, including the 2019 anniversary show and several G1's. Looking at all of these bouts, the men are fairly equal in terms of wins and losses.
Like many of Will's matches, Jay will have to compete with a very new Ospreay. However, if anyone can overcome this, it is White. With his smart approach to wrestling and in-ring knowledge that greatly exceeds his experience, it will take a lot to surprise him.
Jay's desire to etch his name in New Japan history again could make Ospreay a pawn in his game for domination. The idea of splitting the world heavyweight title might now seem less realistic, but that won't stop Jay from doing everything to get a chance. With his confidence, talent and determination, he might be one of Ospreay's toughest potential opponents.
---
1. Zack Sabre Jr
If you look at the wrestlers Ospreay has feuded with in New Japan over the years, none are as long-standing and personal as his rivalry with fellow Brit Zack Sabre Jr. Yet, with Ospreay holding both the new world title and Rev Pro Heavyweight title, Zack will definitely want a shot at both personal matters aside.
From their wrestling styles to personality, it seems as if the two cannot seem to agree on anything apart from their love of wrestling. Although the two have shown that they can adapt to each other's styles, there is still a huge contrast between them. Zack still favours a more mat-based, submission style of wrestling, whereas Ospreay combines his aerial offence with power.
The two have also met each other on so many occasions that they know each other's offence to a tee. Because of this, they can counter moves without even thinking about it, which has meant that neither has had a huge advantage over the other in previous matches.
However, unlike many of their previous meetings, this new side to Ospreay makes a huge difference as seen during the New Japan Cup. With more muscle and a more power-based offence, he has the advantage over the noodle-like ZSJ. Yet, with even higher stakes, a possible title match would give Zack enough motivation to make sure that none of that mattered. It would also be another great chapter to their never-ending story.