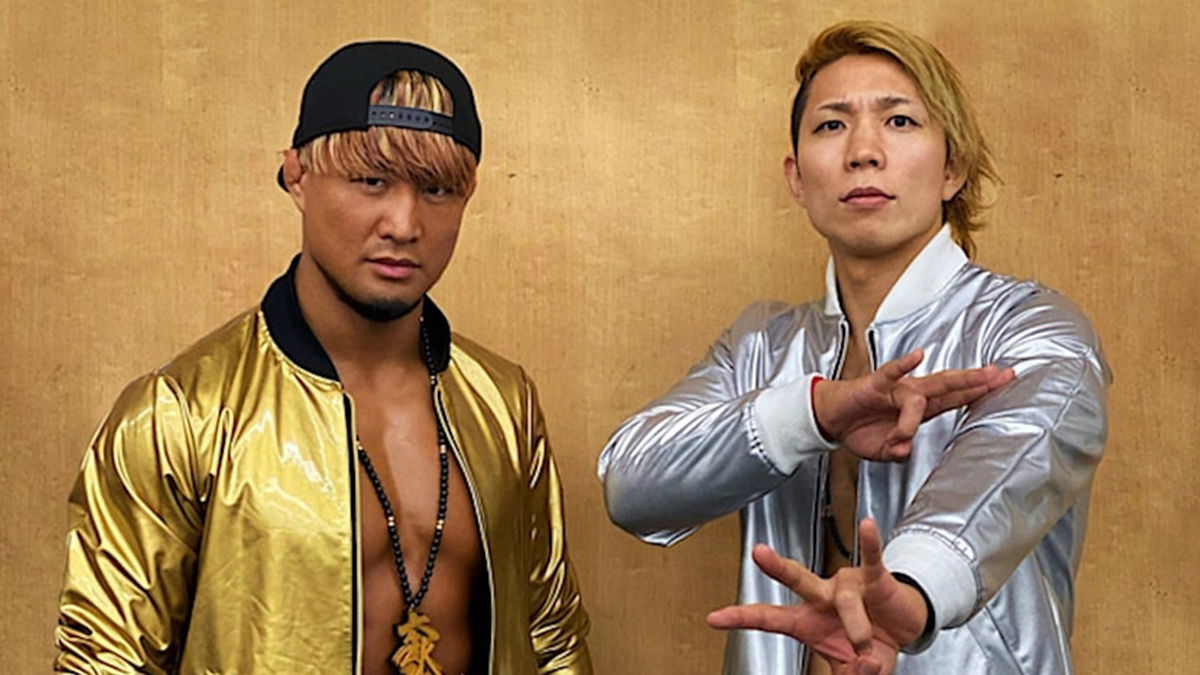 In 2017, Sho Tanaka and Yohei Komatsu, known as SHO and YOH returned from their excursion at New Japan Pro Wrestling's King Of Pro-Wrestling as Roppongi 3K.
Alongside veteran Rocky Romero, they quickly shot to success, winning the IWGP Junior tag titles a month after returning. They set the record for most consecutive Super Jr. Tag League wins and held the titles five times during their time together.
Yet, the weeks of failure took their toll in a match against El Desperado and Yoshinobu Kanemaru during the 2021 Super Junior Tag League.
While YOH was in a submission, SHO refused to save his partner and hit him with Shock Arrow before disbanding the team.
With the group firmly disbanded, here is a look at six of the best matches from Roppongi 3K!
---
6. Roppongi 3K vs. The Young Bucks – Wrestle Kingdom 12
Throughout 2016 and 2017, the Young Bucks dominated the junior tag division in New Japan.
Yet, after returning from excursion and winning Jr Tag League, Roppongi 3K were out to cement their place in the company by defending their newly won titles against one of the best teams in the world. It wasn't going to be easy.
It was the perfect way to start Wrestle Kingdom, and unsurprisingly, all four men managed to showcase what the junior division could do perfectly. SHO and Matt started with a series of heavy-hitting moves which quickly transitioned into the fast-paced action we all love. From dropkicks, DDTs, swantons and suplexes, it showcased four different styles.
Unlike many matches with the Bucks, there was a nice contrast of pace and speed. It allowed SHO and YOH to showcase their own offence which some Western fans may not have known. Roppongi 3K's intensity and passion continued throughout the match and showed that they could grow and get even better.
With their patented Meltzer Driver on SHO, the Young Bucks beat Roppongi 3K for the titles. Despite losing the titles on their first defence, which was down to booking, they didn't look bad losing against two of the best in the business. Some say it was the start of their unlucky relationship with the belt, but it showed that they are a force in the company's division and future.
---
5.  Roppongi 3K vs. El Desperado & Yoshinobu Kanemaru – New Beginning 2020
After successfully getting through their first defence during their fourth reign, the next challenge for Roppongi 3K was their long-time enemies El Desperado and Yoshinobu Kanemaru.
In the past, the Suzuki Gun duo had criticized the CHAOS team for lack of tag team chemistry and lack of passion from YOH.
For many fans, the match was a work of psychological genius and further showed the team's improvements. To start, Roppongi 3K was firmly in control. Yet, the Suzuki Gun knew the plan and, by isolating each member, focused on their knees to set up for Desperado's Numero Dos.
As the match progressed, it seemed to be working as both SHO and YOH, whose offence focuses on their speed, struggled.
Yet, a failed moonsault from Kanemaru turned the tides in the CHAOS duos advantage as YOH capitalised with a dropkick. With this momentum, SHO managed to block the dangerous spray of whiskey from Kanemaru that had caused many opponents issues.
This was key to Roppongi 3K's win as SHO got Kanemaru down with a Shock Arrow. All it took was a Strong X from YOH to get the win.
For many, this was proof that the duo's reign would be very different from the others. They had overcome two heel teams and showcased their growth as wrestlers.
It also showcased four very different wrestlers whose styles seemed to mesh effortlessly together.