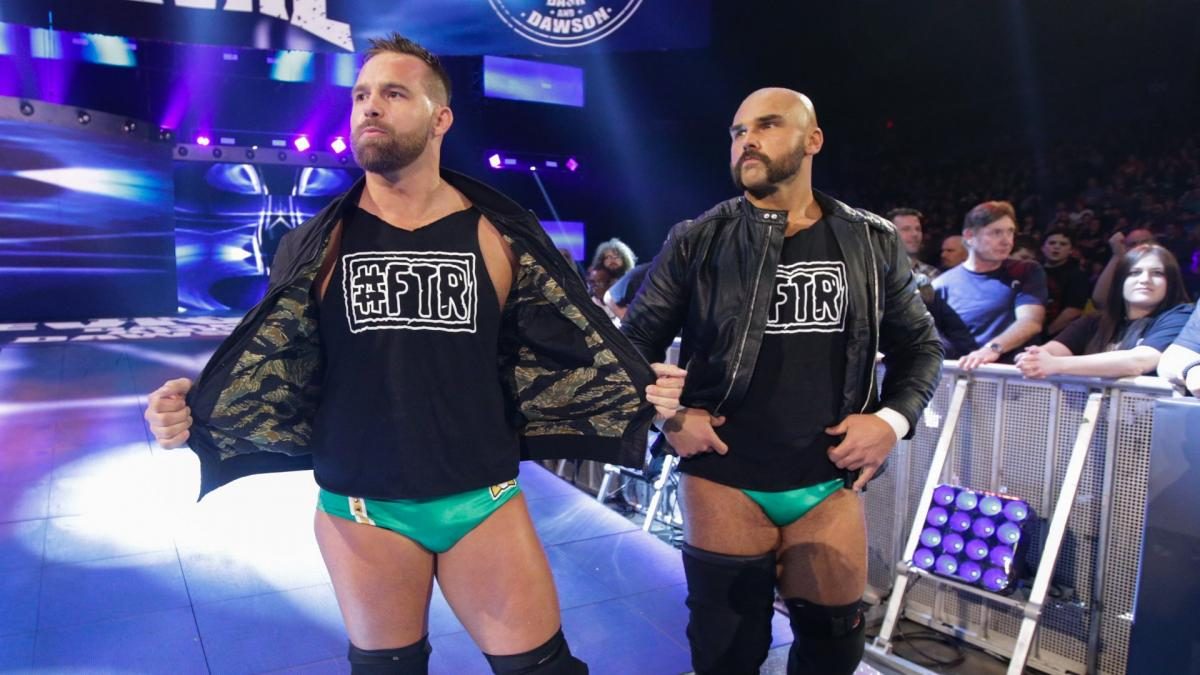 WWE recently aired the final instalment of its limited streaming series on Peacock in the US (and WWE Network, if you're not in the States) listing the 50 Greatest Tag Teams in the company's history.
It should come as little surprise that The New Day – the longest reigning champions in company history, and 11-time champs overall – came out on top, especially as they remain one of the company's most popular acts to this day.
The list had changed a little since WWE last listed its top 50 teams on its website almost a decade ago. On that occasion, Edge and Christian were ranked in first place. The most recent list ranked all the teams you'd expect (The Hart Foundation, Legion of Doom) and some you might not (Batista & Ric Flair, and the Brisco Brothers).
But how about some others that didn't make the list?
---
6. The North-South Connection
Dick Murdoch and Adrian Adonis dethroned the Soul Patrol of Rocky Johnson and Tony Atlas in 1984 and went on to enjoy an impressive nine-month reign as tag champs at the start of the Hulk Hogan-fuelled rock-and-wrestling era.
They also hold the distinction of being last tag team champions in the WWF while previous owner Vince McMahon senior was still alive. They straddled the pre- and post- expansion era, hence why the pair sometimes get forgotten about.
The duo played up an 'odd couple' dynamic, with 'Captain Redneck' Murdoch a tough-talking Texan, alongside Adonis' moody New Yorker. Their partnership came to an abrupt halt when both left the territory in early 1985 – although Adonis would return under a very different persona.
---
5. The Brain Busters
Tully Blanchard and Arn Anderson were rightly included in a segment of the most recent countdown which acknowledged great NWA, WCW and ECW tag teams. Rightly so – the twosome were cornerstones of the legendary Four Horsemen, and dominated the NWA tag team division for much of 1987/88, including two lengthy title reigns.
Their WWF tenure was much briefer at a little over a year, but it was action packed. The Brain Busters, as they were known in the WWF, dethroned the mighty Demolition for a two-month title reign, and defeated both Strike Force and the Hart Foundation at major pay-per-views in 1989.
Anderson and Blanchard decided to jump back to WCW at the end of their first year, leaving fans to wonder what else they might have achieved up north.
---
4. Power and Glory
A guilty pleasure of many wrestling fans of a certain vintage. Until he was paired with muscle man Hercules Hernandez, Paul Roma was wallowing as part of the unimpressive pretty-boy tag team The Young Stallions with fellow preliminary talent, Jim Powers. Hercules likewise had been treading water for years after his initial push as a heel powerhouse had subsided in the mid-1980s.
Together Roma and Herc brought something fresh to the WWF tag team division of 1990, with the ever-annoying Slick as their mouthpiece.
They defeated The Rockers at SummerSlam 1990 and fans delighted in their cool 'Power Plex' finisher, which has become a cult favourite online in recent years and has been employed in AEW by FTR.