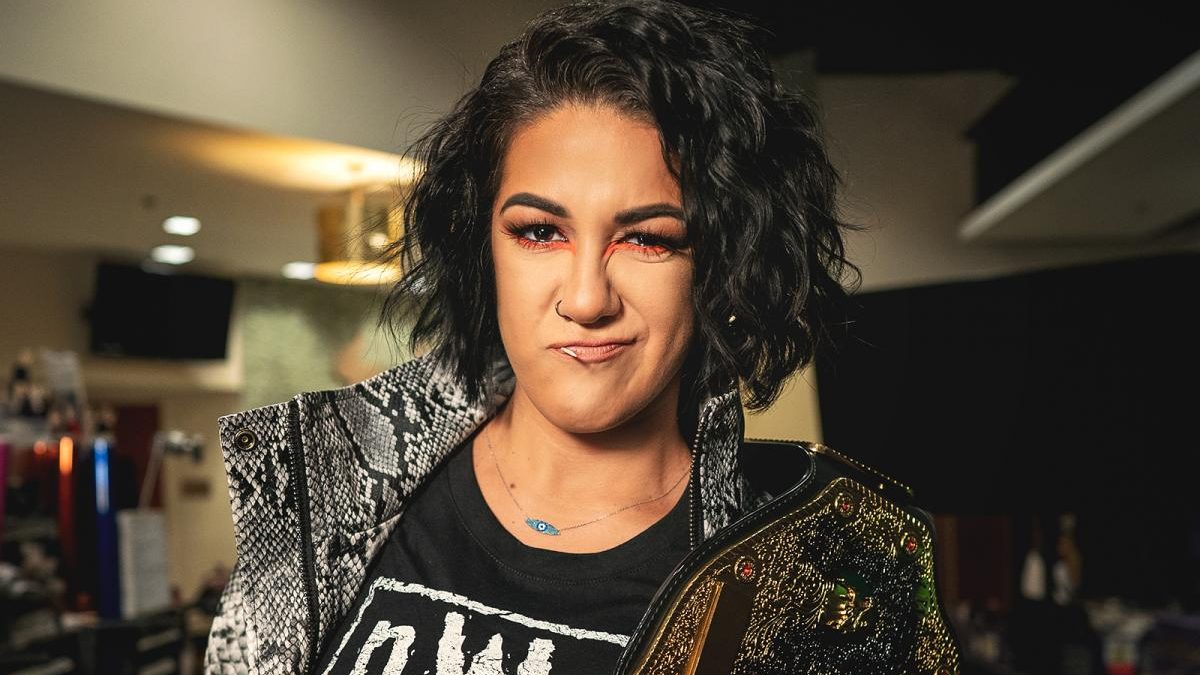 While we all like to convince ourselves that any superstar could win the Royal Rumble.
Deep down we know that is usually not true. While the occasional unexpected competitor has triumphed – Rey Mysterio in 2006 – that is very much the exception to the rule.
Rumble winners tend to come from the group of stars who happen to be enjoying a push when January comes.
Barring some major name from elsewhere jumping ship (hello Cody Rhodes) we can make some educated guesses.
Big E, Seth Rollins, Bobby Lashley, or maybe reigning champions Brock Lesnar and Roman Reigns look most likely.
For the women's match, things are a little more open. Candidates include Bianca Belair (again), Bayley, or Sasha Banks, some of whom are primed for an epic return.
---
6. Bianca Belair
It is rare in WWE for someone to win the Rumble match two years running, but not unheard of. In the 1990s it was actually really common.
Hulk Hogan (1990, 91), Shawn Michaels (1995, 1996), and Stone Cold Steve Austin (1997, 1999), all pulled off the impressive feat of winning in consecutive years.
As each year passes it gets harder for WWE to come up with new and interesting approaches to familiar matches.
Vince McMahon is always open to repeating a trick that worked well in the past. In this case, it would be something that hasn't happened in the Rumble for more than twenty years.
Bianca Belair winning a second rumble match in a row would confirm her at the pinnacle in the division.
It would also further disrupt the dominant Charlotte-Becky-Sasha hierarchy. Belair has had an incredible first two years on the main roster.
With another Rumble win she could challenge Becky Lynch for the Raw world title – the noticeable gap on her resume.
---
5. Big E
Everyone had so much hope for Big E's WWE title victory back in September, even if we knew better than to get our hopes up.
After all, we all saw how Kofi Kingston's reign eventually ended. In truth, no matter how you paint it, it was a disappointment – something the big man from Florida has even admitted himself.
Big E's reign lasted a little over three months and if we judge his output as champion by high profile title defences, it was less than stellar.
A win over Drew McIntyre at Crown Jewel was followed by definitive losses to the two men firmly ahead of him in the pecking order – Roman Reigns and Brock Lesnar.
The one redeeming factor in all this for Big E and WWE is that there is still time. Often as fans we are told to 'let the story play out.'
We must not overreact as soon as someone we think should be champion is no longer holding the belt, or the minute they lose a high-profile match.
Maybe we just need to trust the process. Maybe Big E puts in a rousing display at the Rumble, dumps Reigns, dumps Lesnar, stands tall at the end of the night and points at the blasted WrestleMania sign.
The onto the show of shows to reclaim the WWE title for a proper run with it. Maybe.
---
4. Charlotte Flair
Charlotte Flair seems like an odd pick on the surface having won the Rumble two years ago. But she could be a fascinating one.
Charlotte Flair has stated her intention to enter the Rumble match despite one major difference from the rest of the field. Namely, she already has the title.
With Charlotte entering as champion WWE has the opportunity to do something pretty unique.
Once before has a reigning world champion been in the Rumble match – Roman Reigns as WWE Champion in 2016.
On that occasion he was forced into it against his will by a heel authority figure.
That created the unique dynamic of a key figure in the match fighting for something other than a title shot.
Charlotte Flair though has voluntarily entered the match, creating a similar dynamic. Pull it off and she might just be able to 'nullify' the Rumble title shot.
---
3. Brock Lesnar
Most are expecting a Brock Lesnar-Roman Reigns WrestleMania main event, with Paul Heyman in the middle.
This is complicated at the moment by the fact that both men hold the main men's singles titles.
With no unification match planned, that probably means WWE moving one or both belts elsewhere at some point.
There is no better time to do so that at the Rumble. Perhaps Lesnar will drop the WWE title to Bobby Lashley and then pop up in the Rumble match.
Lesnar has not won the bout since 2003 after all. It is probably only fair to admit him to the 'double winners' club alongside the likes of John Cena and others.
---
2. Bayley
Asuka, Becky Lynch, Charlotte Flair and Bianca Belair have won the women's Rumble since its inception.
Sasha Banks and Bayley are glaring omissions to that list.
Bayley's transformation over the last few years since turning heel has been pretty extraordinary.
She has certainly proven herself the equal of Flair, Lynch and Banks, performers she is so closely associated with.
Bayley tore an ACL back in July and was expected to take around nine months to recover.
Rumours have recently speculated that she could be back as early as February. Could that return actually happen in January? Stranger things have happened.
---
1. Roman Reigns
It is pretty impressive when you think about it. Despite the eight-year Roman Reigns mega-push, he has only won the Rumble once – seven years ago now.
He was booed out of the building despite having The Rock by his side on that occasion. Things are a little different now for 'The Tribal Chief.'
Sure, within that time Reigns has won multiple world titles and headlined several WrestleMania shows.
But WWE has held off having the big dog winning multiple Royal Rumbles. Instead he has had to settle for second place in four different Rumble matches, a company record.
This year finds Reigns, like Lesnar, in a unique situation. Both men are reigning champions and will defend their titles in matches at the Premium Live Event.
Both men will inevitably face each other at WrestleMania, with titles or without.
It is feasible Reigns loses the Universal title to his old pal Seth Rollins before winning the Rumble match.
That presents the right to challenge a champion – perhaps Lesnar – and keep their issue alive.
To make sure you stay updated with all the latest wrestling news, add WrestleTalk.com to your Google Discover feed and follow us on Twitter!