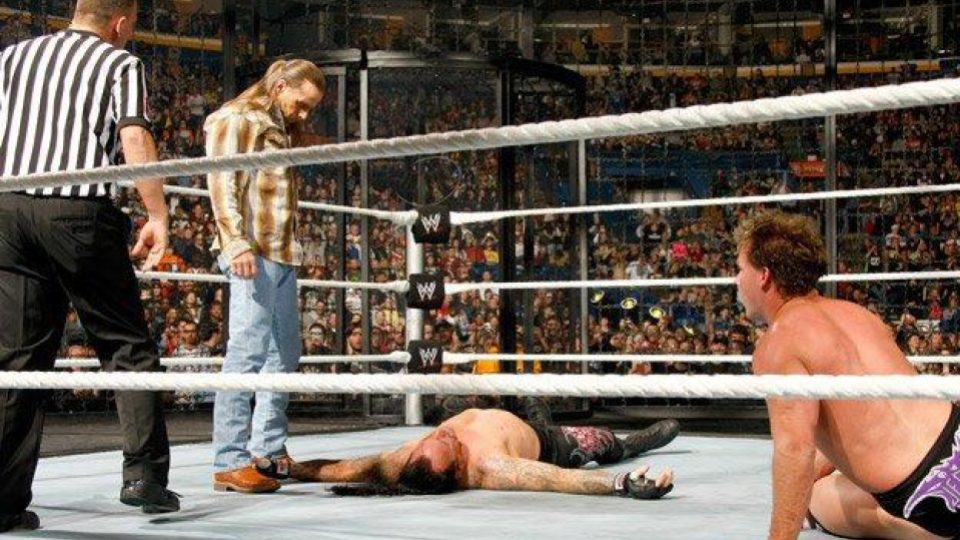 A dangerous detour on the Road to WrestleMania, the Elimination Chamber has become the final test for champions en route to the Show of Shows.
With (at least) six competitors locked inside the structure, this match is usually host to crazy spots and unpredictable eliminations.
With Elimination Chamber 2021 just around the corner, here are nine insane eliminations that took place within the structure.
---
9. Christian Eliminates Sheamus – Elimination Chamber 2014
From Wyatt Family interference to smashed Chamber pods, the 2014 Elimination Chamber bout was eventful. Christian set the tone for this exciting match early, nailing Sheamus with a splash from on top of the Chamber.
To avoid Sheamus' powerbomb, Christian hid on top of a pod. When Sheamus scaled the turnbuckles to attack Captain Charisma, Randy Orton pulled the Irish competitor into a Superplex.
Christian didn't think twice before diving onto the Celtic Warrior below. Sheamus was the first casualty of the match, and Christian's first ever elimination.
With the likes of John Cena and Daniel Bryan involved, the 2014 Chamber match was a star-studded event. Christian having the most nail-biting elimination shows just how unpredictable the Elimination Chamber can be.
---
8. Sasha Banks Eliminates Sonya Deville – Elimination Chamber 2019
In 2019, 12 women fought inside the Chamber to be crowned the inaugural Women's Tag Team Champions. Bayley and Sasha Banks won the match, thanks to an innovative submission by The Boss.
The Boss N' Hug Connection were met by Fire And Desire in the final moments of the match. Capitalising on earlier casualties of the Chamber, Mandy Rose and Sonya Deville targeted Sasha Bank's left arm.
After a miscommunication between Rose and Deville, Banks had the perfect opportunity to win the match. Unfortunately for her, an arm injury prevented The Boss from applying The Banks Statement to her foe.
Ultimately, Banks creatively slid her foot underneath Deville's chin, clasping her own leg to apply the crossface submission. One of the most inventive ending sequences in Elimination Chamber history, Banks once again proved why she is known as The Boss.
---
7. Jeff Hardy Eliminates Edge – No Way Out 2009
Sometimes eliminations are predictable. Other times, they change the landscape of WWE forever.
When Edge walked into the opening match of No Way Out 2009 as WWE Champion, hardly anyone predicted that Edge would be the first casualty.
Alas, when Edge attempted to Spear Jeff Hardy, The Charismatic Enigma caught him with a Small Package, eliminating the champion early on.
It's hard to tell who was in a bigger state of disbelief, the Washington crowd, or Edge himself. As The Rated-R Superstar pleaded with the referee, Triple H, Undertaker, Big Show and Vladimir Kozlov, all yet to enter the match, gloated from their pods.
While this was not the last time we saw Edge on this night, watching The Game laugh as Edge is forced to exit the Elimination Chamber never gets old.