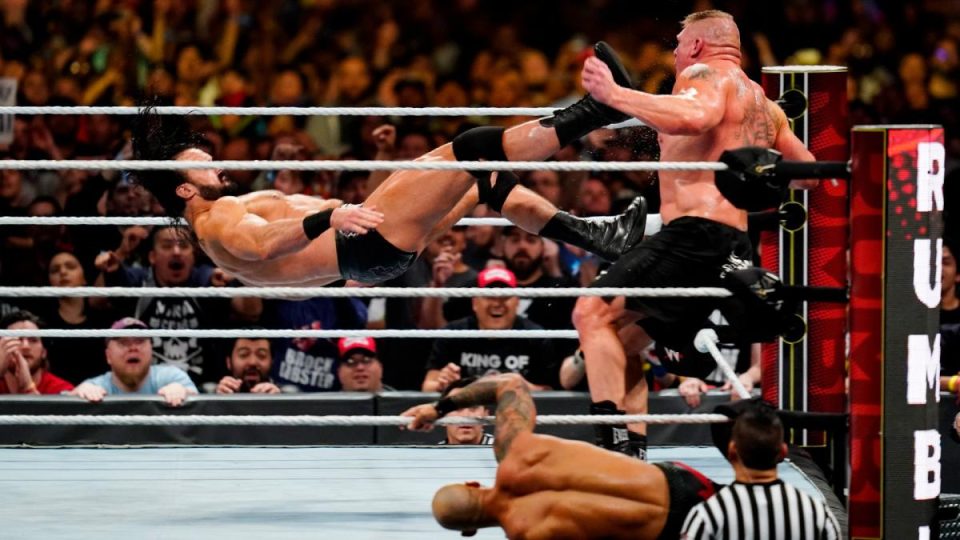 That's right 2020, off you pop, you malodorous, feculent d**khead. Happy New Year everyone, may your year be filled with joy, two vaccinations, and a bit more bloody social contact than the last 10 hellhole months.
While the world isn't magically better, gosh it seems slightly easier to see the horizon from this side of New Year's Eve and falling in line with that degree of positivity, let's talk about the very best of the best of the best wrestling matches from the last 12 months.
Proof that even as we're burning its stamped-on remains in its shallow grave, there were still one or two moments of happiness from 2020.
Now look, I haven't put the Firefly Funhouse on this list, because I've literally talked about it like 4 other lists and I guess it's not technically a wrestling match, but just know that it's my big avant garde sweetheart, then now forever.
That being said, I'm Adam Blampied and these are my 10 favourite wrestling matches of 2020.
---
10. The Women's WarGames Match – TakeOver Wargames
What fun. Eight crazy bastards having a crazy bastard fight atop an erupting volcano. Larks.
It's been a fairly rocky year for NXT. They've felt the absence of their keenly vocal fanbase perhaps more than any promotion outside AEW this year and, as such, the no-fans TakeOvers haven't really felt like TakeOvers.
Thankfully, that all changed at TakeOver Wargames, one of the best nights in recent memory for the black and gold. Both WarGames matches were brilliant, UE vs Af-EE was better from a storyline perspective, but I simply have to give it to the women's match.
Why? Because it had Io Shirai getting in a bin and jumping from the top of the cage. An instant meme, one of my favourite spots of the year, I can't remember the last time I was watching wrestling and I came dangerously close to laughing up my kidneys.
The match was a bonkers, narratively threadbare spotfest, but between Shotzi's new tank, the genius of the bins, the eclipse onto steel chairs which is a huge and wonderful yikes, and the shock win by, Raquel Gonzalez is just the funnest wrestling has been for a big old while.
---
9. Kyle O'Reilly vs Finn Balor – TakeOver 31
I mean, yes, it was a shame when Kyle O'Reilly performed amateur carpentry with his f**king knee on Finn Balor's f**king jawbone, because it meant a rushed, slightly deflating finish to a match that could have shot straight to my top 3.
Simply put, both men needed a match like this. Finn's chance to prove that he could be a completely different type of NXT Champion from his dress-up-based first go, and Kyle O'Reilly has been secretly one of the best in the world for a hot minute.
Before the injury they DID NOT DISAPPOINT, scraping the paint off each other with vicious strikes, laser-focus ring psychology and submissions for days. Balor strumming Kyle's arm across his big old penis was a particular highlight.
Even with the rushed ending, Finn Balor's grotesquely swollen jaw and Steve Sax & his run-in with the law, it was a star-making turn for O'Reilly and a champion cementing turn for Balor.
---
8. Imperium vs Undisputed Era – Worlds Collide
Weirdly, this is a case where an injury might actually have made a match… better?
Shortly into Bunch of Pricks Aluminium vs Bunch of Pricks Aluminum, Alexander Wolfe is knocked out by a kick from Bobby Fish, WWE immediately remove him from the match and suddenly it looked like the entire match was about to careen over a cliff.
Somehow, someway, they pulled off, not just a good match, but it built to a match of the year.
Instant stakes, as well as shifting the match from heel vs heel to injuring bastards vs underdogs, the match received a superdose of electricity, with UE becoming a skulk of jackals, picking apart Eichner and Barthel before their insane elephant dad tags in and Thanoses the UE to their constituent limbs amidst thunderous applause.
Yes, there are some moments of awkwardness in the match, some gaps where the remaining 7 men are scrambling to plan out a match more or less on the fly, but for how it could have fallen apart, a match of this quality is damn MIRACLE WORK.