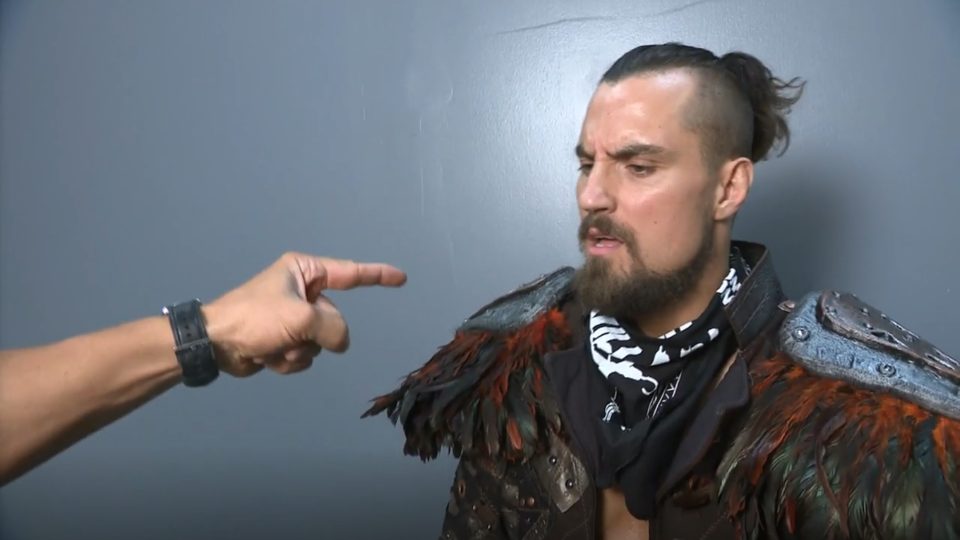 Marty Scurll Rejoins The Elite
Marty Scurll was the lone member of The Elite left to suffer and wither away in Ring of Honor when All Elite Wrestling was founded. He created his own faction in ROH, Villain Enterprises, but his contract with the promotion has expired. Scurll made a surprise appearance in the NWA, which could hold some answers to his future. However, the most likely scenario is The Villain rejoining his friends in AEW.
Scurll's debut has been teased on Dynamite and on Being the Elite. When Hangman Page revealed he was leaving the stable, the shot settled on a photo of Page and Scurll. This was the first reference to Scurll since the creation of AEW but it wouldn't be the last. During Chris Jericho's Lexicon of Le Champion segment, he read off a list of names who he would not wrestle in 2019. The final name he read before getting cut off was Marty. Coincidence? I think not.
It may only be a matter of time before he decides to make the jump, but there is also no guarantee that Scurll chooses to rejoin his friends.
---
Rusev to AEW?
It is no secret that WWE has put Rusev in some brutal storylines over the years. His current cuckold story with Lana and Bobby Lashley has been particularly poor and with AEW looming it would appear that Rusev has options. Current AEW star Jake Hager (F.K.A. Jack Swagger) publicly told Rusev to "leave that assh*le company #ImWithAEW", urging the struggling Bulgarian to leave WWE.
Lana recently re-signed with WWE and while the current product would like to teach you otherwise, she and Rusev are still very much married. It would be difficult to see Rusev leaving the company with her still there but as of this moment, he has not signed a new deal. If he does choose to leave, his ability to get over would be a decent fit with AEW.
---
Luke Harper to AEW
This one appears entirely more likely. Luke Harper has been one of the most under-utilized performers in WWE for the last half-decade. It seemed as if he would just ride out the remainder of his contract off-screen but WWE released him and a handful of others on December 8. Prior to his release, Harper trademarked his old indie name, Brodie Lee. The next time we see him, look for him under this name.
Cody went on record to say that he would love to have Harper in AEW,
"He would be great as part of AEW. He's a name that when you hear they've asked for their release, you definitely think about that and the next steps, for sure. I think he's going to flourish with what he does next, he's very special."
With a great body of work, an endorsement from an executive vice president, and a world of potential, Harper's next step will be a big one.
---
Tenille Dashwood to AEW
Tenille Dashwood surprised a lot of people when she appeared in the ALL OUT Casino Battle Royale on August 31. To date, it is her only appearance in All Elite Wrestling. Dashwood has had extended runs in both ROH and WWE as Emma, but her most recent appearances have been in Impact Wrestling.
AEW President Tony Khan stated that they were "hoping to use" Dashwood in the future. AEW's women's division is in need of a boost. They are lacking the names that are easily recognized and Dashwood would fit into their plans very well. Her position in Impact could make this difficult, as she signed a contract with the promotion in July. It is not clear when the contract will expire.
---
The Revival to AEW
The Revival and the Young Bucks have had an ongoing rivalry for the last few years. The two teams have traded tweets in the past with both publicly saying that one day the two teams will face one another. Now that AEW exists, there is a stage for their potential dream match.
The Revival asked for their release earlier in 2019, which was rejected by WWE. Their contracts are set to expire sometime in 2020, setting the stage for a jump to AEW. Their tag team division has been one of their strengths so far but a team specialized in grappling and truly being heels would be a perfect fit. Barring some unforeseen twist of fate, this one seems like merely a matter of when.
---
Quarterly PPVs
The pay per view formula for All Elite Wrestling appears to be to have one show each quarter. They announced their first pay per view of 2020, Revolution, which is set to take place on February 29. No other pay per views for 2020 have been officially announced but it has been said that the plan is for ALL OUT to be a yearly event taking place over Labour Day weekend.
If the plan for quarterly pay per views comes to pass it would like mean that the next pay per view after Revolution will be sometime near the end of May. This is a far cry from WWE's format which has seen monthly pay per views since the mid 90s.
---
Wins/Loss Reset
AEW has taken some flack for the emphasis they have placed on win/loss records. They are obviously looking to tap into the ideal of wins and losses mattering, as WWE has spent the better part of the last decade telling their audience that wins and losses are unimportant. However, some feel as if the win/loss records and the rankings are going a bit overboard.
Nick Jackson has come out and said that at some point, the win/loss record will reset.
It'll reset https://t.co/eitZCF5t4C

— Being the Elite (@BeingTheElite) November 12, 2019
It is not known when the reset will happen but it is not hard to believe that it will happen in 2020. Reseting the win/loss record would be akin to a sports team starting their season with a fresh record but with no offseason in AEW, it is hard to know when that will happen.
---
More WCW Trademarks
There is no doubt that Cody is very protective of his father and his father's ideas. Especially after the fiasco that saw Cody unable to use the Rhodes name following his departure from WWE, Cody seems to be trying to regain the rights to as many of his father's properties as possible. Cody recently applied for trademarks on the following terms:
SuperBrawl
Slamboree
The Match Beyond
Bash at the Beach
Dusty Rhodes
The American Nightmare
The Prince of Wrestling
Bunkhouse Stampede
Battlebowl
The American Dream
AEW's Bash at the Beach will be an event coinciding with Chris Jericho's Rock 'N' Rager at Sea: Part Deux in January. The rest of the WCW trademarks include nicknames to be used by Cody or in reference to his father as well as event names. SuperBrawl and Slamboree were both tried and true WCW pay per view events, which we could now see coming to AEW in the future.
---
The Match Beyond
Also included in the WCW trademarks was "The Match Beyond". The Match Beyond will be the AEW name for the famous WarGames match as WWE owns the trademark for the name "WarGames".
In his now famous promo for Full Gear, Cody mentioned that when The Elite and the Inner Circle square off it'll be a Match Beyond and they will eat the Inner Circle alive. Main event matches seem to be falling into place for AEW Revolution so it appears unlikely that the Match Beyond will happen on that show. A match of this magnitude will have to occur on a major pay per view so there are limited options available but it would be hard to imagine holding off this match for over a year.
---
Jon Moxley will Wrestle in NJPW
This is less of a rumour than the rest. Jon Moxley is scheduled to return to New Japan Pro Wrestling on January 4. When he was unable to make it to King of Pro Wrestling in October, Moxley was stripped of his IWGP United States Championship. On January 4, he has the opportunity to win it back. He is set to challenge Lance Archer for the title in a Texas Deathmatch.
If he wins it seems likely that he will continue working limited dates with New Japan in 2020, but that is not guaranteed. When Moxley worked the G1 Climax last Summer, AEW did not have television. Now with Dynamite airing weekly, missing one of their biggest stars for extended periods of time could be troublesome. This one is very much wait and see.
---
New Japan Pro Wrestling Partnership
A relationship between New Japan Pro Wrestling and All Elite Wrestling makes too much sense to not happen at some point. New Japan's North American partner, Ring of Honor, appears to be a sinking ship. New Japan had previously stood pat and was adamant about working with ROH. However, the last year seems to have changed that.
There were hard feelings on both sides as The Elite left New Japan last year. The company was upset that so many of their stars were leaving while the group was hurt that they were not given the chance to say goodbye to the fans at New Years Dash. These issues stood in the way of a partnership for all of 2019 but New Japan President Harold Meij has said that they would be open to working with anybody. The companies would benefit each other nicely, it will just be a matter of working out a deal.
Have you heard any other AEW rumours? Let us know on Twitter or on Discord!