At the 1994 Royal Rumble, commentator Vince McMahon stated that wrestlers would enter the ring every 90 seconds due to time restrictions, but is it possible that there was another reason they reduced the frequency from two minutes? And on that note, what was the rationale behind having entrants enter every 60 seconds at the 1995 Royal Rumble?
– Stephen Parry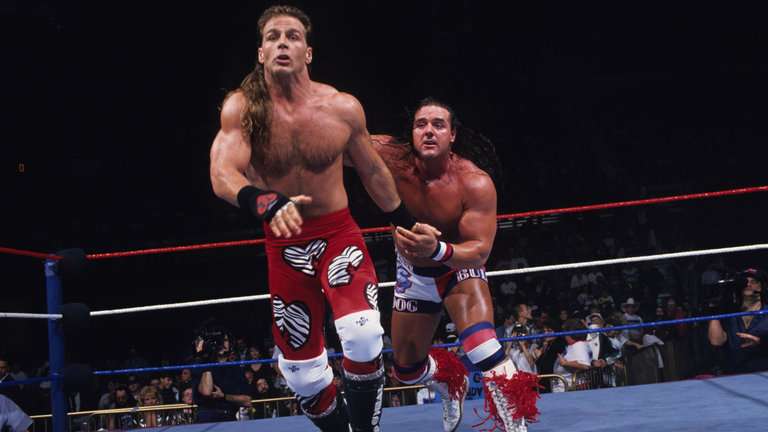 It was largely down to the reduced quality of the competitors, plus the stories the company wanted to tell.
By 1994 the roster was lacking in star power so the WWF reduced the Rumble time to retain audience interest when the likes of Virgil, Kwang, and Mo were clogging up the ring. The company went to the extreme of 60 seconds in 1995 because the talent pool was even thinner, especially with the biggest stars Bret Hart, Diesel, Razor Ramon, and The Undertaker competing on the undercard and not in the Rumble match.
The WWF also wanted to tell the story of Shawn Michaels and Davey Boy Smith entering at numbers #1 and #2, then lasting until the end before Michaels won. They felt the premise could not be sustained as easily in a longer match, so they reduced it right down to kill two birds with one stone. The result was an entertaining sprint of a match that never got boring, despite some of the woeful participants.
After flirting with two minute intervals again in 1996, the company decided that 90 seconds was the optimum time for reducing dead spots and keeping the flow of the bout moving. They have gone back and forth since, though in truth, the times are rarely accurate anyway.
Since the very first Rumble back in 1988, the promotion has added and shaved time depending on what is going on in the ring. In '88 they blitzed through the entries, getting everyone to the squared circle in just 27:30, when it should have taken 36:00. On the other extreme, there was a colossal 3:21 between the arrival of #21 entrant Randy Savage and #22 The Berzerker in 1992. Curiously enough, the time between Mick Foley's arrival in the same spot as Savage in 2004 and Christian at #22 was also over three-minutes.