1. It Goes It Goes It Goes It Goes URGH
Summerslam 2019 was largely botch-free which means this column is going to be the Mia Yim vs. Shayna Baszler of this week's Wrestetalk.
However Kofi Kingston is here to save the day like it's an untimely Mustafa Ali injury by smacking an unsuspecting fan in head with a pancake.
Let's make like CSI and ENHANCE: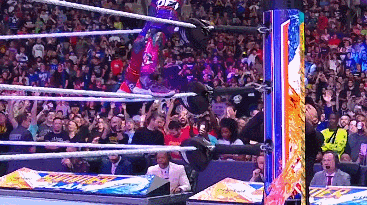 Lovely.
---
2. Heyyy I Wanna Get Drunk On Bailey's
It wasn't all strawberries & cream at a mostly-fun Summerslam however. Bayley vs. Ember Moon had to contend with being the cool-down match between Styles vs. Ricochet and Shane vs. Owens.
They still tried because they're pros but possibly for the best half the crowd were off buying t-shirts when Bayley missed an elbow that was supposed to miss but was supposed to be missed by Ember moving, not Bayley aiming for the ref.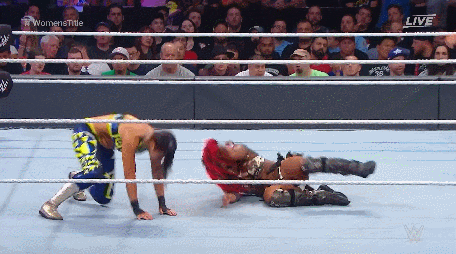 ---
3. Hello I'm…not in right now can you leave a message
I love Elias' gimmick and promo ability but sometimes I think because he looks a bit like Seth Rollins he can wrestle like him too. Sadly Ricochet reminded us this week on Raw that there's a reason Elias doesn't wrestle guys like him as he had no clue what to do against Ricky's move and bumped instinctively.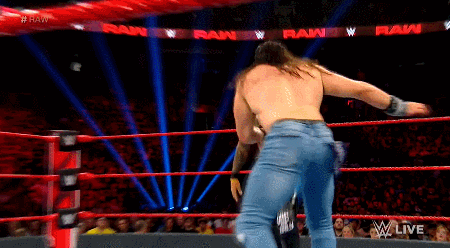 In fairness to Elias, what was that? Flying armbar? Another selife video that was supposed to stay private but (EDITOR: MOVE ON MATE MOVE ON)
---
4. Even Dwarves Start Small
ROH & WOW megastar Vinny Pacifico showed a good way to keep perspective and remember how far you've come by posting the entrance from his debut match four years ago.
4 years ago in my pro debut I came out to the song "Headstrong" and also slipped on water in my entrance. Man oh man. pic.twitter.com/pZmssg7vbi

— Vinny Pacifico (@VinnyPacifico1) August 13, 2019
I mean how embarrassing is that. Who was listening to Trapt in 2015?
---
5. DA MOTHERSHIP
GrappleClips sent this clip of grappling in (cheers lads) and it's one I've not seen so they deserve a plug.
In gloriously "because WCW" fashion, they cleverly edited the finish to the Eddy Guerrero vs. Johnny Swinger match…and then showed the messed up finish in the replay immediately afterwards.
WCW's Producers took the time to edit the weird finish to make it look like a clean pin only to show the botch they attempted to fix in the replay. @Maffewgregg

Side note :

Dusty Rhodes' commentary rules! pic.twitter.com/lI5eW9HyfG

— GrappleClips (@GrappleClips) August 14, 2019
---
6.  Turn To Face The Strange T-T-T-T-Tables
RSP had a quick visit to the UK a few weeks ago and managed to find the time in his busy schedule to get into a fight with a table in ICW.
Myself vs The Table at @InsaneChampWres check out the newest Botchamania wherever you can ? cheers @Maffewgregg pic.twitter.com/6pqVhLp122

— Rickey Shane Page リッキーシェーンページ (@RickeyShanePage) August 12, 2019
Sadly it was one of those original sugar-filled tables they've kept around since before the table-tax so he wasn't successful.
---
7. CMLOL
Less than two minutes into the Hijo del Signo vs. Guerrero Maya match on the 08/11/19 CMLL show, Signo accidentally yanked off Maya's mask with a snapmare which is an instant DQ in Mexico.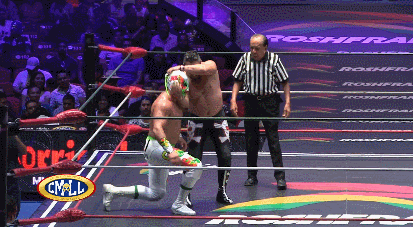 ---
8. Chairs Are Evil
I didn't watch NJPW G1 Climax so the only thing I know is everyone hates Jay White and Evil lost in the semis to this inanimate object.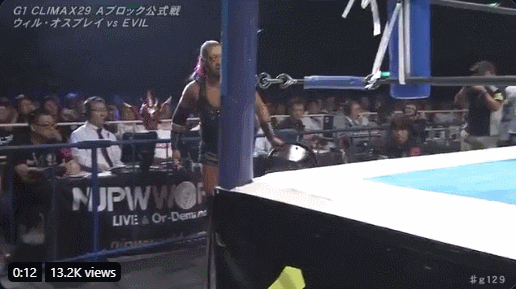 ---
9. ROHypnol
I think it's too easy to make jokes about a fan falling asleep from drinking too heavily while sat FRONT ROW at a ROH supercard so just look at the footage (sent by allirow, love you)
big thanks to reddit user allirow for filming the drunk fan incident from ROH Summer Supercard last night and sending it this way pic.twitter.com/s54qZzKmIp

— MaffewBotchamaniaGuy (@Maffewgregg) August 10, 2019
---
10. And Finally
As soon as a new WWE video game gets announced, everyone must be told SAY GOOD THINGS ABOUT IT. Sadly Nia has been off TV for months so she didn't get the message so she instead focused on this: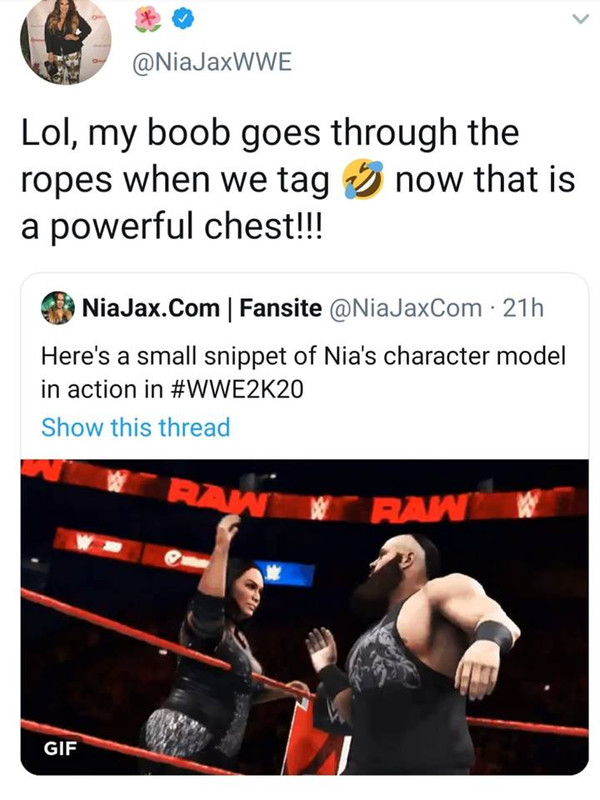 Thanks for botching, I've been Maffew.
OH WAIT I FORGOT THE STREET PROFFITS TYPO BYE FOR REAL BYEEE.