Botchamania
1. Orange You Glad To See Me
Before Orange Cassidy was main eventing against Chris Jericho on worldwide TV, he was a plucky young go-getter who was more interested in covering the audience with OJ.
If you ask me, Orange Cassidy's most memorable moment will always be the time he gave Andy "Right Leg" Ridge a stunner, who then fell on an orange juice bottle that exploded all over the front row. pic.twitter.com/ehSqqE44kp

— words (@wordsbig80s) July 29, 2020
It's a shame lockdown has prevented them from replicating this spot.
---
2. Despite All My Rage, I Didn't Get Caught By Cage
It's a good job that Darby loves pain, he must be the happiest employed guy in the whole world. After last week's JFK moment with the ring ropes, Darby went for a dive onto Brian Cage aaaaaand…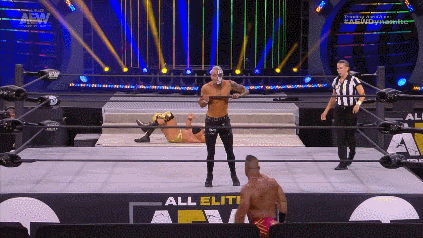 It's OK though, next week Cage is going to apologise by diving onto Darby.
---
3. What The Hell Is This
Dexter Lumis gave it his best upon delivering an amazing flip over the ropes and it's a shame that Dunn and the editing monkeys turned it into this:
.@DexterLumis continues to amaze, and confuse, us. 🤯🤯🤯#WWENXT #TripleThreat @FinnBalor pic.twitter.com/mA8oYC7sDK

— WWE (@WWE) July 30, 2020
WWE's caption should read "Our editing team continues to amaze, and confuse, us."