1.Drake's Landing
Drake Maverick managed to pull of the unexpected and win the 24/7 Title on Smackdown after rolling up Elias and the 205 Live GM celebrated the only way he knew how, by tripping over a TV cable.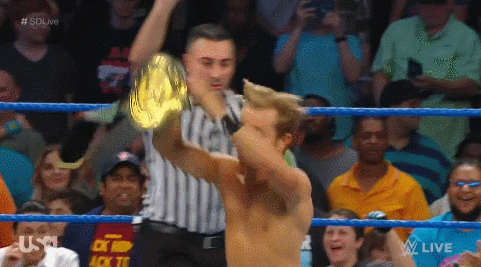 Unrelated but Drake's wife also tripped over a TV cable running into an Uber to get out of town.
---
2. Heeyyyyy hey Bayley (ooh ahhh)
At the very start of the Bayley vs. Lacey, the ref accidentally kicked Evans' gloves out the ring which was apparently going to be used for something. So Bayley had to improvise but realised Lacey isn't exactly Bill Burr so she yelled it to make sure she got it.
Bayley with the most confident spot-call of the year pic.twitter.com/oi82YMHYAD

— MaffewBotchamaniaGuy (@Maffewgregg) August 28, 2019
And then I trimmed it and uploaded it to twitter where it got 6k retweets because a lot of people hate women. Thanks guys!
---
3. scuse me while i whip this out
Elias got attacked by Kevin Owens on Smackdown and afterwards he lay down because this is wrestling and moves hurt. While he was on the mat and in pain, the production team decided to focus on Elias adjusting the velcro on his 24/7 title in preparation for the next bit with R-Truth.
Kevin Dunn.
---
4. P C ow
PCO (the ageless maniac who lives amongst us) reminded us he's insane by deliberately diving out of the wrong side of the ring and landing on his face.
Ummmm. PCO doing PCO things. #ROHCenterStage @PCOisNotHuman pic.twitter.com/xkiHvbwyQK

— BODYSLAM.NET (@BodyslamNet) August 24, 2019
Unsurprisingly his face took issue with this course of action and the result was this (warning: blood and guts and splat and definitely not safe for work or this fine article at Wrestletalk.)
---
5. P-W-why
PWI's annual Top 500 Wrestlers (aka the one time of the year wrestlers care about being on lists or PWI) got posted this week and you can tell they put a lot of effort and research into these when they upload a picture of Tucker for Otis.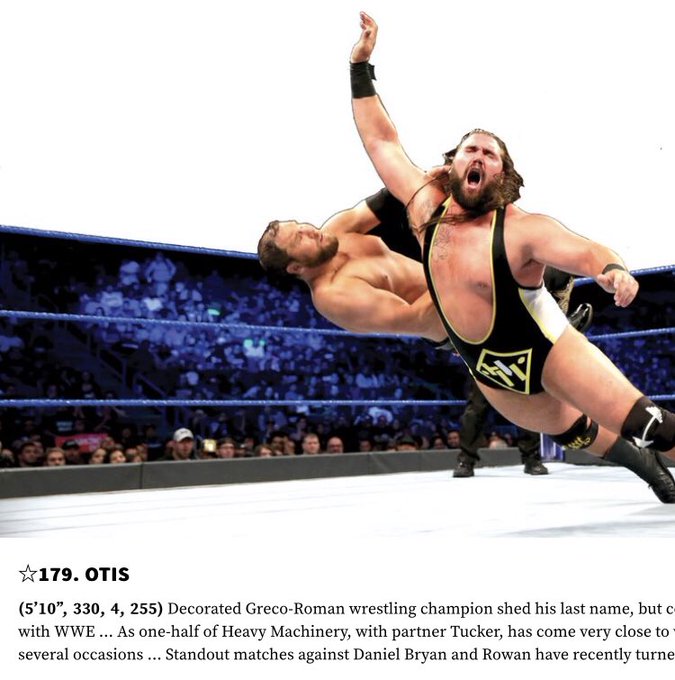 ---
6. Botch Is Jericho, baybeh
Chris Jericho (Fozzy frontman and part-time AEW headliner) was reminded of this classic moment from the last ever WCW Clash of The Champions where Y2J took on Eddy Guerrero and jet-lag in a handicap match.
I did that on purpose! ? https://t.co/M99B2i9D8k

— Chris Jericho (@IAmJericho) August 27, 2019
Here's a better look at the fine moment, complete with Eddy showing off his caring side.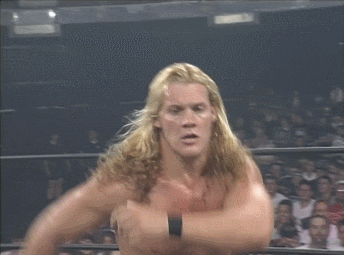 ---
7. Ooof
A hell of a discovery was made on twitter this week: someone found something decent from ECW in 1992! Seriously, only bother watching mid-way through 1993 when Heyman takes over as the only highlight around this time is Jimmy Snuka getting a Philadelphia welcome.
Watching some 1992 ECW and the fans with a "you killed your girlfriend," chant directed at Jimmy Snuka. pic.twitter.com/tpB68vDpcc

— words (@wordsbig80s) August 27, 2019
---
8. "I want a quiet wedding, something Low Ki"
Look, I know as much as you know when it comes to this so I'll just say what I see: Here's Low Ki taking out his wife at their wedding.
Armor King's 3+4 is getting buffed in Season 3. pic.twitter.com/xaFoIXYbWa

— Jakub (Di) (@JakubDi) August 25, 2019
---
9. Misery On The Banks
Nothing else has happened this week and people apparently love women messing up and Sasha Banks has returned so THERE'S ONLY ONE CLIP THAT CAN BE USED TO FILL THE LEGENDARY NUMBER NINE POSITION.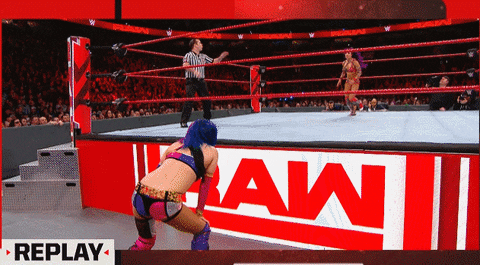 Weirdly, she'd end up in a better position than Asuka did.
---
10. And Finally
Here's some serious, Jim Cornette endorsed footage from WMF to end this column.
Emi Sakura's manager helps out by giving her colouring pens and a picture of Doraemon to take her mind off the pain of a Single Crab