Botchamania
1. Did It Fall When You Fell From Heaven
On this week's AEW Dynamite, Christopher Daniels decided to show he can still hang with the young uns …but instead reminded everyone why near-50 year olds don't go for Arabian Moonsaults very often.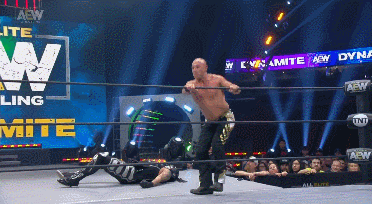 Luckily he was able to get to the hospital quickly after the show by using his bus pass.
2. Splish Splash I Was Taking A Bath
L.A. Park and Rush had another killer brawl this week and the referee couldn't stop the wet hot action.
Como cuando te caes en la hielera pic.twitter.com/HcqZm7lEOI

— adolfo tapia ibarra (@laparktapia) December 1, 2019
3. Yoshi's Willie World
Yoshi Tatsu managed many impressive feats in WWE during his brief run in the late 00s, the best of which was somehow having a bad match with Regal.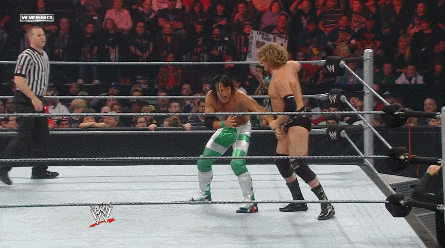 Given NJPW sent Yoshi to another country once he made his return there, I'm not going to put the blame on Willie here.
4. *boop boop*
It's the third anniversary of AJ Styles getting his gear ripped and the world seeing his butt-cheek at TLC 2016.
Also from TLC 2016: AJ Style's butt pic.twitter.com/8Tdj9BdPmC

— Maffew (@Maffewgregg) December 4, 2019
In some countries, they use this to take the day off work.
5. Dark Like Chocolate
AEW Dark managing to focus on the negatives and emphasise the positives.
AEW Dark delivers again pic.twitter.com/7AuHW9KVic

— Maffew (@Maffewgregg) December 4, 2019
6. CMLOL
CMLL makes my life easier, ALL HAIL.
solid CMLL referee work as always pic.twitter.com/ahVAXltoZg

— luchablog (@luchablog) December 4, 2019
7. Probably Best Not To Think Too Much About This One
Sent in by a lovely fan. Or maybe an enemy after viewing the clip, I dunno.
@Maffewgregg Spotted this on WrestleMania 1. Does that man at ringside eat whatever shite the crowd threw into the ring and Mike Rotundo tries to get rid of?omit_script=1 pic.twitter.com/bXuR34l8yU

— Chris Jackson (@shocktreatment) December 7, 2019
8. Cheap Plugs
The good people at Journey Through Guerrilla Island have finally arrived at the worst match in the history of PWG: The Hardcore Kidd vs. Oven Mitt 1 & Oven Mitt 2 handicap match from their 2004 show The Musical.
OK so: Teddy Hart was supposed to wrestle Hardcore Kidd but this was during his awkward period (which lasted from 2003 to 2021) and declined to wrestle despite travelling to the venue and having his ring gear. Instead, he had his trainees (members of the flippy faction Special K) wrestle in his place and because they were wearing gear similar to Teddy, the commentators named them The Oven Mitts.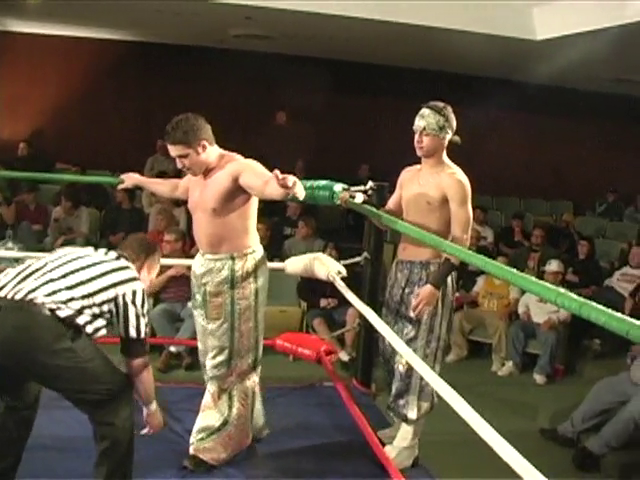 Kidd was in no mood for wrestling some trainees and no-sold everything the Mitts threw at him when they weren't busy landing on their necks. Eventually Kidd won (even after his manager interfered to help the other team, not because he was supposed to, he just forgot which team he was on) after annihilating both toddlers with Alabamma Jammas.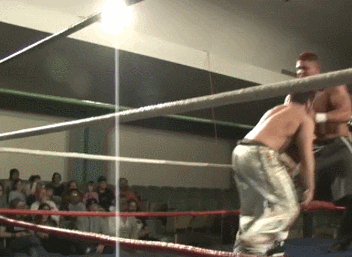 Then Teddy did some backflips off the top rope to show he COULD wrestle, he just didn't want to. He finished the evening by challenging Super Dragon and PWG finished Teddy's run by never booking the loon ever again.
9. Teddy Bearly Legal
MLW were looking forward to their upcoming Opera Cup when they posted this status at the start of the week:

Teddy Hart released https://t.co/K6ypP65Ktu pic.twitter.com/sCI8X94hIO

— Major League Wrestling (@MLW) December 6, 2019
Ah well, back to the minors!
10. Du-nun….Du-nun…
Imagine stealing this title belt, getting home and googling it and seeing THIS guy's image come back.
I've been Maffew, take care.