1. No Luck Jose
Everyone's favourite not-Adam Rose had an even worse Raw than usual when he attempted a dive onto Cesaro but either he was expecting to be cut off or he's a good a diver as Harold Holt.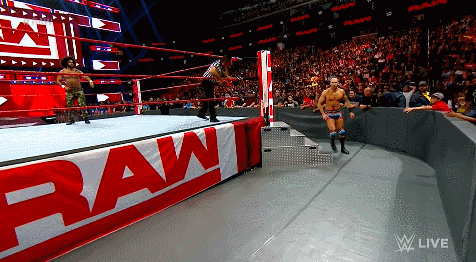 ---
2. Dump It (Louder)
Impact had yet another great PPV this Sunday but you're not reading this for the highlights so let's all be negative and focus on the ring announcer being very audible during the dramatic opening.
Impact had yet another fun PPV with a sweet undercard

but let's focus on the in-ring audio playing during the intro pic.twitter.com/Ma0ToaL5aJ

— MaffewBotchamaniaGuy (@Maffewgregg) July 8, 2019
I think this should be a regular feature. "If you don't scream loud enough, you're not getting a main event!"
---
3. I Can't I Can't I Can't Stand Winning
Here's an old clip I've not used before (therefore making it a new clip) from IWA Japan. Yoshinobu Kanemaru lands a split-legged moonsault on The Great Takeru and the ref counts to three as somehow Takeru forgot to kick-out and we get an un-planned finish.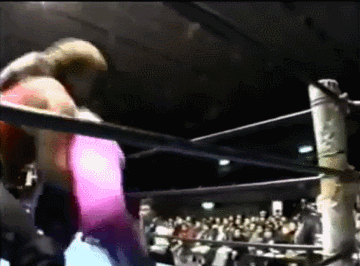 And just look how happy Kanemuru is!
---
4. Fake Sound Of PROGRESS
PROGRESS made their debut in sunny Newcastle-Upon-Tyne last weekend and the good news is their fast turnaround means it's already on PROGRESS On Demand!
The bad news is video editing software still doesn't have spell-checker so we get the megastar GLEN JOSPEH on commentary.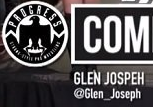 ---
5. Cooking By The Brooke
Dunking on Dana seems harsh considering she's getting positive pops from the crowd so let's blame Sarah Logan for forgetting how to take an irish whip.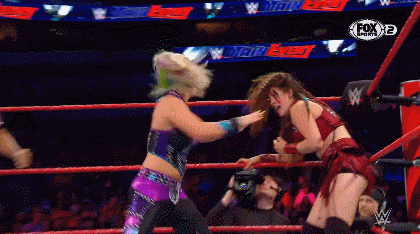 Oh wait just remembered that whole Viking Marriage thing, I'm blaming Dana for this.
---
6. Yeah This Happened
Alright so big-name indie GCW decided to pay tribute to the glory days of backyard wrestling with an event titled….Backyard Wrestling. There was much, much in the way of botches and mis-haps and in fairness, that was half the appeal. But I can't ignore this one clip of Luke Hadley managing to point a firework the wrong way and blow his face off like in Looney Tunes.
HAAAAAAA #GCW #GCWBackyard @GCWrestling_
▶️https://t.co/BYHSqNdof4 pic.twitter.com/X10qnII41k

— Kayden (@KVR216) July 4, 2019
Hadley didn't win the match but he was able to capture that wascally wabbit.
---
7. Rope Break
Laredo Kid went from being in the unofficial main event of AEW to breaking the ring ropes in Impact in the space of a week.
Oh IMPACT… @Maffewgregg pic.twitter.com/1nI3wlYsbB

— RAHI HAYABUSA (@RahiTwoCentsTV) July 6, 2019
In case you were wondering, no they didn't stop the match and fix the ropes. Poor Laredo & Rohit Raju had to continue with it flopping around like a fish out of water (or Harold Holt, again).
---
8. Strong And (S)table
Ricky Shane Page is currently touring the UK and made his first stop at ICW where the fans loved him but the inanimate objects disliked him because of RSP killing so many of their brethren overseas. As a result, the tables refused to break an alleged SIX TIMES which lead to RSP taking his revenge after the match.
The table didn't break on 3 occasions in this match but after the match @RickeyShanePage wasn't letting the table get away with it. Much to the delight of @KriegerPBW pic.twitter.com/M7ChvNZHtx

— Marc Ramage (@Mondo_Chaos) July 7, 2019
---
9. One Legged Man In A "Saying Ass" Contest
Here's a vintage clip of a just-healed Jim Cornette returning from knee surgery (and this man has had knee issues for decades) and accidentally hurling his walking stick into the crowd, forcing himself to walk un-assisted and loving every second of it.
Poor @TheJimCornette , fresh off knee surgery accidently launches his walking stick down the pit. And then has to walk down a ramp the wrestlers tended to have trouble with. Look at the pain on his face. pic.twitter.com/gJwt5AWSOI

— Positively Ian (@ian_stewart7) July 8, 2019
---
10. And Finally
Here's John Wayne Murdoch attempting to give the 50-year old Mad Man Pondo a Canadian Destroyer.
@Maffewgregg Mad Man Pondo/John Wayne Murdoch attempt a Destroyer pic.twitter.com/uG7LIeklVA

— masked (@TurboVonStab) July 13, 2019
That's your lot, see you next week and hope you have a bad one.