Botchamania
4. Bad Touch
Here's something that got snuck under the door just as we were going to print, a clip featuring hornswoggle allegedly being inappropriate during a match and getting a receipt.
Pro-tip: if you're ever in a battle royal, don't grab someone's tits and say HONK HONK without consent. #fightabitchfriday 👊🏻🙃 pic.twitter.com/1aIIJ7ne5m

— Heidi Howitzer (@ThundrdomeStyle) July 24, 2020
And by "receipt" I mean "Heidi slapped the hell out of him."
---
5. Ah Dubya Eh
I want to point out this was a great IWA-MS show with a hot crowd and some amazing matches.
It's a shame about the ref.
In 2007, IWA-MS held a show in Texas

they didn't come back pic.twitter.com/zj2Cdc6txA

— Maffew #BLM 🏳️‍🌈 (@Maffewgregg) July 24, 2020
---
6. Wrestling Used to be Good
A house show in 1994, where (thanks to the Steroid trials) WWF are losing money so they're saving money on using cheaper ropes.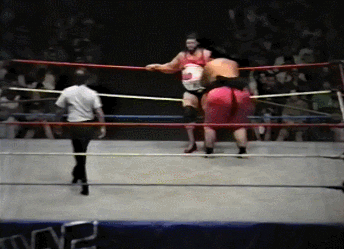 Money well spent.