Botchamania
1. NAILED IT
AEW finished this week's episode with a climatic brawl backstage between The Inner Circle and The Elite, culminating in a dramatic pose in front of the Stadium sign.
And as you can hear, they were rather chuffed with themselves.
YOU FUCKING NAILED IT

YOU FUCKING NAILED IT

YOU FUCKIN pic.twitter.com/emjftZIWmT

— Maffew (@Maffewgregg) May 7, 2020
And in fairness, they really did.
---
2. WAR (what is it good for)
Back to 1996 now with Wor Lad Tenryu mixing it up with Ryo Miyake.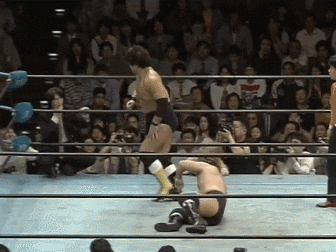 Up to the point where Tenryu misses a low dropkick and then has a temper tantrum like a wee bairn.
---
3. You Deserve It (clap clap clapclapclap)
Ed Solomon writing the caption.